'Operation Sundarban': not just an action thriller
If you think "Operation Sundarban" is a no-brain action flick, you are mistaken. The film sheds light on the struggles of the native fishermen and the atrocities of a larger network of robbers, pirates and smugglers. Trapped in this world of crime, it captures the plight of its inhabitants, and the Rapid Action Battalion's (RAB's) battle against the undefeatable. Perhaps, the most impressive fact about this endeavour is that it was loosely based on real-life events.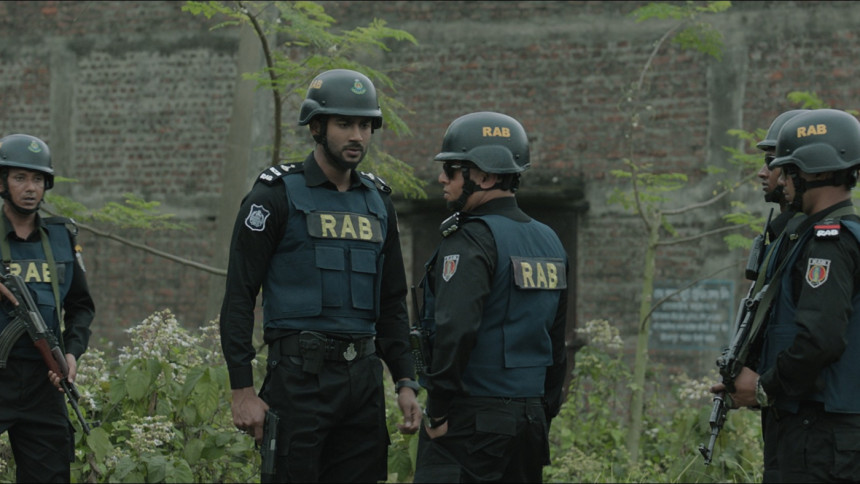 Directed by Dipankar Dipon, "Operation Sundarban" is Bangladesh's first wildlife action-thriller film, based on the adventures of RAB in the Sundarbans. The film has been conceptualised and produced by the Legal and Media wing of RAB, and features Siam Ahmed, Riaz, Nusraat Faria, Ziaul Roshan, Darshana Banik, Taskeen Rahman and Manoj Paramanik, in major roles.
While the film does justice to the forest's natural beauty through brilliant cinematography and breath-taking shots, it also provides a closer glimpse into the everyday struggles of people whose lives depend on it. If one scene shows the aerial views of the largest mangrove forest, the next will be a heart-wrenching scene of an old woman whose loved ones are abducted by pirates.
Despite being action-packed, "Operation Sundarban" is not just a typical action-thriller. It defies genre expectations by putting forward a larger, more nuanced picture of life in the forest. The main plot is supported by several intriguing side stories of a dense cast of supporting characters. From romance to unexpected betrayal, the film covers everything. However, these subplots can sometimes seem redundant. The overall plot seems blurry in the second half of the film, because of how fast-paced it becomes. Some of the characters needed more screen time for the audience to connect with them.
The portrayal of the RAB officers, on the other hand, was impressive because of their display of vigour and valour. Other notable characters include Major Sayem, played by Siam, who lies at the heart of this production.
To conclude, "Operation Sundarban" is not the kind of film that will leave you with questions. It is a blockbuster to enjoy with your family and friends, a movie that will make you appreciate the sacrifices made by the RAB officers.