Netflix's 'Society of the Snow' explores Andes plane crash survivors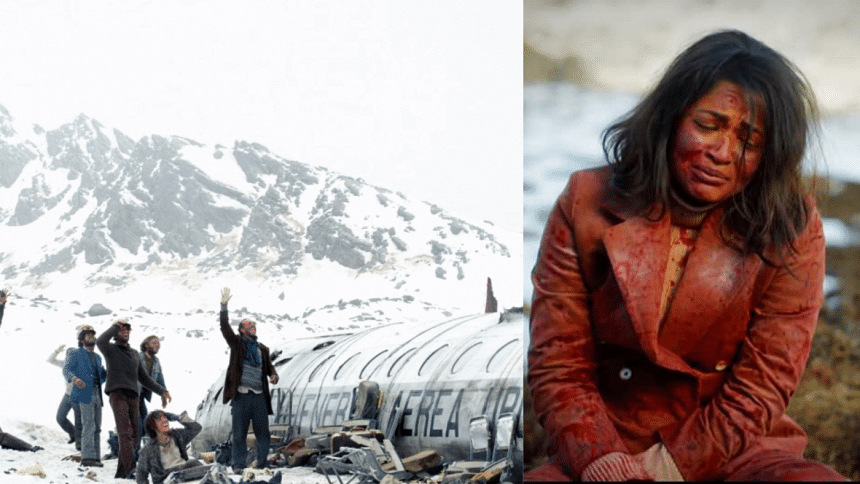 Remember Azmeri Haque Badhan starrer Hoichoi series "Robidranath Ekhane Kokhono Khete Asenni"? In that series, Badhan played the character of the mysterious Muskan Juberi, who was in the 1972 plane crash in the Andes, that forced survivors to take extreme measures, including cannibalism. 
Now, streaming giant Netflix is coming up with the Survival Thriller film "Society of the Snow," based on the same Andes Plane Crash Survivors. 
The Netflix original film was filmed in Andalusia's Sierra Nevada, mainland Spain's highest mountain range, with a massive 300-person crew. 
"Society of the Snow" is scheduled to premiere on September 9 at the Lido, where it will be featured out of competition. Additionally, the film has been chosen as the closing film for the prestigious Venice Film Festival.
The story revolves around the tragic 1972 Uruguayan Air Force Flight 571, which was carrying Montevideo's Old Christians Rugby Club team to Chile when it crashed at a staggering altitude of 11,712 feet in the Andes. 
Out of the 45 passengers on board, mainly comprising the rugby team, friends, and family, only 29 survived the crash. Cut off from civilization and without any food, the survivors, belonging to Uruguay's elite, were left with no choice but to resort to cannibalism to survive. 
The new film boasts a talented cast of up-and-coming Uruguayan and Argentine actors, including Enzo Vogrincic, Matías Recalt, Agustín Pardella, and Felipe González, who are sure to deliver powerful performances in this gripping tale of human endurance and survival.