Netflix handed legal notice over derogatory remarks about Madhuri Dixit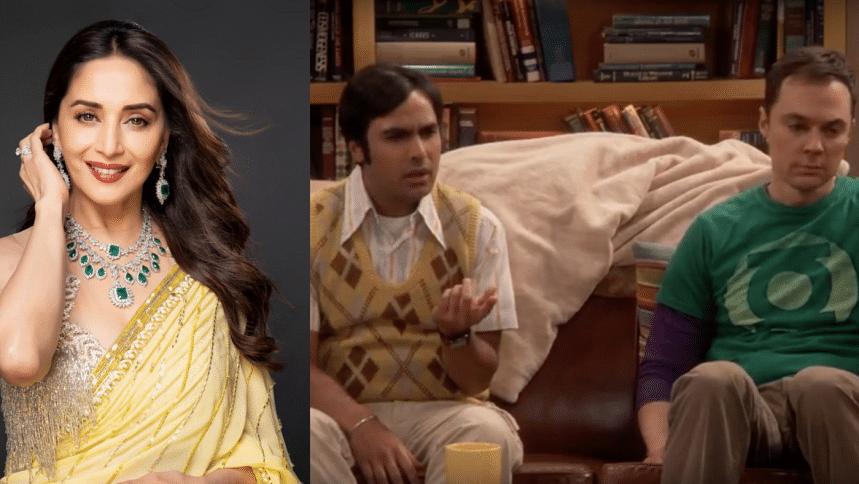 Netflix has been served legal notice for using derogatory remark against Madhuri Dixit in one of its popular series, "The Big Bang Theory."
Mithun Vijay Kumar, a political analyst, filed a legal notice demanding that the season two pilot episode be removed because characters played by Kunal Nayyar and Jim Parsons compared Aishwarya Rai with Madhuri Dixit. He called the comparison 'offensive' and 'defamatory'. He also claimed that the content promoted sexism and misogyny.
In the first episode of the second season of "The Big Bang Theory", Sheldon Cooper (Jim Parsons) compared Aishwarya Rai with Madhuri Dixit. In one scene, he referred to Aishwarya as "a poor man's Madhuri Dixit". In response, Raj Koothrapalli (Kunal Nayyar) says, "Aishwarya Rai is a goddess; Madhuri Dixit is a leprous prostitute."
Referring to the scene, Mithun Vijay Kumar has threatened to sue Netflix, if they do not respond or comply with the demands made in the notice.
"It is critical that companies like Netflix be held accountable for their actions and that they are sensitive to the cultural values and sentiments of the communities they serve. I was deeply troubled by the use of a derogatory term in one of Netflix's shows, 'The Big Bang Theory'. This word was used to describe the well-known actress Madhuri Dixit, and Mr Kumar felt it was impolite, hurtful, and disrespectful to her dignity," read the statement.
CBS's popular series "The Big Bang Theory" became popular since it first aired in 2007. It had 12 seasons before ending it in 2019.