Mohan bhai, please forgive me: Mahfuz Ahmed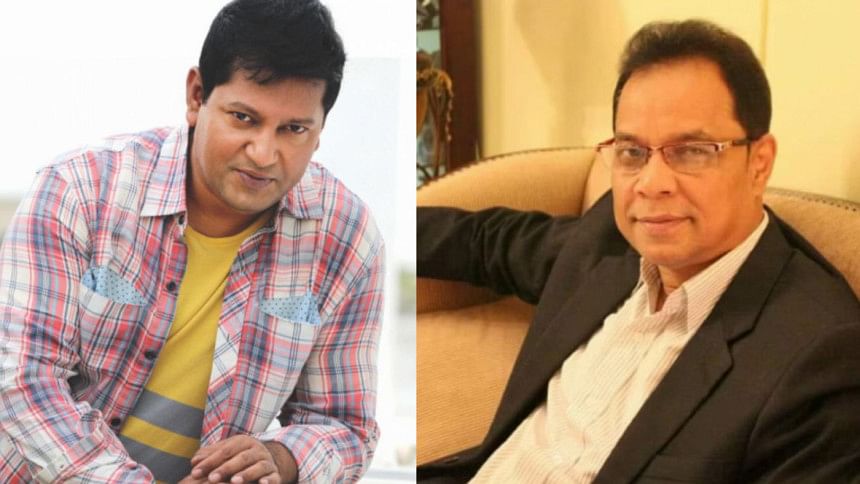 The passing of renowned writer-director, Mohan Khan has left the entertainment industry grieving. The star director was someone who gave many artistes their first break. Everyone who knew him shared a fond relationship with Mohan Khan.
Among the celebrities who shared a deep friendship with the director is noted actor Mahfuz Ahmed. The actor had known Mohan Khan for nearly two decades. Remembering Mohan Khan, the actor shared a few memories of the late director with The Daily Star.
"I met Mohan bhai when I was a student at Dhaka University—who used to write for various newspapers—long before my acting career began," shared Mahfuz Ahmed. "At that time, Mohan bhai was also a student of Dhaka University and had also been a journalist for some time. After we met, we slowly built a deep friendship."
"One day, quite a few years ago, when Mohan bhai was still a journalist, he called me and gave me a job in a newspaper," added the actor. "But that's a story for another time. Today, I'll only speak about Mohan bhai. I haven't seen many jolly and lively people like him in my life. He had it all—he was good-looking and smart, with a beautiful heart. Movervoer, Mohan bhai always had this unique charm that made everyone around him feel happy and closer to him."
Mahfuz was devastated after hearing the news of Mohan Khan's death. The actor shared, "His (Mohan Khan) smiling face flashes before my eyes again and again. We all feel extreme heartbreak after losing someone close to us—I am feeling exactly that pain now."
"My memories with him are flashing before my eyes, and I am left thinking—you have left us so soon, Mohan bhai. Were you really in such a hurry?" Mahfuz asked emotionally.
Having a hard time coping with the departure of his long-time friend, Mahfuz mentioned, "I have no way to console myself. I shared such a long and beautiful friendship with him, yet I haven't tried to meet-up with him for so many years. I could not meet him, even in his final days. Have we all turned so selfish? Otherwise, we would've at least called him now and then."
"I should've kept in touch with him, all these years. I don't know if he will forgive me now. I am saying this now, 'Mohan bhai, please forgive me'. May you be just as jolly and lively in the heavens as you were on Earth," said the "Prohelika" star.
Mahfuz was present when Mohan Khan's two children were born and has, over the years, seen them growing up. Sharing a memory of Mohan Khan, Mahfuz said, "After my marriage, I didn't take my wife to visit many people. However, I went to Mohan bhai's house. He had a happy family with a wonderful wife and two sweet children."
"At that time, I was in a bit of a financial strain. After seeing my face that day, Mohan bhai somehow understood that. When we were leaving, he gave me an envelope filled with BDT 10,000," narrated Mahfuz Ahmed, "Imagine how kind-hearted you need to be, to do something like that. I will never forget this incident for as long as I live."
Mahfuz Ahmed deeply regrets not being able to meet the director in recent times. He concluded by saying, "My only regret is not having met him in the last few years. I should've kept in touch with him. That's why I am saying this again, 'Mohan bhai, please forgive me. I will never forget your smiling face."