Is Mahi and Symon's "Live" worth watching?
Blockbuster movies like "Hawa" and "Poran" rejuvenated theatres after a long halt due to the Covid-19 pandemic. However, the high-expectations that these two movies created with their revenue generation and audience acceptability in the country's film industry, not every film can live up to that.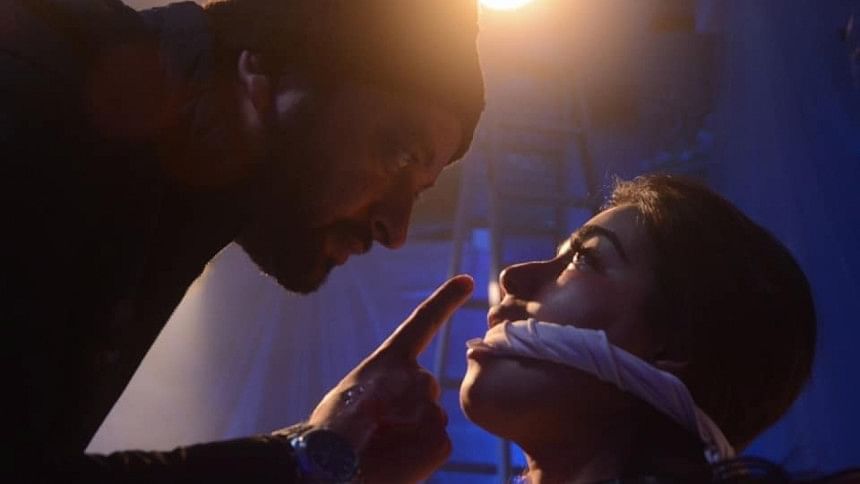 Shamim Ahamed Roni, director of the psycho-thriller film "Live" did the courageous thing by releasing the film immediately after the two blockbusters, while the whole country is still hung-over with their brilliance.
The plot of "Live" revolves around its two protagonists, a couple, played by Mahiya Mahi and Symon Sadik, who lead fulfilling lives until a murder takes place -- and their lives are shattered. The unfortunate incident and the actions that the characters take to circumvent the consequences of the event become the central plotline of the movie.
Director Shamim Ahamed Roni wrote the story of the movie. However, the execution could have been more relatable and convincing. The movie also failed in terms of screenplay and background music. The story was too far-fetched to attract and catch the audience's attention.
The strongest aspect of the movie is, perhaps, the brilliant portrayal of Joya Biswas by Mahiya Mahi. Although in some scenes, she fails to woo the crowd, her dedication to becoming the character mends her inefficiencies. As a performer, if she continues this commitment to screen, we will get another brilliant and consistent actor on the screens.
At the same time, Symon Sadik wonderfully played a character, who has a multitude of dimensions. His will and dedication to become a performer was visible in his portrayal as a person with psychological issues.
Furthermore, Shiba Shanu, who mainly portrays negative roles in other movies, played the character of a police officer in this movie. Although his efforts were visible, he could have explored the character more.
Aside from a few issues like the aforementioned script and weak music, "Live", while not a masterpiece, is certainly worth watching.