Documentary on Bangabandhu's stay in Kolkata in the works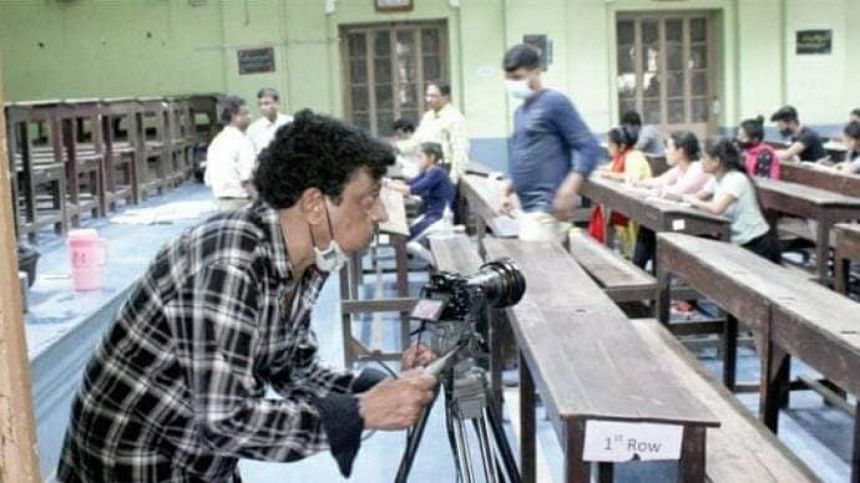 The four years Bangabandhu Sheikh Mujibur Rahman spent in Kolkata from 1942 when he studied in Islamia College (later renamed Maulana Azad College) in the city's central part played a key role in shaping his charismatic personality, said India's acclaimed director Goutam Ghosh who began shooting a documentary on the subject yesterday.
Ghosh began the shoot in the Maulana Azad College campus by spanning his camera in a classroom there and hopes to complete the film in nearly three months.
Addressing a press conference on the occasion, the director, known for feature films like "Ma Bhumi", "Paar", "Kaalbela", "Antarjali Jatra", "Moner Manush" and "Sankhachil", said the documentary is expected to be of half an hour, encompassing Bangabandhu's stay and activities in different parts of Kolkata.
He said the Kolkata part of Bangabandhu's life has not been projected much in the films, drama and writings about him and that is what prompted Ghosh to embark on making the documentary.
The film, funded jointly by the Bangladesh government and NGO Friends of Bangladesh, will also be partly shot in different locales of Bangladesh, including Tungipara and Dhanmandi.
Ghosh said his documentary would try to capture the Islamia college campus, his politics as the general secretary of the college's students unionroom no 24 of nearby Baker Hostel where Bangabandhu had stayed, narrow lanes and bylanes of surrounding areas including Alimuddin Street and Park Circus where the leader had spent some years.
Alimuddin Street, the director said, had once housed the office of the then Muslim League where Bangabandhu used to come.
The research work for the script of the documentary is over and the film would contain interviews of eminent personalities of India and Bangladesh and muktijoddhas.
"Kolkata was dear to Bangabandhu and his life was splashed by its culture," Ghosh said adding this needed to be recorded.