'Beauty Circus' is a ride full of action, entertainment and revenge: Mahmud Didar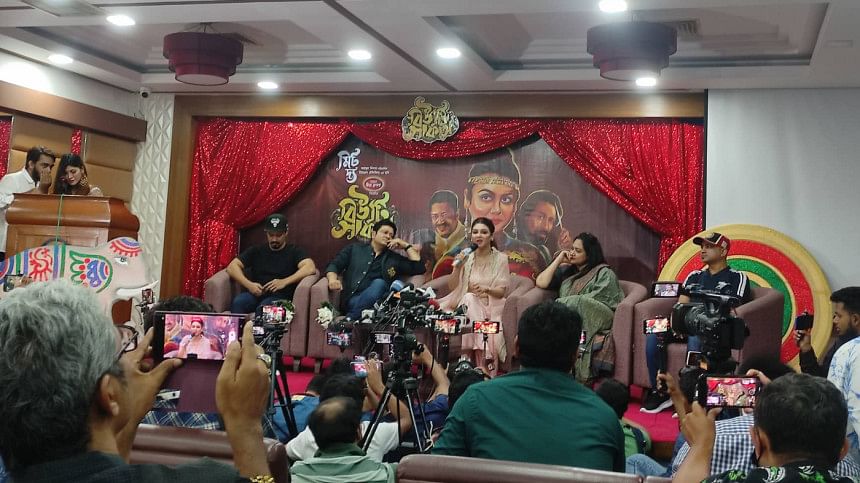 "Beauty Circus" will hit theatres on September 23. To create a buzz for the upcoming release, a press meet was arranged at the BIAM Foundation in Banglamotor, yesterday evening.
The Mahmud Didar debut directorial project casts Jaya Ahsan, Ferdous, ABM Sumon, SM Mohsin and Humayun Shadhu in pivotal roles.
At the press meet, the crew members paid tribute to their co-artistes, SM Mohsin and Humayun Shadhu, both of whom are no longer with us.
Mahmud Didar shared that "Beauty Circus" promises a ride full of action, entertainment and revenge. "We have lost the culture of the circus, which was a part of our heritage," shared the director. "The film will be a unique experience for the audience."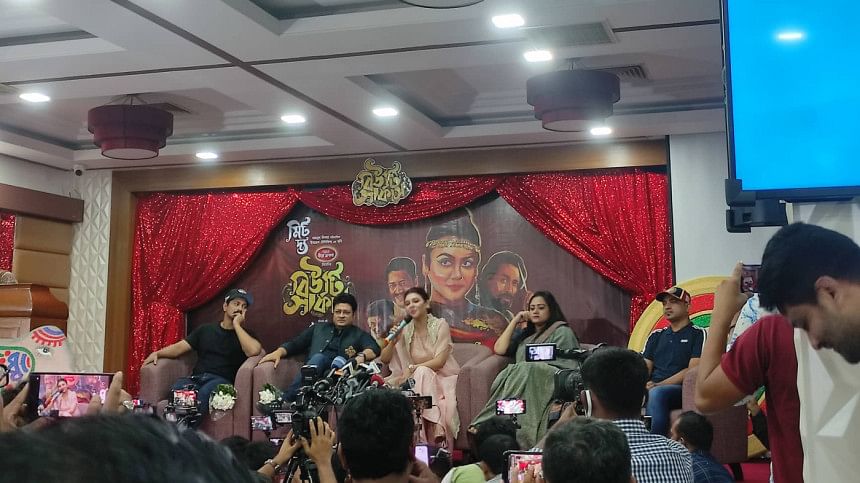 At the event, Sharmin Sultana Sumi performed the recently released track "Boye Jao Nokkhotro", which will be featured in the film. Jaya Ahsan joined her to sing the song as well.
Jaya played the role of Beauty, a rebellious and sharp character who overcomes many struggles during her journey. "We had to put a lot of physical effort while filming this project," shared the actress. "Since it is about a circus, and it features many animals. I want to assure everyone that no animals were harmed during the shooting, as we ensured their safety at all costs."
Jaya also shared that they were trained by a real circus troupe, and that she learnt many techniques from walking on the tightrope. There were even situations where her life was at risk during the training.
Ferdaus took on a negative role for "Beauty Circus", and the actor shared that this is the first time he has taken on such a role, and that he will never play such a character ever again. "I want this role to be one of a kind in my career," shared the actor. "When I was offered this role, I wasn't too sure about it. Later, however, I was convinced that I could pull-off this unconventional role, and I really enjoyed performing it."
The actor also shared that he is amazed by the experience of working with Jaya Ahsan. "Her level of dedication mesmerised me all throughout," added Ferdaus. "At one point I even felt envious of her role in the film, and wished I could have played the role of Beauty. This was particularly because Jaya's effort made the role so alluring." 
ABM Sumon said that the production was filmed in a real location, and that they had a circus troupe with them to teach them techniques. "We were lucky to get a large number of real spectators, who were a major support for us during the shoot, and also helped make the film feel and look more real."
The crew members of the film are eagerly waiting for "Beauty Circus" to reach audiences in the maximum number of halls across the country starting from September 23.