Bangladeshi film "The Ice Cream Sellers (75")" to premiere at Seattle's Tasveer Film Festival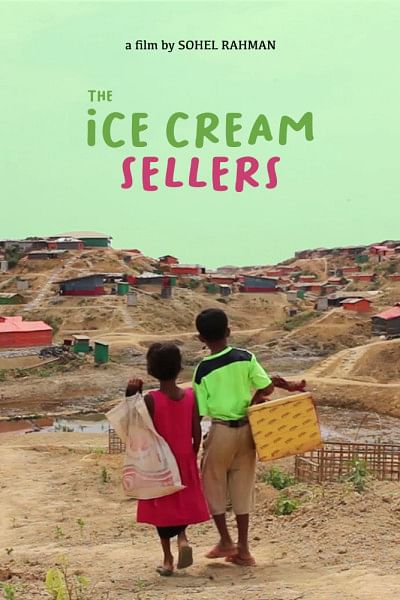 Bangladeshi filmmaker Sohel Rahman's "The Ice Cream Sellers (75")" will be screened at the 16th Tasveer South Asian Film Festival, according to a press release.  A total of 87 films from different countries of South Asia have been selected for the festival to be held in Seattle from October 1 to 24, 2021.
In addition, "The Ice Cream Sellers (75")" has been selected for the Golden Tree International Documentary Film Festival in Frankfurt, Germany, the Multicultural Film Festival in Toronto, Canada, the South Asian Film Festival in Montreal, Canada, and the Festival Internacional De Cine/El Cine Suma Paz in Bogota, Colombia.
"The Ice Cream Sellers (75")" tells the story of two siblings and the people of the Rohingya community who fled from Myanmar into Bangladesh after a brutal genocide. While most of the Rohingya people were exhausted from the weight of their trauma, the two siblings began their new life with hard work, selling ice-creams in the world´s largest refugee camp in a desperate attempt to earn enough money for the release of their father from prison in Myanmar.
On one hand, we have parents' harrowing tales of their flight from their homeland, and on the other, we see laughter and the irrepressible spirit of children.
Apart from direction, Sohel is behind the screenplay, camera work, editing, and sound design of the film. He shot around the camp with a hand-held camera, without a conventional film crew.
"When the Rohingyas were fleeing into Bangladesh, our people extended their hands. I wanted to make this film out of a sense of human responsibility. I applied for film funds in different places, and tried to find a producer," explains Sohel. "However, there was no luck. Despite the rejection, I did not give up. I decided to make the film at any cost. So, I started with a simple camera."
"The main purpose of this film is to give voices to the voiceless, traumatised people who lost everything. There is no acting. The story is true, and the characters are genuine. In the language of cinema, it is called a creative documentary film," he adds.
Sohel has a Joint Master's in Filmmaking with a European Union scholarship from the University of Lusufona in Portugal, the University of Theater and Film Arts in Hungary, and the Sint Lucas International University in Belgium.
In 2015, he won the Best Documentary Film Award for his graduate film, "A Passagem", from Lusufona University in Portugal. In the same year, he won the Special Jury Award at the Encontros International Cinema de Vienna Film Festival in Portugal. In addition, his films have been screened at various international film festivals and universities.
Sohel is currently making his next film, "Dancing with the Sea", about the deadly work and daily lives of four Portuguese barnacles fishermen in the Atlantic Ocean.