Young painter from Bogura dedicates unique art book to Bangabandhu
Young painter Tariqul Islam depicts his deep respect and admiration for the Father of the Nation Bangabandhu Sheikh Mujibur Rahman, through his works of art.
From his childhood, he enjoyed drawing pictures of Bangabandhu, and writing about him, with information from various books and internet sources. Recently, he made a book of paintings that testifies his love for Bangabandhu.
After three months of effort, he came up with a 410-page, one-inch long book of 250 paintings, focusing on Bangabandhu's childhood, adolescence, and political life.
There are 35 drawings in pencil, and 215 watercolour paintings in the book, which also contains pencil sketches of the four national leaders, seven Birshreshthas, glimpses of the language movement, Bangabadhu's historic 7th March speech, Bangabandhu's imprisonment life, Liberation War of Bangladesh and our victory celebrations, and the brutal massacre of Bangabandhu and his family on 15th August.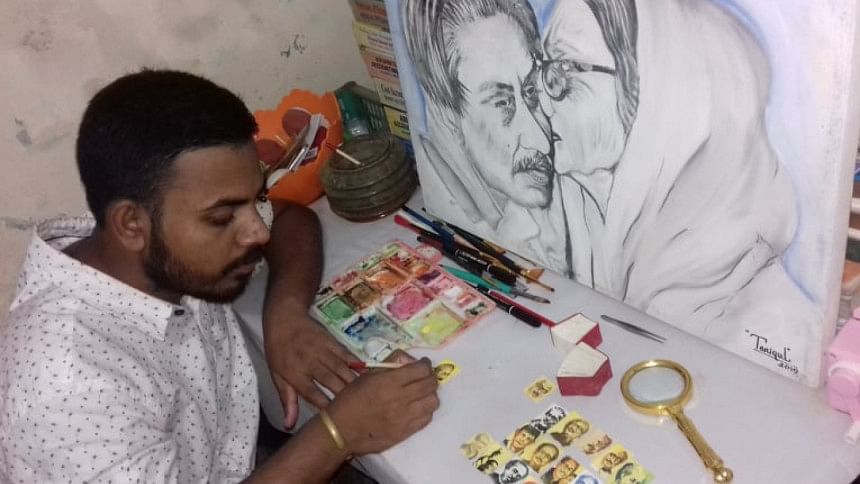 Along with the paintings, the book also depicts Bangabandhu's life from 1920 to August 15, 1975, in chronological order. Work is underway to add 90 more pages to it. There will be 90 more watercolour paintings of Bangabandhu and his family members.
Hailing from Berer Bari village of Bogura's Dhunat upazila, Tariqul is studying at Bogra Art College.
He took his first lessons in painting from his elder brother Tajmilur Rahman, who has a shop called 'Taj Art' in Bagbari, Gabtoli.
There have been many exhibitions of Tariqul's paintings so far. His artworks have garnered many prizes. In 2019, an exhibition of paintings was held at the Shilpakala Academy in Dhaka, in which artists from 17 different countries took part. A number of his paintings were displayed at the event. Apart from this, Tariqul's paintings have also been displayed in Dhanmondi Art Gallery. He took part in the Bangabandhu Art Camp in Mymensingh last year. He has also participated in exhibitions in Kathmandu, Myanmar and India.
 "On the occasion of Bangabandhu's birth centenary, I wanted to create a record in the Guinness Book of World Records by drawing a 150-foot-long live portrait of him. But it would took one lakh taka to draw the painting on canvas, and to exhibit it. I turned to many to raise money, but no one cooperated with me. Although I was disappointed by this, I did not give up," he added.
Ummey Habiba, Acting Principal of Bogra Art College, said Tariqul's efforts were undoubtedly commendable.