A whimsical review of 'Ontorey Bahirey Chitrangada'
I can't help but draw parallels between the influence of Rabindranath Tagore on Bengali/Indian culture and Charles Dickens' impact on modern Anglo-American culture in the last century. The influence of course lingers on to this day in the first quarter of the 21st century. Zadie Smith put it best about Dickens when she went about writing her latest novel, "Dickens was everywhere. He was in school and on the shelves at home and in the library. He invented Christmas. He was in politics, influencing changes in labor law, educational law, even copyright law."
On the other hand, Tagore's Rabindrasangeet (songs) are an essential part of Bengali culture. His lyrical poems are steeped in the landscape and seasons of Bengal with a touch of mysticism, common in this rich green pastoral land. This sensibility ultimately transcends the confines of Bengal and spreads all over South Asia so much so that the national anthems of Bangladesh, India, and Sri Lanka were all composed by Tagore. His songs reflect the diversity of Indian culture and are characterized by their simple melodies and profound lyrics.
Many of his novels were made into films by the likes of Satyajit Ray. To this day, his compositions continue to be performed by both professional and amateur artists in Dhaka and Kolkata and the villages and towns on either side of the border. Sara Zaker, the veteran actor, script writer, and director of some of the best plays produced on the stages of Dhaka, boldly rekindles that Bengali passion and obsession with Tagore in the latest incarnation of "Chitrangada".
Currently being staged at the Nilima Ibrahim Mahila Samity auditorium in Dhaka by Nagorik Natya Sampradaya, Sara named her version "Ontorey Bahirey Chitrangada". The play was superbly produced and directed by Sara, with assistance from Neema Rahman.
After Sara's last success with the avant-garde play "The Open Couple" staged five years ago, she now comes up with this grand new production of Tagore's feminist classic. Recently, she had taken a hiatus to mourn her husband and creative partner, Aly Zaker, after the great thespian succumbed to cancer.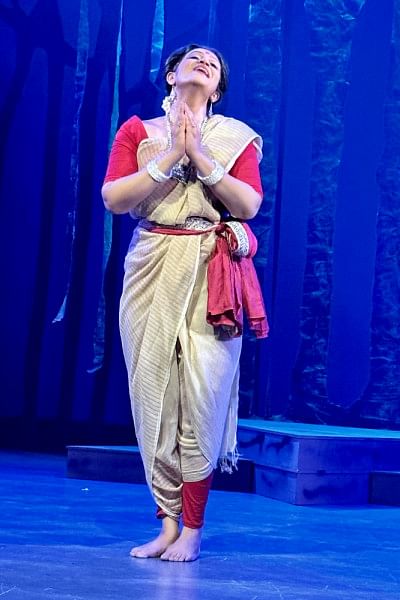 Tagore originally wrote the play "Chitrangada" in verse form in 1892, against the backdrop of the Mahabharata. The bard then waited almost half a century before he composed the dance drama version in 1936 (five years before his death), which we have come to love.
Sara deftly merges large portions of Tagore's original dialogue with some of the song lyrics of the dance drama, which made the play a little more accessible to a modern audience. Despite being born a girl, Chitrangada was raised as a male warrior, which was her father's wish since he had no male heir. When Chitrangada first encounters Arjun, he sees her as a boy and soon dismisses "him". Then the Manipur princess dresses up in her true gender, as a woman, but Arjun fails to appreciate her beauty.
The handsome prince has vowed a life of celibacy and being a skilled archer, continues to live in the forest, hunting. Chitrangada then approaches Madan, the god of love, to make her the most beautiful female that ever lived, so that she can enjoy one night with Arjun. Instead, Madan grants her wish for a year to become the epitome of feminine beauty. She then returns to Arjun and this time her seductive dance and exquisite beauty finally stirs the prince. He then proceeds to question the origin of Chitra. Did she fall from the sky or does she have a family? Even in libertine ancient India, nobility and origin mattered.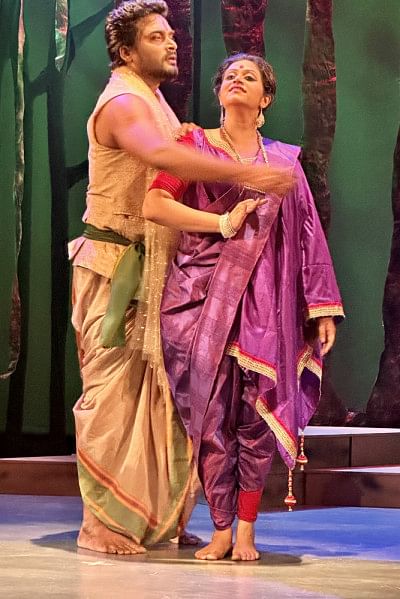 When he learns she is the princess of the great Eastern kingdom of Manipur, all his doubts vanish and he decides to make her his next wife and their first child is born within the year. Here, Rachel Priyanka Perris as Chitrangada steals the show. The young Dhaka University dance teacher and choreographer danced every number with exquisite form. Priyanka's lithe body moved in perfect harmony with Tagore's melodious songs, sung beautifully by Farhin Khan Joyita (daughter of the legendary Jubo Raj and Mita Huq). Chitrangada (Priyanka) continues to navigate gracefully through her beguiling ways, until Arjun relents and renounces his vows of chastity.
When he actually returns her love, doubt creeps in and Chitra shies away, because she suspects he has fallen for an illusory false image of herself. This irreconcilable conflict between her seductive outer self and her inner feelings was depicted masterfully by Priyanka, through her dramatic expressions and darting eyes, known as "abhinaya" in classical Indian dance tradition. Her superb performance is nothing short of pure genius. Farzana Mukta does an admirable job as Chitrangada's alter ego. Abu Naser Yusuf as Madan, gives a convincing performance as an archetype of a Hindu god with his bared muscular torso and costumed jewelry. He not only transforms Chitrangada, but also serves as a wise counselor to Farzana Mukta's character. His lip synching to Sandipan Das' singing was flawless. I can't say the same thing about Mahfuz Rizvi's performance as the male lead Arjun. His acting and lip synching to Rokon Imon could have been better. Imon, as the show's music director, did a stellar job of weaving the songs to ground them in classical ragas.
I grew up listening to Rabindrasangeeth, so I was familiar with all the Chitrangada songs. Joyita belts out the timeless Tagore songs with warmth and a fierce female gusto, rare in contemporary Rabindrasangeet singers. It reawakened my childhood memories in Dhanmondi, when I once watched and listened to the Khatun sisters entertain us in our living room. It was unfortunate that the audio system malfunctioned, making the speakers lose their stereo sound. Hopefully, this will be corrected in the next performance.