When photographs speak against dictatorship
Dinu Alam's historic photos, now free-for-all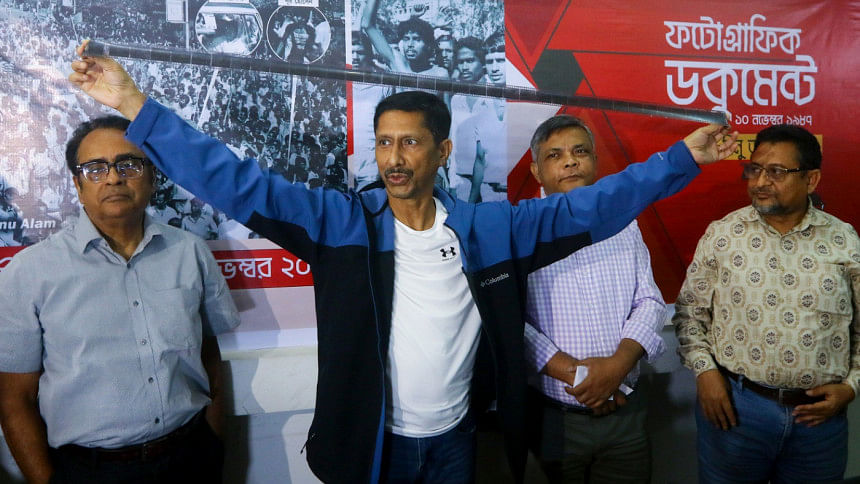 Yesterday, photographer Dinu Alam—who is currently based in Toronto, Canada—hosted a press conference at the National Press Club in Paltan. The conference was held to announce that photographs taken by him during the anti-Ershad mass movement of 1987, would be free-to-use for the public.
Dinu Alam's photographs represent a crucial part of Bangladesh's 50-year history. Particularly, his photo of Martryr Noor Hossain, who died during the protests on November 10, 1987, are remembered for their impact on dethroning Ershad. Even today, this iconic photo is called the 'photo that brought down a dictator'.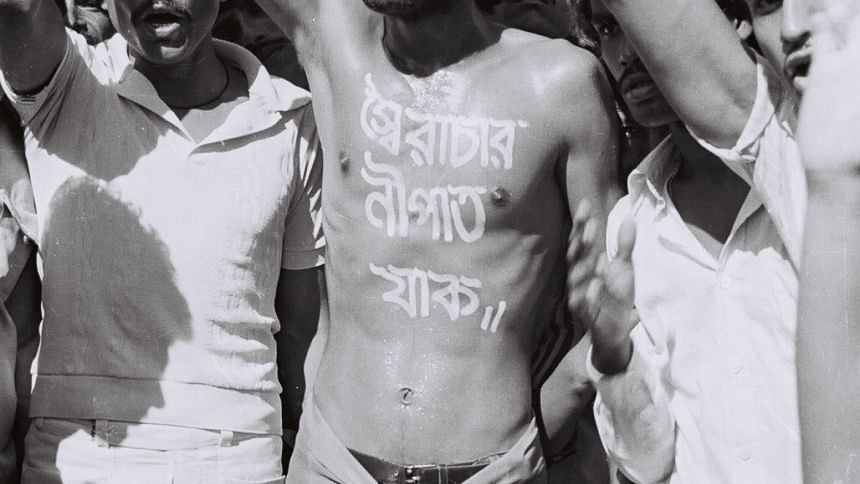 In 1987, Noor Hossain—a young protester, whose body was painted with pro-democracy slogans—was shot dead by the police in Dhaka. His massacred, bullet-ridden body was taken to a jail cell, and dumped by the police there. It would be a photograph taken by Dimu Alam of the incident, that really added steam to the mass uprising, toppling Ershad from his throne.
Dinu Alam opened the press conference by remembering Noor Hossain.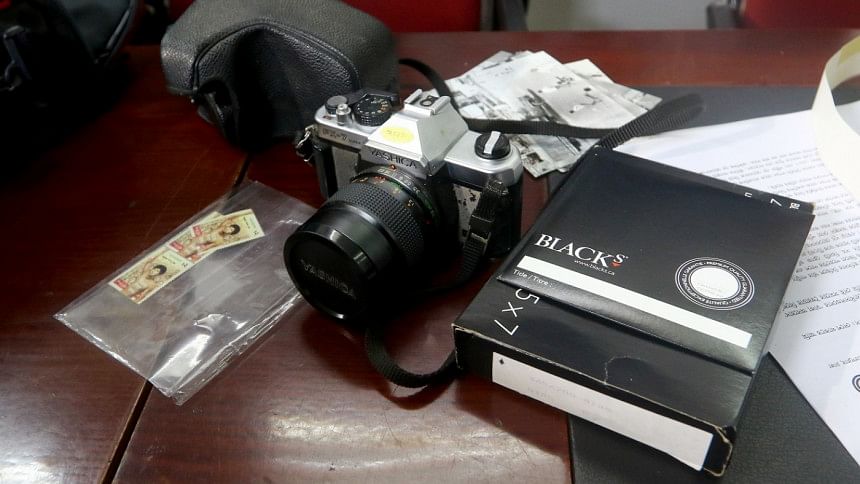 While the anti-Ershad mass movement was at its height, the opposition parties implemented a "Dhaka blockade" plan. Dinu Alam documented the struggle against the regime at the time with his photographs. Among the collection of his photos from the time, are three close-ups of Noor Hossain's face, taken ten minutes before he was shot near 'Zero Point', now called Noor Hossain Chattar, in Gulshan.
An iconic photo, Noor Hossain's body is painted with the words 'Let dictatorship die', as he stands directly in front of the procession of the current Prime Minister Sheikh Hasina.
Today, at the press conference, Dinu Alam discussed three investigative pieces about Noor Hussain that were written by BBC News London. On the morning of November 10, 2020, two years prior, journalist Moazzem Hossain from BBC London called Alam in Toronto and informed him that he is conducting research for an investigative story based on the events of November 10, 1987, and the death of Shaheed Noor Hossain.
Moazzem Hossain—a Dhaka University student—was detained that morning, and kept in the same cell as Noor Hossain, at the Shahbag police station. Three investigative stories from the BBC were released back-to-back, one of which was translated into 10 different languages. Several of the pictures Alam took that day, paired with that incident, featured in the BBC article.
While Moazzem Hossain and Dinu Alam discussed the mass uprising and his photographs from November 10, 1987, the former asked for permission to use Alam's photos in the BBC articles. Recalling this incident, Alam said at the press conference, "I gladly granted formal consent to journalist Moazzem Hossain to broadcast my photos on BBC News. However, I was moved by the thought that, what purpose does it serve to ask someone for permission to post old photographs?"
Alam further added, "In light of tomorrow being Shaheed Noor Hussain Day, I want to inform all of you that my photos from back then will be free-to-use for everyone. Under the terms of the Share-Alike International Free-to-Use license, these photos of mine will now be accessible to the general public on Flickr.com and Wikimedia Commons. The photos can be used without paying any royalties."
Dinu Alam humbly requested credit on the use of his photographs. 35 photos that he took on that day are historic records of the uprising against dictatorship at the time, and for the knowledge of the future generation looking for this exact information.