'US Women': An artistic tribute to the spirit of women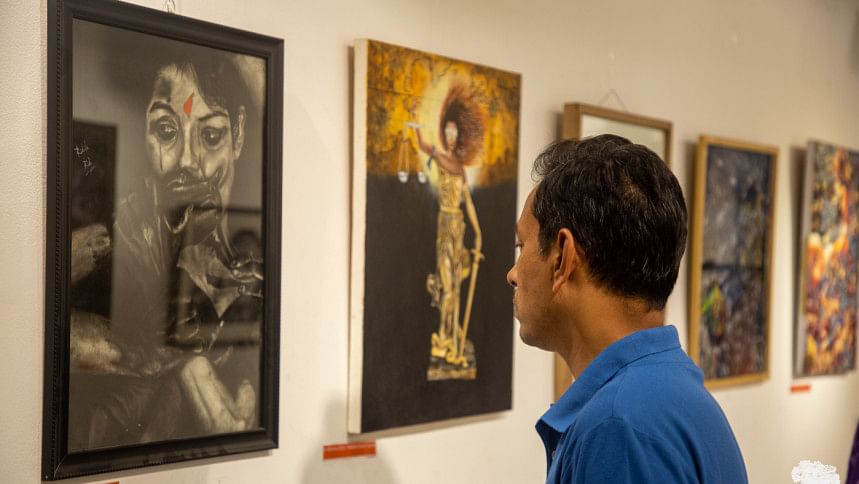 "A woman is the full circle. Within her is the power to create, nurture, and transform." –Diane Mariechild
March is celebrated around the world as the month of women, with the 8th being International Women's Day. To honour and commemorate the revolution of women in society, the EMK Center in Dhaka observes 'Women's History Month' through visual art exhibitions every year, titled "US Women".
The inauguration ceremony for this year's event took place on March 11. The open call for submissions brought in over 160 pieces of art, from female artists of the country. However, only 29 artists were selected for the exhibition.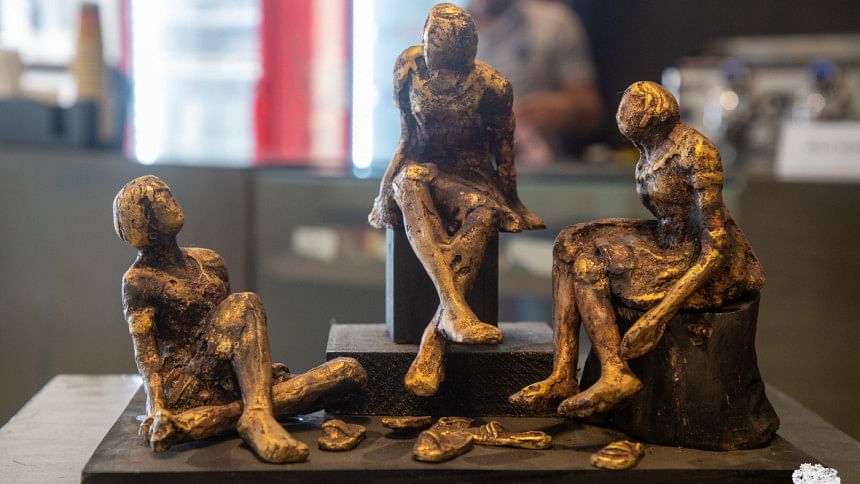 When I walked into EMK Center, I could see the interior wreathed with beautiful paintings, photographs, and sculptures—showcasing the talent of female artists of Bangladesh.
Nipa Gomes has painted a woman in a red saree, who has the world in the palm of her hands. Through her digital painting, Somota Arifa Prova has shown women in different professions and roles, from mothers to astronauts. Ummay Nafisa Islam portrayed the female reproductive system and women empowerment through her surrealistic paintings with hands, roses with thorns, and broken shackles. Kashbie Jannat Ayshee painted her version of 'Lady Justice', in golden and neutral shades.
Nasheen Jahan Nasir created a vibrant digital illustration on the contributions of women in our agriculture. Monon Muntaka Shova showcased a black and white photograph of a woman with a mask on during the COVID-19 pandemic, protesting against rape.
The chaotically dystopian painting belongs to Faria Alley, where the world is like an RPG for a woman—where she needs to multitask while simultaneously defending herself from predators.
Umme Habiba, through her painting of a girl with butterfly-wings, tells the tale of women who already have wings, and now only need to fly away. Mukti Bhowmik sculpted a young girl with a book, and a woman with flying birds of freedom.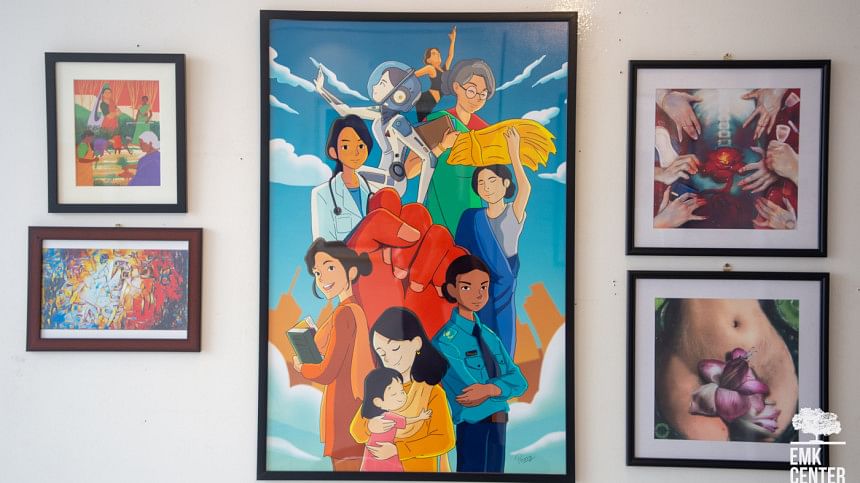 Sumaiya Shams' painting depicts the plea for ridding body image issues that can ruin a woman in more ways than one. The prejudice, the unnecessary sexual objectification of female bodies, and the taboo of menstrual and sexual health of women are all represented in Venessa Kaisers' paintings.
Sreejony Haque painted a girl with her heart locked up in a box in an attempt to translate women's struggles against imposed gender stereotypes and socially forced identities, which cause them to lose their individualism, equal rights, and of course, their dreams and aspirations.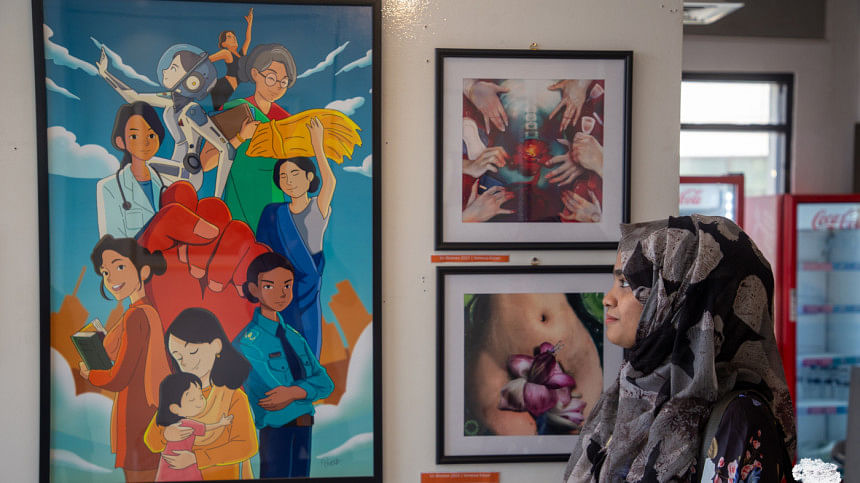 "US Women" has provided the women of our country with the opportunity to elevate their artistic skills, while also amplifying their creative persona. EMK Center will run this open-for-all exhibition till March 30.