Rokeya Sultana's art blossoms at Edge Gallery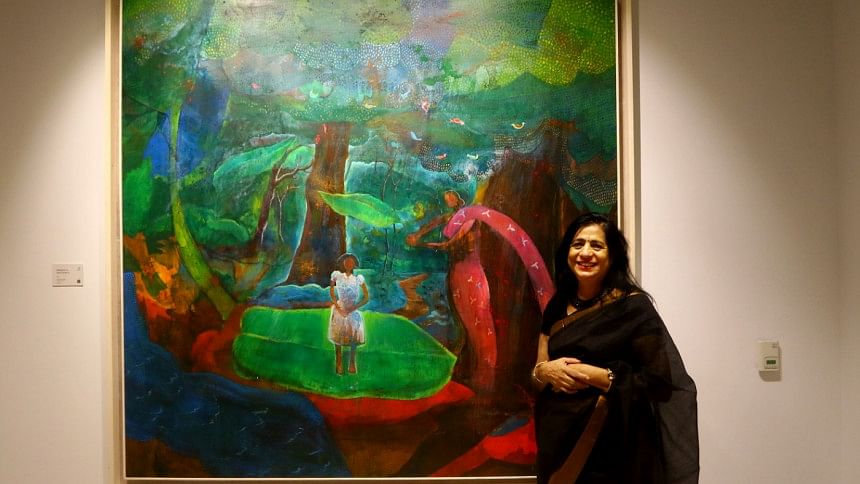 The saying, 'The hand that rocks the cradle, rules the world' rings true in the artistic journey and pursuits of renowned artist, Professor Rokeya Sultana -- who has, over the years, created a hallmark of her own. Her vast volume of unique works speaks of that reality. Her art practice is largely focused on her internal life and exploration of the feminine, as well as various fluid emotional states and sensual abstract topographies.
'Pancha Bhoota', or the five great physical elements -- Earth, Water, Fire, Air and Ether -- form the basis of all cosmic creation. These elements have different characteristics, and also account for different faculties of human experience. In Indian philosophy, the human body is considered to have been made of these five elements.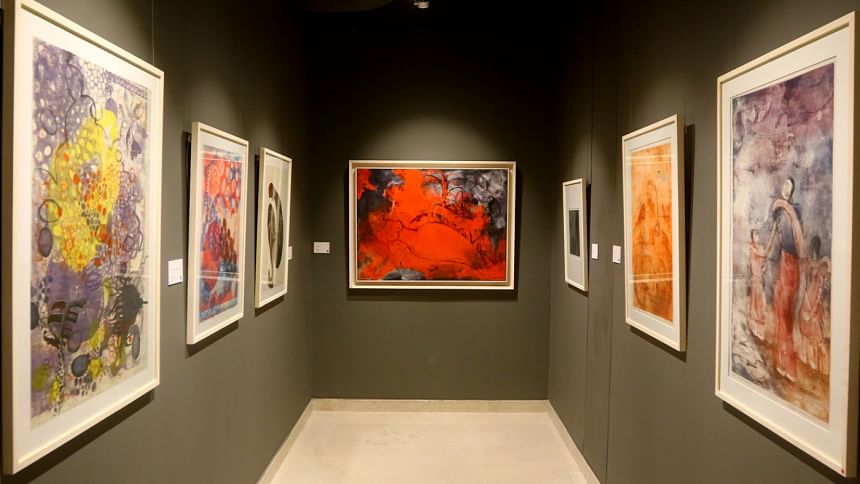 Entering the furnished Edge Galley in Gulshan-2, one cannot but get amazed at seeing a life-sized canvas of the artist.
Rokeya Sultana captures nature's underlying harmony in her paintings, to project her desire for peace. Producing richly textured canvases, her singular style resonates with delicate, inwardly expanding applications of shimmering paint.
The language of Rokeya's art is sharp and intense -- like poetry -- and is prominent with regard to both subjects and techniques. The features of her Madonna series tell stories of the species from various parts of the world making her brushes pray like counting beads of rosary on canvas as her lyrical wash suggests.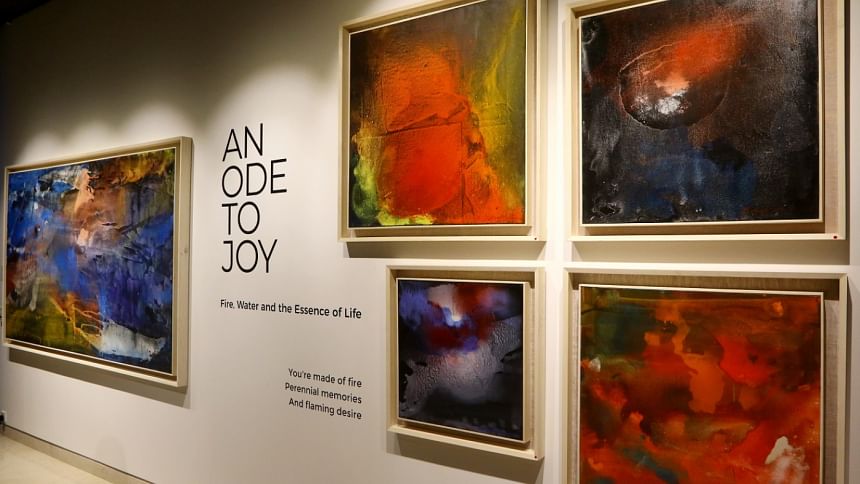 Through the use of colour, movement, light, shades and various forms, she searches the subconscious of Sigmund Freud in the mystical land of Lalon. The aesthetic unity she achieves through a melding of soothing melodies is amazing in their clarity and depth.
Exquisite textures with precise light and shades, centering on the vivid reflections that colours depict, with the adjustment of sharpness and tone, are evocative of her paintings. What is distinctive in her work is the technique and treatment of colour. She deconstructs forms and spreads shimmering yet warm colours on life-sized canvases for her ongoing solo exhibition titled "An Ode To Joy" at Edge Gallery.
The sensitivity of womanhood and the creative power of motherhood have always shone through her artworks.  The artist's several series like 'Spirit Within', 'Flow of Life' and 'Flaming Desires' shed light on a symbolic meaning, with a deep philosophical connection.
Her "Madonna" series is a strong feminist statement portraying determined womanhood. It represents the everyday woman, moving around in the world, jostled and always in peril -- but, at the same time, carrying a conscientious omnipresence.
"Madonna is a movement," asserted Rokeya Sultana. "She is vulnerable because although she is a peacemaker, she is prepared to fight.  She is a symbol for all women. She changes throughout time, but she is forever performing the same role." The artist explained that the series is a symbol of protest against an unjust society, so her rebellion grows deeper.
Rokeya Sultana takes joy in simple things through knowing the unknown and seeing the unseen. The beautiful, minute details of the universe attract her greatly. As an ardent worshipper of nature, she observes the beauty and diversity of nature through her aesthetic lens of mind.