Morph(in)- Humans, metaphors, and dystopia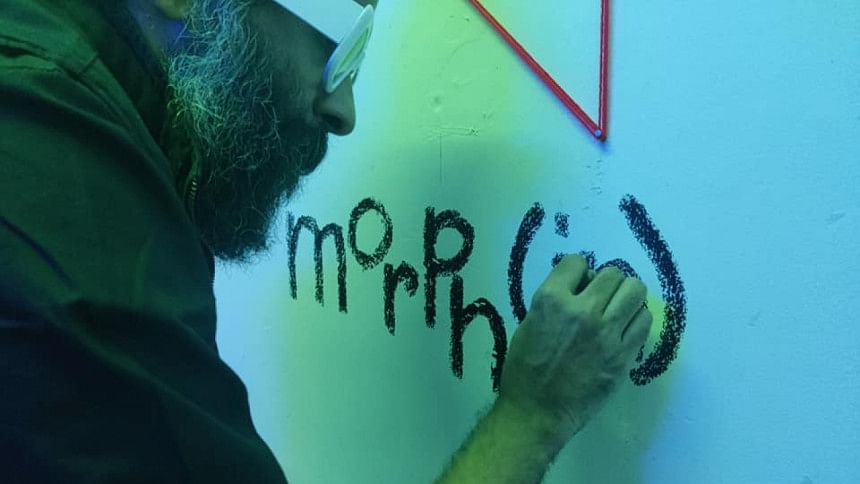 "Morph(in)", a visual art exhibition by Reesham Shahab Tirtho, Ata Mojlish, Abir Shome, and Kazi Tahsin Agaz Apurbo was inaugurated at Dwip Gallery, Lalmatia on December 02, 2022. The four artists took the initiative to showcase their artworks following a certain concept and "Morph(in)" is the result of their artistry.
To survive as human beings, we go through different types of metamorphosis every day. These can be spontaneous and free or at times be imposed, restrained, dystopian. The turbulence of this endless metamorphosis, the controlled understandings with this metamorphosis, and the intention to define our existence are the purposes behind "Morph(in)". Dwip Gallery holds a collaborative effort of four visual artists combining their ideas on different issues.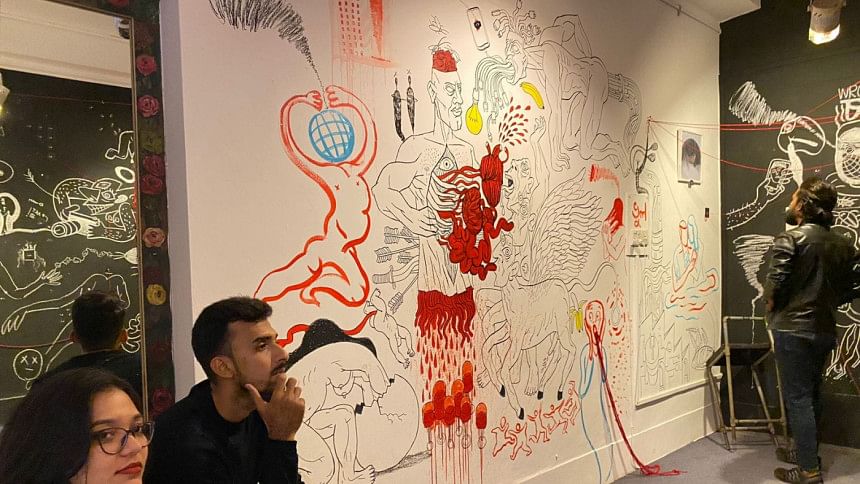 The first room contains framed art pieces. The niche in front of the restroom is for the VR (virtual reality) work by Ata, and the innermost room has a mural and installations. Tirtho's illustrations depict consumerism and the ever-evolving capitalistic society destroying our conscience. The life of a human being without an insane amount of money and power is like that of a cockroach. But here we are, still holding onto it, leading consumer driven lives, often without finding much meaning behind our existence. We are aware of the inequity and the economic anarchy, but we cannot find a solution, nor can we generate the will to.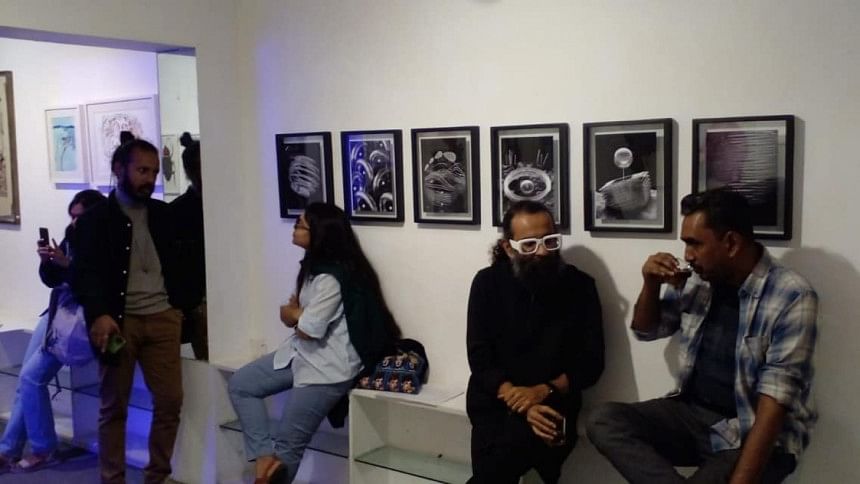 Apurbo as a wandering artist went through an emotional suffocation during the pandemic like the rest of us. This led him to produce the acrylic-on-paper paintings, featuring different issues that he portrayed through snakes, and with a minimalistic, yet eye-catching, color palette. Abir's work include abstract pieces; the human abstractions are eye-soothing. Through his VR work where a sun is viewed from a prison, Ata tried to explain how his seemingly glittering life is full of unfamiliarity in a foreign land. His 'Cosmic Void' is a personal piece with clever uses of 3D visualization.
The mural is a 'relay-painting' produced like a relay race. The four artists took turns and created one big piece, demonstrating social issues metaphorically. The whole idea was to lift the veil of unnecessary ornamentation that prevents the common mass to see the problems in their original gruesome appearance. On one side of the wall Ata stuck several eyes, capturing the abundance of information around us. But of course, our brains are overloaded and we can only watch from afar as we are too powerless to change whatever is wrong with this world. Because, just like the red threads in the installation, things that bother us to our core, often have no solutions and only dead-ends.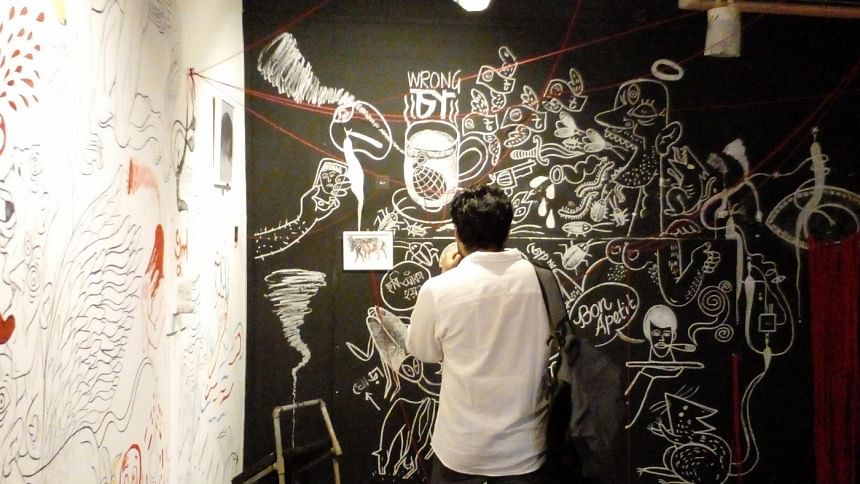 The exhibition pointed out things we prefer to ignore in order to avoid discomfort. We are not proud of that. The purpose of this event is to remind people of these wounds we have inflicted on this planet, on all living beings, including ourselves. The framed artworks are up for sale.