Jamal Ahmed and Kanak Chanpa Chakma in USA's 'Symphony of Rivers and Hills'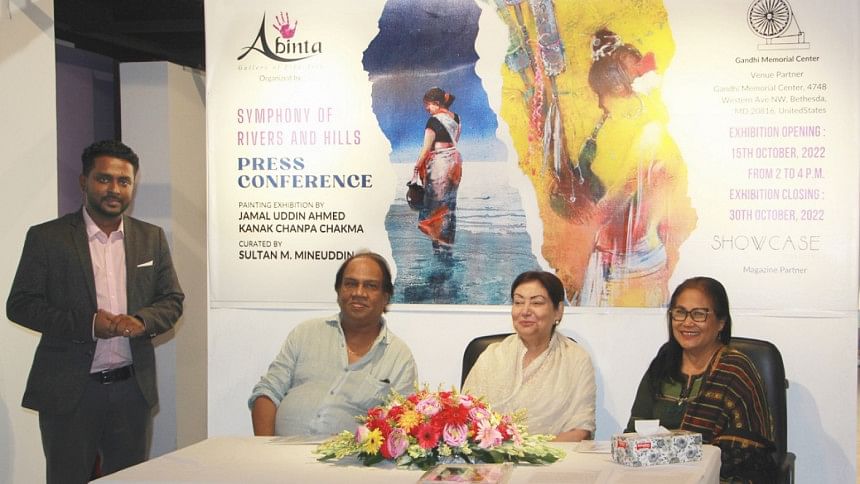 Abinta Gallery of Fine Arts is going to organise an exclusive duet art exhibition titled "Symphony of Rivers and Hills" at Gandhi Memorial Center, 4748 Western avenue, Bethesda, MD 20816, Washington DC, USA on October 15. Two eminent Bangladeshi artists, Jamal Ahmed and Kanak Chanpa Chakma, are all set to travel from Bangladesh to USA to showcase 44 of their artworks (22 works depicted by each) for the fortnight-long exhibition.
A press conference was held in this regard at Abinta Gallery of Fine Arts, Uttar Badda, Dhaka on 24 September. Apart from the featured artist duo, the chairperson of Abinta Gallery of Fine Arts Nilu Rowshon Murshed and gallery curator Sultan M. Mineuddin were present at the press meet.
"I am delighted to present the artworks of two my favourite artists –Jamal Ahmed and Kanak Chanpa Chakma for the upcoming show," says Nilu Rowshon Murshed. "The artist duo will take part in a live painting session at the gallery apart from participating in art talks. I hope the endeavor will make an artistic breeze between Bangladesh and the USA."  
Those who simply love life and beauty, can find their essence in Jamal Ahmed's works. He is a keen observer, but we cannot comprehend what goes on in his mind when he paints. His creative mind is as enigmatic as the picturesque setting we see in his art.
He is, in fact, recognised for his bold approach to art. He crosses great lengths to depict the subjects he loves to. As a master of drawing, he is acclaimed for his realistic depiction of life, expansive landscapes, gypsy women, nubile women in all their voluptuous beauty, and the mystic troubadours of Bangladesh. "I paint whatever I find interesting. I once went to the USA, and was struggling to figure out what to portray. Suddenly, a lonely and panicked pigeon sat beside my balcony, and I started painting it. After that, pigeons have become one of my favourite subjects," says Jamal Ahmed.
The artist uses soft pastel, along with thin acrylic dust layers, and charcoal as the background of his paintings. The acrylic and charcoal dust generate amazing textures, along with a mystique aura on the surface of the canvas.
Evocative of unique themes and vibrant colours, the nostalgic journey of renowned artist Kanak Chanpa Chakma shines bright with her body of works. Behind the use of vibrant colours there lies stories of great depth. As we lift the yellow veils of saffron and pierce past the misty cerulean blues, we find the inner thoughts of the artist - a melancholy aesthetic rising out of the canvas. It is a story of generations past, a beautiful, simpler way of life fading before our very eyes. The exclusive exhibition is an outcome of the artist's research and participating observation of the lifestyles and rich cultures of indigenous communities.
"To know the cultures of indigenous communities is important for me as an artist. I am deeply fascinated with the rhythmic dance and the lifestyles of them," says Kanak Chanpa Chakma. 'Bangladesh Ethnic Artist Forum' was inaugurated under her supervision, with the participation of all the ethnic communities of Bangladesh. The group dedicates itself to conduct research-based works, workshops, art camps and exhibitions.
Curated by Sultan M Mineuddin, this exhibition is being organized Abinta Gallery of Fine Arts, which is a part of Abinta Kabir Foundation, a not-for-profit entity in the memory of Abinta Kabir. The Foundation was set up in 2017 to give free education to underprivileged girls in Bangladesh and now runs a school for them in Dhaka with 106 students with free tuition, uniform and lunch. The Foundation also provides scholarship for meritorious students in Emory University in Atlanta in the US.
Abinta Gallery of Fine Arts, originally started as Athena Gallery of Fine Arts in 2012, was renamed as Abinta Gallery of Fine Arts and became a part of Abinta Kabir Foundation in 2017. The main objective of the exhibtion is to create a platform for the prominent and promising artists to exhibit their brilliant works to the international arena.