'DOTS': Exploring tiny artworks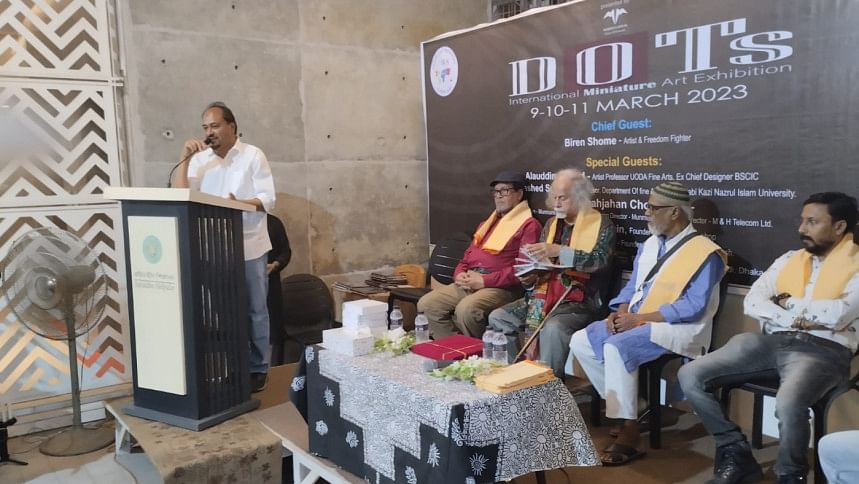 Back in 16th century, small portraits were made using vellum, copper, ivory etc. The portraits were part of illuminators that held a manuscript and a medal. Since then, it became a tradition to carve, paint, or engrave the medal as a miniature portrait. In time, the medium, the purpose, and the outcome kept evolving, and at present, there happens to be a diversified practice.
"DOTS-International Miniature Art Exhibition", a three-day long exhibition took place at the capital's Safiuddin Shilpalay. 200 artists from seven countries took part in this exhibition. On March 9, the opening ceremony and inauguration took place, with the winners of the competition being presented with crests and certificates. The art workshop by Samir Datta was scheduled to take place on the second day.
The miniature exhibition featured the artists' creativity and precision. Every piece in the gallery was intriguing in their own unique way. Waliul Basher painted a realistic image of adorable, fluffy little birds on water –a common scenery in our villages. Istinarah Surrat Nubah, one of the award winners, painted a hyper-realistic portrait of her beloved cat. Mohammad Ali created a simple village scene with beautiful shades and textures. Masuka Nourin Heya embraced Van Gogh's 'Starry Night' through her painting.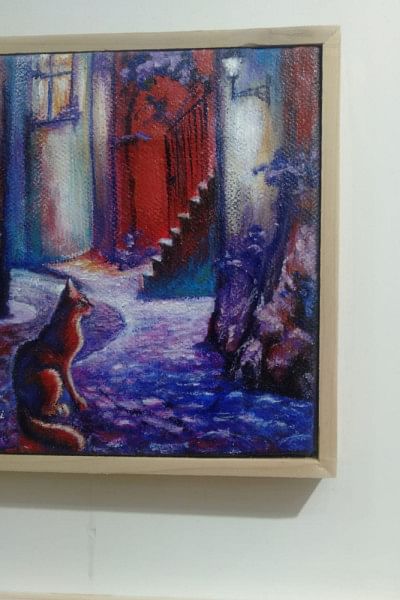 In terms of colors and angles, Selina Lipi's painting of a cat in an alley is straight out of a fairy tale. Margaret Blazo's hyper-realistic pencil portrait of a South Asian woman with a red scarf was eye-catching. Khadizatul Qubra Rony painted a table, with a book and a candle by a window on a rainy day, and this piece looked too real to be a painting.
Abdul Halim's ethereal pencil work depicted a tree as a mother figure, explaining the importance of trees for life on earth. Afia Noor made a woolen tapestry, portraying a fetus in the womb of a mother. Manashi Banik created a wonderful sculpture of an armed woman and it brought her an award too.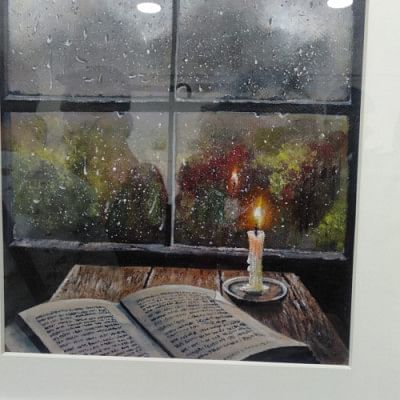 Aside from aforementioned pieces, there were paintings of flowers, brilliant Arabic calligraphy, paintings of nature, portraits, sensual sketches, abstract symbolism, and many more thought provoking artworks. The exhibition brought together several artists and art enthusiasts. This lovely event ended on March 11.