Celebrating the best of art
25th National Art Exhibition kicks-off
The inauguration of the 25th National Art Exhibition took place at the National Art Gallery of Bangladesh Shilpakala Academy (BSA) on Sunday, May 28. The ceremony kicked-off with a beautiful musical arrangement.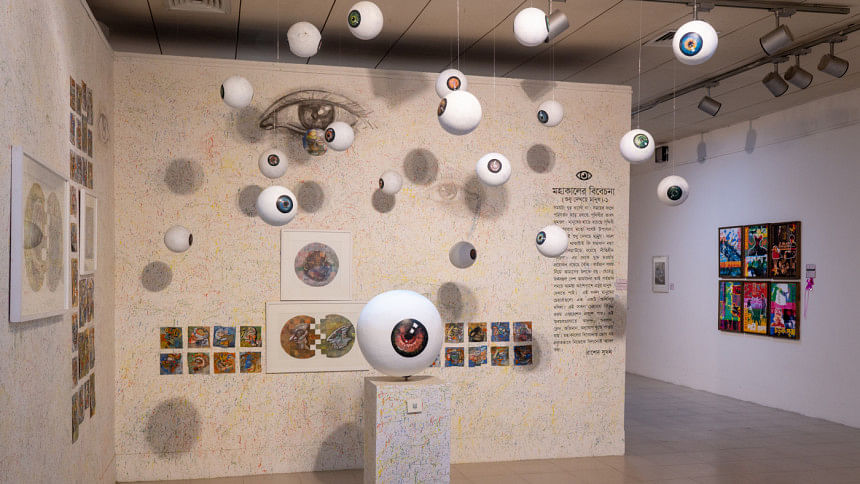 Syeda Mahbuba Karim, Director of Fine Arts at BSA, delivered the welcome speech. Veteran artists Hashem Khan and Khalil Ahmed were present as special guests. Present among the other guests were artists Abdul Mannan and Monirul Islam.
K M Khalid, MP, Minister for Cultural Affairs, appreciated the artists of Bangladesh for uplifting our culture. Liaqat Ali Lucky, Director General of BSA, presided over the event. Salahuddin Ahmed, Secretary of BSA, thanked everyone for attending the event in his speech.
After the opening remarks, the much-awaited award ceremony began. The artists who received crests, certificates, and prize money took their place on the stage for a photo session. The ceremony ended with a cultural performance by a group of dancers led by Shamim Ara Nipa and Shibly Mohammad.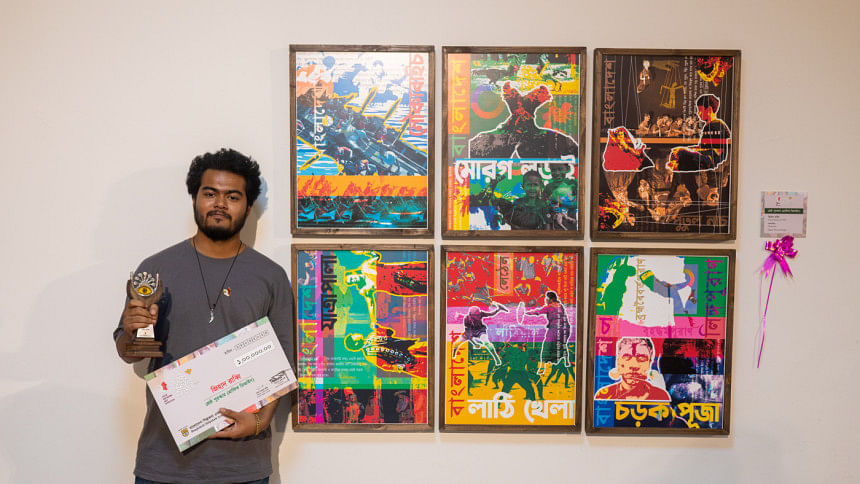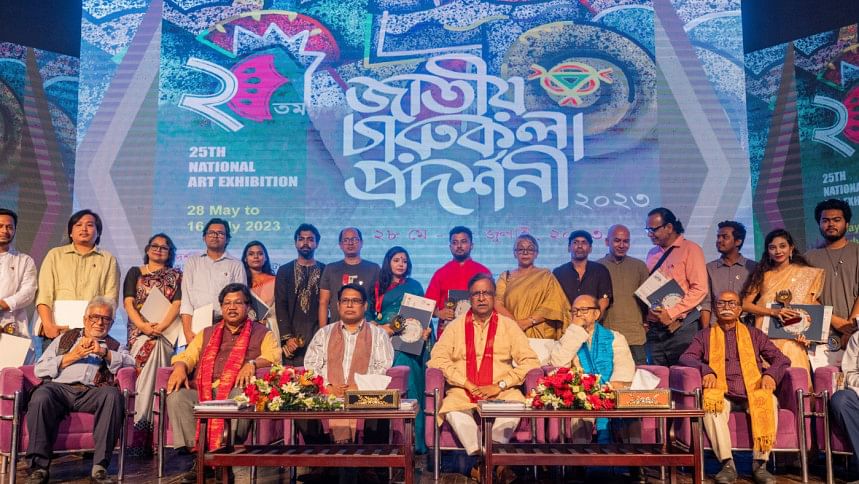 The 25th National Art Exhibition showcases 301 artworks from 261 artists, across 11 mediums. All the galleries of BSA were adorned with wonderful art pieces. Ashraful Hasan's award-winning majestic artwork, "Pyre of Green", in charcoal and acrylic, portrays the doom of the green spaces of the environment. Farzana Alam took a surrealistic approach for her piece titled "Earth and Hope-1". Zihad Rabby, who won the award for best graphic design with his work "Sharonatit", explained his attempt to form a connection between our young generation and our local elements such as putul nach, nouka baich, and morog lorai (rooster fight), through his digital poster designs.
Our mountains have undergone deforestation, and the people whose lives are intertwined with mountains have suffered a great deal of misfortune. Jayatu Chakma's "Entity Existence" mirrors the destruction of the environment. Bilas Mandal's installation "Living in Water" portrays a beautiful, futuristic city.
The internet and globalisation have resulted in superficial needs for external validation. Sadatuddin Ahmed Amil's "The Paradoxes of Globalisation" reflects that. "City in Top View" by Md Faruk Ahamad Mullah is a fantastic composition of wooden blocks. The thought-provoking painting with humanoid cats belongs to Ahsana Nasreen Hoque Angona, called "Adaptation".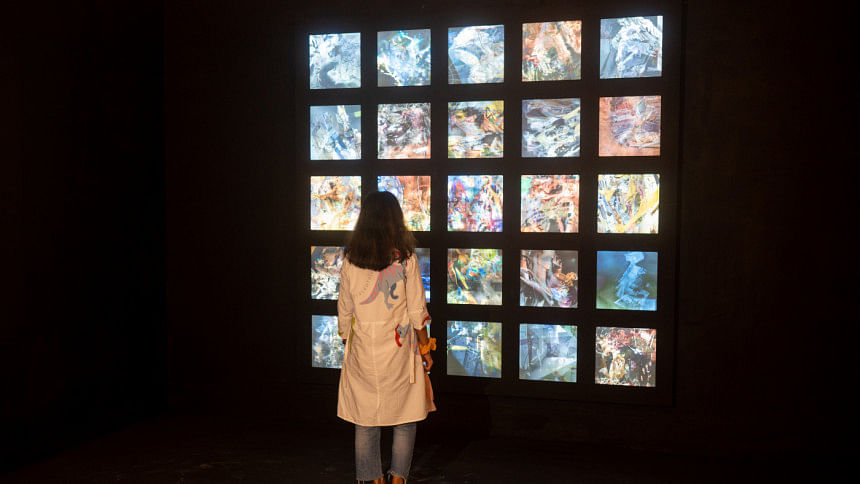 To commemorate S M Sultan's 100th birthday, an entire gallery (Gallery 5) has been embellished with his legendary paintings and some of the art supplies he used in his lifetime. The award-winning performance art group holds their piece on the second level of the National Art Gallery.
Aside from all the drawings, paintings, etchings, prints, sculptures, murals, and bas-reliefs, the 25th edition of the National Art Exhibition has some of the best installation projects the country has ever witnessed. This open-for-all exhibition will run at the National Art Gallery of BSA until July 15.