Abdullah Al Bashir traces the 'Evolution' of ship-breaking
Exhibition underway at La Galerie, Alliance Française de Dhaka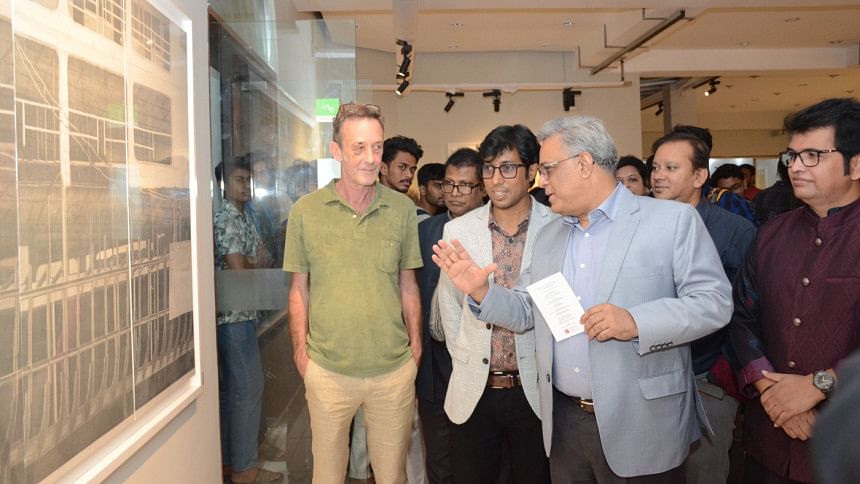 Abdullah Al Bashir's solo exhibition, "Evolution", was recently inaugurated at La Galerie, Alliance Française de Dhaka (AFD). The artworks on display showcase a magnificent technique of woodcut on paper, which is also regarded as the oldest form of printmaking.
The inauguration ceremony was graced by the presence of Professor Dr ASM Maksud Kamal, Pro-Vice-Chancellor, Dhaka University (DU). Eminent artists Professor Syed Abul Barq Alvi and Professor Anisuzzaman Anis, from the Department of Printmaking, Faculty of Fine Arts, DU; Md Nasser Shahrear Zahedee, Chairman, Radiant Pharmaceuticals Ltd, and François Grosjean, Director, AFD were also in attendance.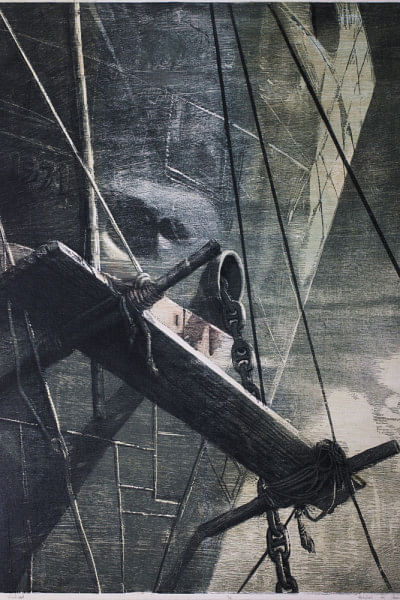 Through his work, Bashir has brilliantly depicted the process of ship breaking, and the impact of ship breaking industry on the environment. The exhibition is displaying more than 30 of his exclusive artworks, that show tools used in ship-breaking, labourers dismantling ships, old ships anchored at dockyards, iron plates near ships and much more.
Bashir completed his Bachelor's and Master's from the Department of Printmaking, Faculty of Fine Arts, DU. He pursued his higher education from Yunnan Arts University, China, where he received the 'All Media Best Award' for his woodcut print. This cross-cultural exposure has allowed him to excel in this field. "Artists in China are brilliant in terms of perseverance and dedication, and I am greatly inspired by their proximity towards such hyper-realistic works," Bashir said.
He is also inspired by the works of Prof. Anisuzzaman, who is renowned for his method of printmaking on texture wood, and Rafiqun Nabi, who was the pioneer of this technique in Bangladesh. Bashir has showcased his expertise in printmaking through the use of unconventional methods like relief, intaglio, and lithography, besides other well-known mediums such as woodcut, watercolour, and drawing.
"I spent my childhood in Sheikhpara, where I had the opportunity to witness the process of ship-breaking. It is closely intertwined with the steel and iron industry, and I grew up with the sound of iron mills and the sight of labourers, abandoned iron pieces and ships at the shipyard familiar to me, which helped me produce this series of works," Bashir explained. His experiences played a pivotal role in creating these prints, as he explored the light and shade, drawing references towards the light and the darkness of our society.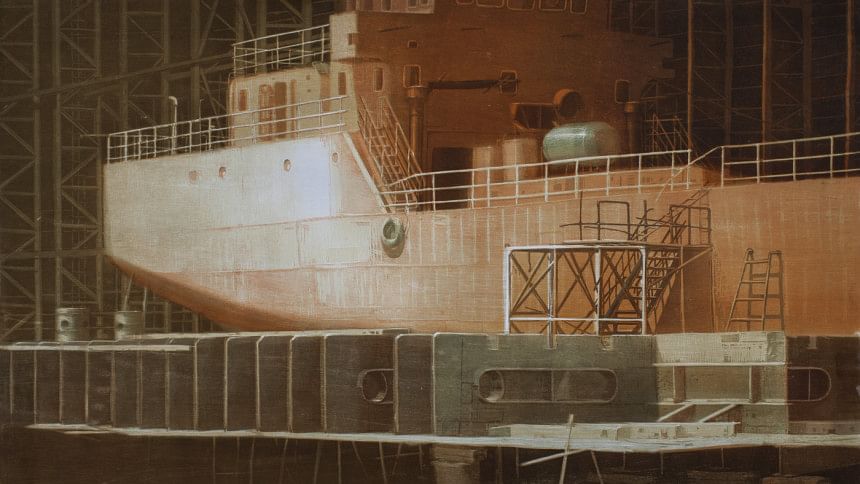 "I have used the ship in my artwork to depict the universe, state, society and my own self which collapsed and is now fixed. The ship carries profound opportunities or dreams and hopes for the future and the reconstruction is the symbol of strong leadership," he asserted. Some of his artworks also pose a historical significance, with the year 1971 etched meticulously on an incomplete ship.
The exhibition will remain open to visitors till December 14, between Monday to Saturday, starting from 3 pm and closing at 9 pm.