Per capita income fails to buy 1-litre soybean oil bottle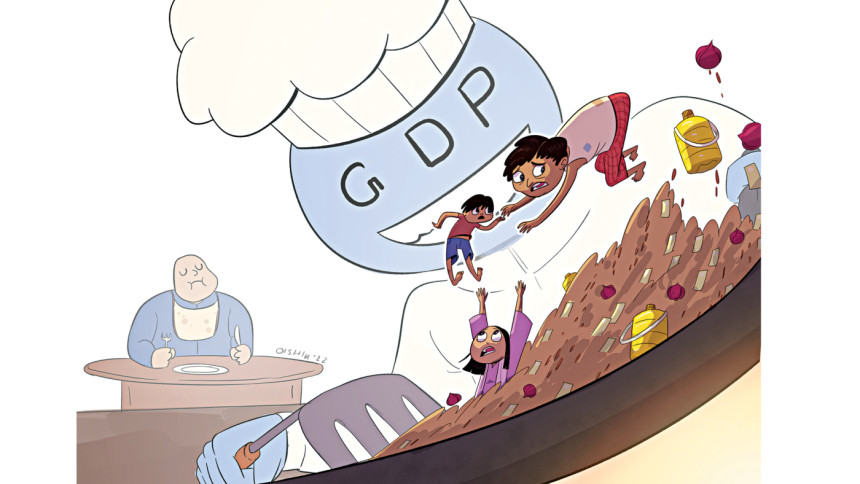 "How many bottles of soybean oil could Elon Musk buy with all of his money?" a man wondered after failing to buy one litre soybean oil with his limited money despite having been blessed with a spiffy figure of per capita income.
People in Chapasthan are still racking their brains to try and figure out why they cannot buy their daily commodities despite having a healthy per capita income.
"Yesterday, I went to a grocery shop with a newspaper cutting where our new per capita income was magnificently highlighted. Then I gave it to the shopkeeper and asked him to give me a one-litre bottle of soybean oil. He didn't give me anything and was furiously asking for money. Doesn't per capita income mean that I earn that money? So, why didn't he give me oil with my money?" another man said of his soybean oil-deprived existence.
Meanwhile, people are shooting angry and murderous looks at anyone walking along the street with a bottle of 5-litre soybean oil. Some have demanded immediate investigation to find the person's source of income and to conduct raids of their house without any prior notice.
Satireday talked to such a person. "What location will the police raid? I sold my flat to buy 5 litres of soybean oil," the man said, revealing the source of his riches.
It will be an absolute injustice if we only blame soybean oil. The price of every daily essential has increased and is increasing everyday by leaps and bounds.
Let us not forget that increment also means "development".
So, we can actually say Chapasthan is witnessing its quickest development. With the progress of this development project, people were seen running behind a truck instead of going to a grocery shop.
One of the emperors of Chapasthan agreed to explain people's mysterious chase of trucks on the condition of anonymity.
He said, "Look, despite being one of the most populated countries in the world, we have never won a medal in the Olympics. So, we planned to train our people by making them 'run' for everything. We are actually testing whether we can send them to the next Olympics."
The relationship between the war in Europe and the rise in price level of even homegrown products in Chapasthan has become another mystery.
A few months ago, people learned to cook without onions and currently they are learning to cook without oil. Experts believe the continuity of this learning process will eventually teach people how to cook without using anything. Leaders have said this could be great for a developing country.
"I stopped eating. Eating is so annoying that it requires going to a shop, complaining about the price, returning with an empty pocket, cooking and then complaining again about the taste of the food. So, it doesn't bother me whether the price of the products increases or not," a man from Apelpur Railway Station said.