Translating Sultan through medium and philosophy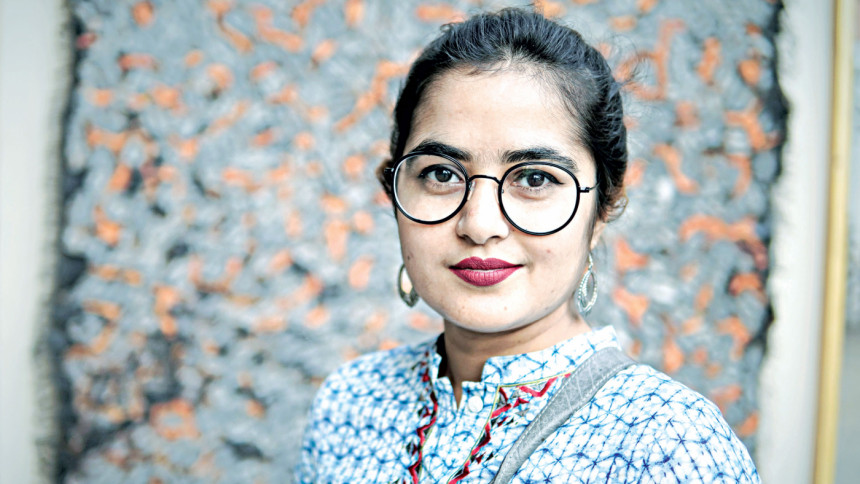 Dinar Sultana Putul is a contemporary artist based in Bangladesh whose art practices focus on the quasi-scientific research and documentation of organic mediums and materials that explore various themes surrounding the nature. 
In the ongoing exhibition "Imaginary of the Common: 50 years of Sultan's Oeuvre" at Bengal Shipalay, Dinar is exhibiting an installation project, which provides a unique tool to delve into the psyche of the revered artist, S M Sultan. Her project, "Madhyom O Darshon" (Medium and Philosophy) consists of a repertoire of organic elements extracted from nature, including clay, jute, and charcoal, which S M Sultan extensively used for his art.
"Not much has been recounted about the specific materials and mediums that Sultan used for his paintings in the available films or interviews. Bearing that in mind, I have attempted to provide a visual representation of these elements to help the viewers understand the depths of his colour-making process," says Dinar. "His unique philosophy of opting for elements available in nature to overcome the barrier of the limitations of medium and material is evident in the earthen colour palette that is central in most of this works. His use of flower extracts and jute define his simplistic approach to life along with his relationship with the ordinary people of Bengal."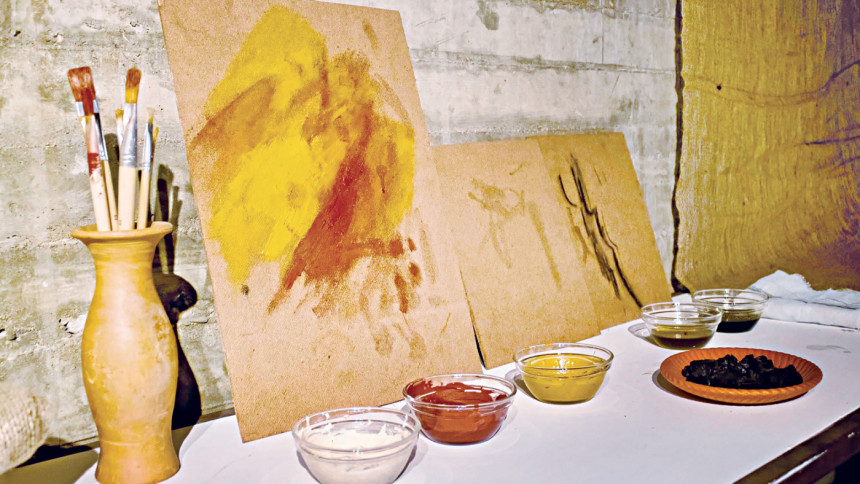 The installation provides an essence of the process and philosophy of Sultan's greatest art works, making his paintings morealive while stretching the parameters of imagination of its viewers.
"Through this project, I didn't aim to provide my own interpretation of Sultan's work; rather, I merely consider myself as a translator of his practice, philosophy, and beliefs to the viewers," adds Dinar.
Owing to his earlier influence her my work, she began revisiting Sultan upon coming back to Bangladesh, going through his paintings and his interviews as his philosophy aptly resonated with hers.
"I noticed that the inherent value of art didn't require me to look for external subjects. Rather, it was present in nature itself. Believing in the philosophy that nature cannot be tamed by humans and that nature that holds power over us, I began translating the materiality of nature into my work taking exploring within the richness of my own history and culture," she explains.
After finishing her Bachelor's in Painting from Visva Bharati University of Santiniketon and her Post-Graduate at Maharja Sayajirao University in Gujrat, she researched and experimented in the preparation of organic colours extracted from nature, including seeds, barks, roots and flowers. Using the same organic techniques, she learned to make paper from different natural filers from flower-based pulp, agricultural crops, paper pulp, earth colours and the wasted parts after extraction of colour.
Moreover, using the motifs from Kantha and Terracotta, she developed a process of researching the various hues, textures, surfaces that is found in nature documenting it all in her work.
"During my years at Santiniketon, the co-relationship that I formed with the nature automatically generated ideas in my mind that influenced the subjects for my painting. My gradual pursuit towards preparing organic art materials developed into an art movement that stood against using material and medium that went against the nature." 
Dinar has exhibited her work in Korean Youth Festival, Asian Art Biennale, National Art Exhibition at Shilpakala Academy, Kochi Art Biennale, Pune Art Biennale and many more events. Along with that, she has participated in the Sonalika Residency Programme at Delhi, Kalakriti Art Programme in Hyderabad,  and International Environmental art camp at Rajasthan. She has also received the Lalit Kala Gujarat State Art Award in 2016.
The author is a student of Political Science, and a freelance journalist. Email: mormeemahtab23@gmail.com.