Meril Prothom Alo Awards ceremony held after two years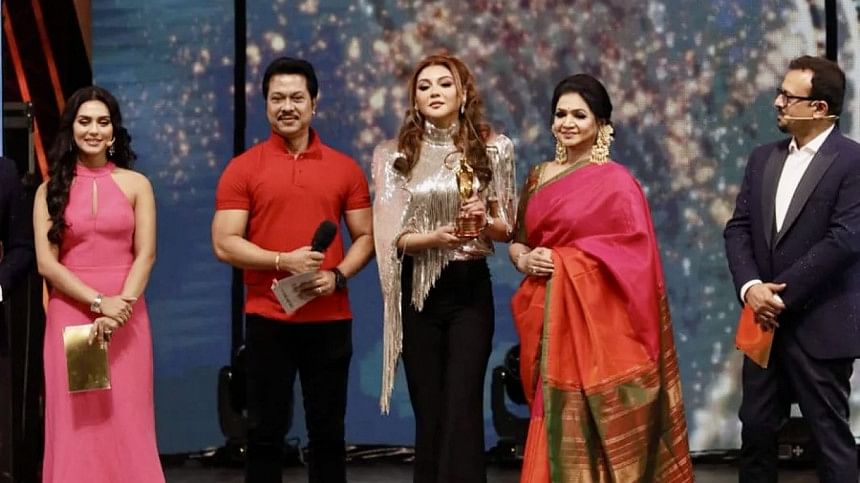 The much-anticipated Meril Prothom Alo Awards 2021 were handed over to the winners at a glamorous event held at Bangabandhu International Conference Centre (BICC), Hall of Fame, tonight. The opening address of the event was given by Matiur Rahman, Editor, Prothom Alo.
In his speech, he remembered Kabori, Aly Zaker and other celebrities who passed away in the last two years. A minute of silence was observed for them.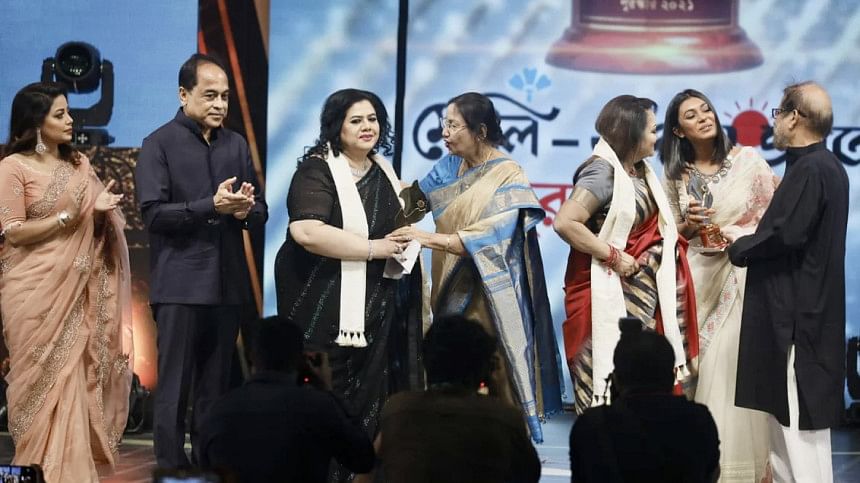 Anjan Choudhury, Managing Director of Square Toiletries limited, welcomed the audience. The programme began with a dance performance by renowned film artistes Ferdous and Nusraat Faria. The show was hosted by Riaz and Ferdous.
The event progressed with beautiful performances one after another. A classical mashup of timeless songs of Runa Laila and Sabina Yasmin were performed by Kona and Nandita, which enthralled the audience. Animes Roy and Pantha Kanai rocked the stage with Coke Studio Bangla's "Nasek Nasek".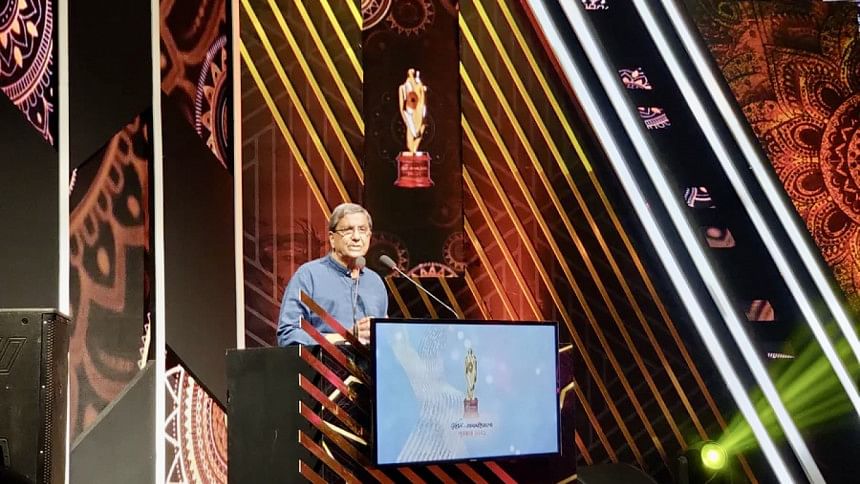 Renowned singers Runa Laila and Sabina Yasmin were honoured with the Lifetime Achievement Awards. Both of them received crests and BDT 2 lakh. Eminent singer Ferdausi Rahman and noted cultural personality Asaduzzaman Noor, MP, handed over the prizes to them.
After announcing the winner's in critic's choice in the limited length fiction category, (Best Scriptwriter: Maruf Hossain Sazib for "Biplob", Best Director: Kisloo Golam Haider for "Laboni", Best Actress: Tasnia Farin for "Tithir Oshukh", and Best Actor: Manoj Pramanik for "Laboni"), Afran Nisho, Tanjin Tisha, Mehzabien Chowdhury and Sabila Nur took to the stage to entertain the audience with their energetic dance performances.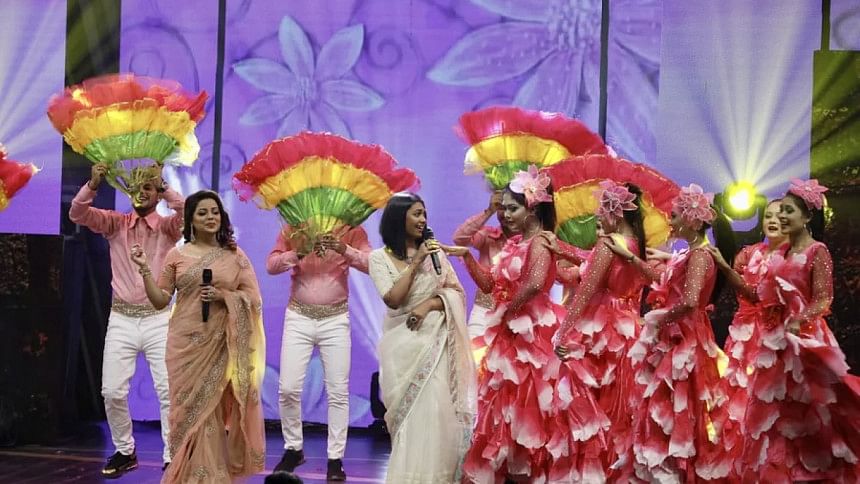 Special jury award was given to Sukorno Shahed Dhiman for his short film, "Bunker Boy", an episode from the Chorki original series "Jaago Bahey".
Below is the full list of winners in two major categories, Critics' and Popular Choice. 
CRITICS' CHOICE (LIMITED LENGTH FICTION)
Best Scriptwriter: Maruf Hossain Sazib (Biplob)
Best Director: Kisloo Golam Haider (Laboni)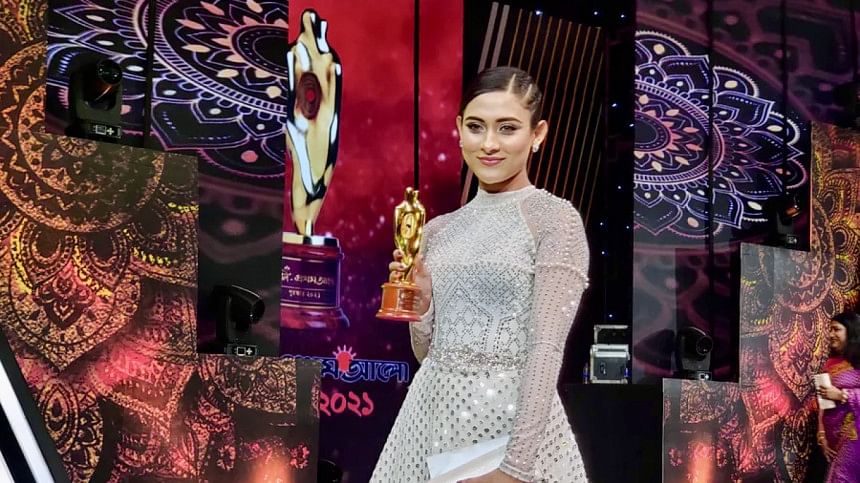 Best Actress: Tasnia Farin (Tithir Oshukh)
Best Actor: Manoj Pramanik (Laboni)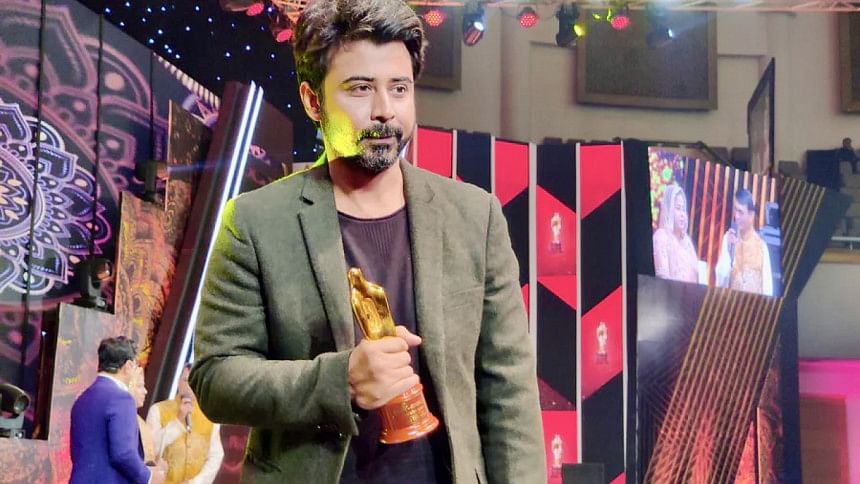 CRITICS' CHOICE (WEB SERIES)
Best Director: Ashfaque Nipun (Mohanagar)
SPECIAL JURY AWARD
Sukorno Shahed Dhiman (Bunker Boy)
CRITICS' CHOICE (FILM)
Best Director: N Rashed Chowdhury (Chondraboti Kotha)
Best Film: Rehana Maryam Noor
Best Actor: Fazlur Rahman Babu (Khanchar Bhetor Ochin Pakhi)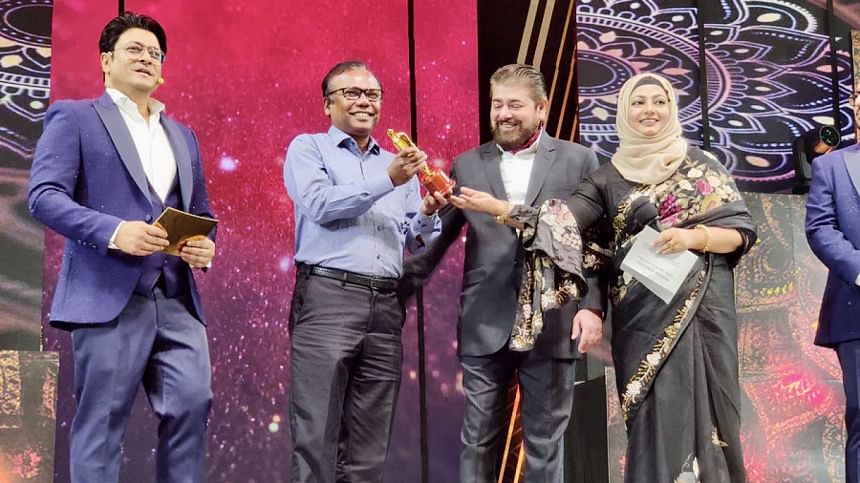 Best Actress: Azmeri Haque Badhon (Rehana Maryam Noor)
POPULAR CHOICE
Best Singer (Male): Tanveer Evan (Obhiman: Best Friend 3)
Best Singer (Female): Abanti Sithi (Rupkothar Jogote: Networker Baire)
Best New Face: Jannatul Ferdous Oishee (Mission Extreme)
Best Television Actor: Afran Nisho (Punorjonmo)
Best Television Actress: Mehazabien Chowdhury (Chirokal Aaj)
Best Film Actress: Jaya Ahsan (Alatchakra)
Best Film Actor: Siam Ahmed (Mridha Bonam Mridha)