From Bollywood to Dhallywood: Sadia Nabila
From rom-com to action movies, Sadia Nabila is ready to showcase her tough avatar with the much-anticipated film, "Mission Extreme".
The young actress, who debuted in Bollywood with "Pareshaan Parinda", will now be seen as a cop, showcasing some daring stunts in the movie.
In a conversation with The Daily Star, Sadia opens up about her role in "Mission Extreme", her Bollywood venture, and many more.
Tell us about your role in "Mission Extreme".
I am playing a cop named 'Ira' in this movie. Arifin Shuvoo, Sumit and I are team members, who are on a mission to find militants who are trying to create havoc in the country.
How did you prepare for the role?
We had to attend an acting workshop conducted by eminent actor, Tariq Anam Khan. Prior to shooting, Sunny bhai (Sunny Sanwar), our director also gave me bunch of links for Netflix series, which would help me to grasp my character well.
We also got a first-hand experience of what goes through the life of a cop, when we visited our real-life cop and director, Sunny bhai's office. He helped us analyse the situation from the eyes of a law enforcement officer. Several incidents from the movie have been taken from his life.
How is Arifin Shuvoo as a co-star?
Many people assume that Arifin Shuvoo is scary, but on the contrary he is really friendly and supportive. I have shot 90 percent of my scenes with him and at one point, my movement started to resemble a man's. Shuvoo bhai even teased me once that I have actually become a man (laughs).
How did you debut in Bollywood?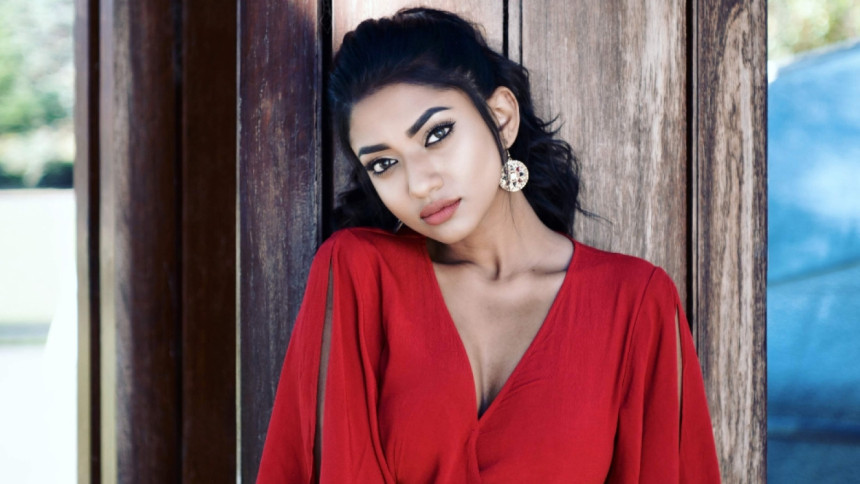 In 2017, I participated in a pageant "Miss India World Wide". I was the first Bangladeshi contestant there and I ended up becoming first-runner up. The director of the film has to know about me from there and I auditioned for the role.
Speaking in Hindi was tough but I had a person who would help me with the script. In this movie, I played a fashion designer in "Pareshaan Parinda" and the movie revolves around a triangle love story.
Bollywood or Dhallywood? Which industry would you like to work in?
"Mission Extreme" felt like my first film, as I go to speak in my own mother tongue and got to act with my own people. The whole experience felt so real. I have a got a lot of offers but due to travel restrictions in Australia, I could not say yes. If everything goes well, I will come to Bangladesh by 2022, as I want to work more in Bangladeshi movies.