Nodi Rocks JU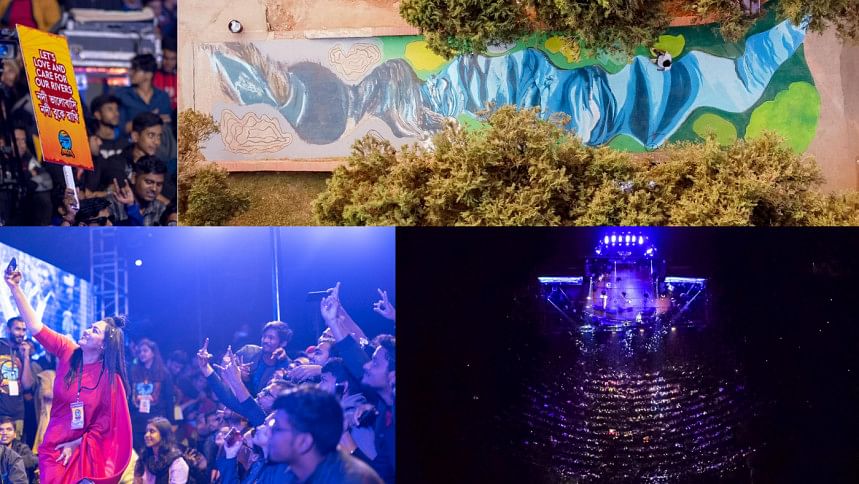 "Nodi Rocks", a first of its kind initiative by Salt Creatives, was launched on February 22 through a virtual event.
The key objective of the project is to use music as a powerful tool to promote riverine beauty and raise awareness of climate change among the youth. Seven popular bands of the country are associated with "Nodi Rocks".
Students of Jahangirnagar University (JU) painted a beautiful mural of a river on the entrance of the stage. The artwork was a part of the "Nodi Rocks" initiative taking place at the university.
Showmik Bagchi, a post-graduate student of the Department of Archaeology, said, "We wanted to paint a river that is fully visible, so one can chart how it flows from its source, and into the lives of the people living near it. If you look at our painting, you will see that the river of blue slowly turns to black, as it comes closer to civilisation. This is because the river begins to slowly lose its life as it comes in contact with people—which is an apt description of the current reality of Bangladesh's rivers."
The student also noted that, in addition to the students of the fine arts department of JU, members of the university's Cultural Alliance also took part in the painting.
This particular concert is said to be the largest public gathering in JU's history, with 20,000 students participating in the event. A total of five leading bands of the country: Chirkutt, Ashes, Bangla Five, F Minor and Smooches performed in the concert, centred around raising public awareness in regards to saving the country's rivers. All 20,000 students came forth in unison to express their support for this initiative.
The "Nodi Rocks" concert is being supported by the Embassy of Switzerland, the Embassy of Sweden and the UNDP. Sharmin Sultana Sumi, of Chirkutt, has been the one organising this wonderful and unique initiative.
Speaking to The Daily Star, Sharmin Sultana Sumi said, "I could not imagine that I would get such a passionate response from the students of Jahangirnagar University. Their passion was not only for the music, but was also for the initiative to save the country's many rivers; which is clear when you see the painting on the stage's entrance."