James to headline Brandmyth's winter concert in the capital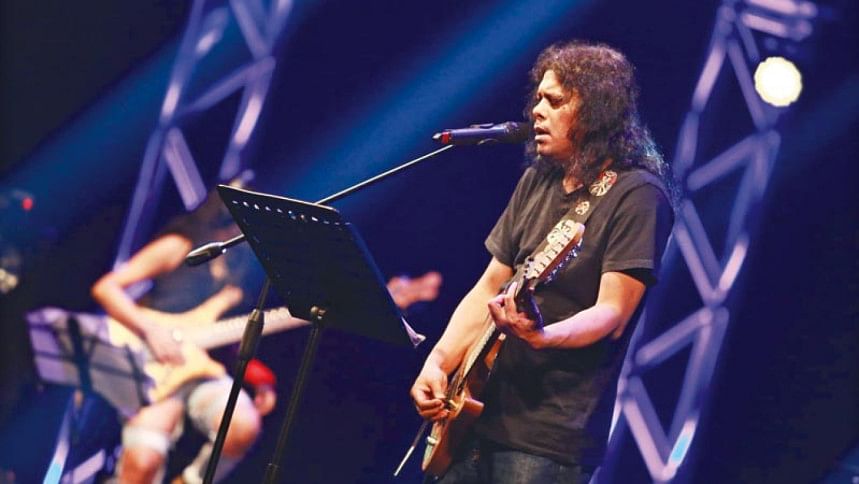 Transcending the absence period of winter concerts in the city, Brandmyth Communications is organising 'November Rain' at the International Convention City, Bashundhara, (ICCB) in Dhaka on November 12, to be headlined by rock legend James.
In addition to James and his band Nagarbaul, seven other popular bands -- Artcell, Black, Cryptic Fate, Viking, Plasmic Knock, Savagery and Fuge -- will perform at the mega concert at ICCB's Hall-4.
Fuad Ruhanee Khan, one of the organisers, told UNB that this early winter rock concert will help bring back the festivity for the hard rock and heavy metal fans who have waited so long due to the pandemic restrictions.
 "After a long hiatus, our beloved rock icon James is returning to concerts with this mega event, which makes this concert even more special. Another highlight of the concert is that the three bands of the 'ABC generation' - Artcell, Black and Cryptic Fate - will perform on the same stage once again after so long.
"We're putting on this show to bring the audience back to normalcy after a long period of the pandemic, inviting them to enjoy their lives and feel like themselves again. We're hosting such an event featuring a variety of activities and engagements, in order to try to get back into the swing of things," he told UNB.
One of the most beloved Bengali rockstars in the world, James made a brief comeback to the stage earlier this year. On March 2, he took the stage at the PSC Convention Hall, Mirpur, In the capital. Meanwhile, Brandmyth Communication arranged the first-ever 'Coffee Carnival concert in Bangladesh at the same venue on October 1st, presented by Dan Cake and powered by Nescafe, to celebrate 'International Coffee Day 2021,' featuring several popular bands including Nemesis, Shironamhin. AvoidRafa, Artcell. Encore, Arekta Rock Band and Savagery.
 The tickets for 'November Rain' are available on the official website of Brandmyth Communication. On the concert day, the gates will open at 12 pm, while the main event will start at 3 pm and end at 10 pm.
Ticket price ranges from Tk 699 (regular) to Tk 1499 (VIP), depending on the choice of seats. according to the organisers.