From desk-bangers to rising musicians: The story of Chitropot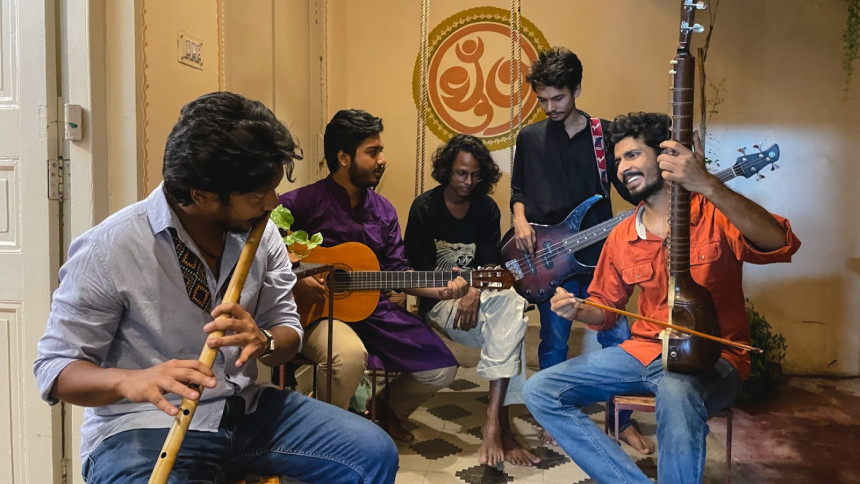 A bunch of desk banging, music-loving ninth graders at Nalonda had the crazy idea of starting a band. None of them could play anything other than a desk – that is how it all began. It has been more than eight years since then, and Chitropot has composed multiple originals including "Ekhane Somoy Katena", "Brishti Tumi" and "Jabo Megher Deshe". The band frequently plays live shows and radio broadcasts.
They did not come into the music industry as know it -- at each stage, they acquired new instruments and skills. For them, not knowing was liberating, because it gave them the opportunity to find their own melody.
In the process of discovery, they fell in love with instruments like the esraj and banjo, as well as experimenting with new sounds, which let them stand out from the crowd. Chitropot disregards the typical procedure for beginning anything new, and strongly believes that everything comes together when you put all of your heart and soul into it.
The band is named Chitropot, referring to the blank canvas that all artists need to flourish their artistic endeavors and creativity.
It illustrates the harmony between each of their notes, sounds, melodies. The group was founded as a result of childhood friends' desperate attempts to stay together – upscaling their playful desk banging in the classrooms and playing music under a tree after-school to bigger stages.
Despite playing many successful concerts, the band members consider receiving a call from  TEDxDhaka event to be one of their greatest achievements.
Chitropot is soon to launch their very first album this year, and the first song of their album is a revisit of the memory lane. "Janala Khule Dekho", their first song from that album, will release soon.
The ongoing celebration of the true friendship they have through their shared love of music is what keeps them going. The crew is moved when an audience that has never heard any of their songs joins in on the chorus. What keeps the band going are unexpected cheers from the crowd that scream, "once more"!
The band consists of Wrivu Mustafa on vocals and bass, Safin Shudipto on esraj and keyboard,  Esraj, Keys, Wasif Nafi as the guitarist, Tahmid Tajoar Shuvro as the flautist.