Energy Efficiency Improvement In Rice Parboiling Sector
Energy Efficiency Improvement In Rice Parboiling Sector
The write-up is based on discussion/findings from the Opinion Sharing Meeting between Rice Millers and Bankers held from 6-7 August at Bogra and Ishwardi Rice Mill Clusters. The Meeting was organized jointly by Bangladesh Government's Power Division, Bangladesh Bank's SME Division and GIZ's Sustainable Energy for Development (SED) Programme.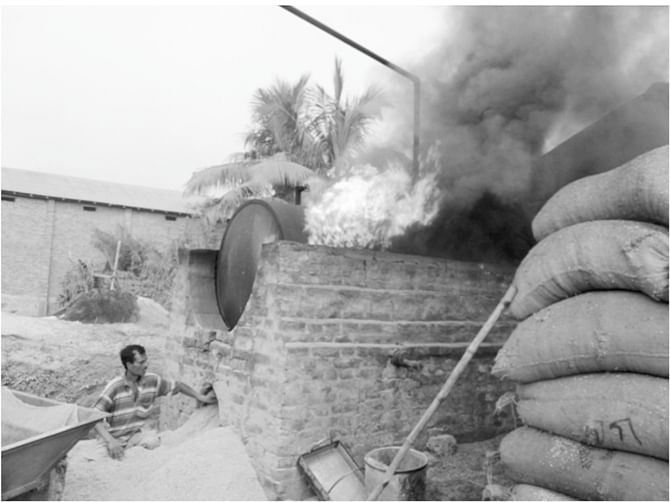 Who can disagree that rice is our staple food. Rice produced from paddy. Following China, India and Indonesia, Bangladesh, as the fourth highest in the world, grows on average 50 million MT of paddy annually resulting in 40 million tons of rice producing 10 million tons of husks as a by-product. Since we like our rice to be parboiled, the paddy is parboiled first in the rice mills to make it sticky, soft and enriched in nutrition. There are about 17000 rice mills in the country. That includes 450 auto rice mills, 2500 semi auto rice mills, 200 major rice mills and remaining small and medium size husking mills. Interesting to know, 70% of this parboiled rice is produced in the small and medium size mills using steam from locally made inefficient traditional boilers.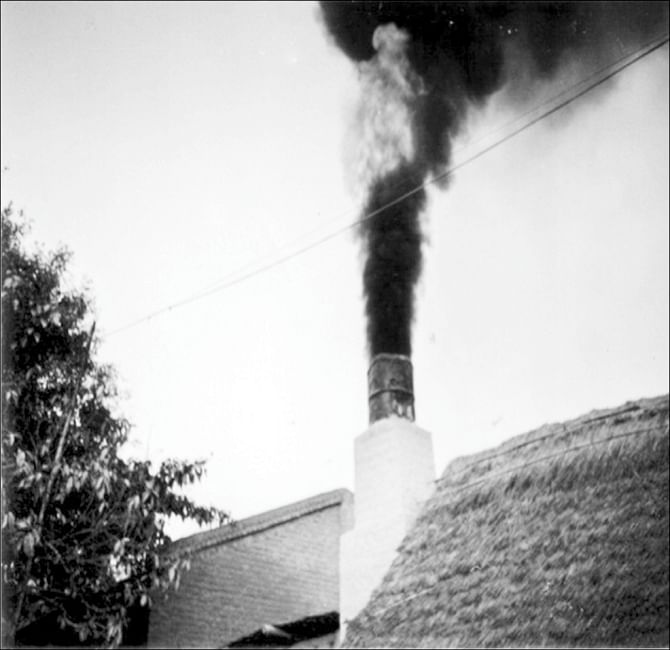 There is no problem with people appreciating parboiled rice for its taste and flavor; there are other points that we must take into consideration regarding the process through which it is being produced at present. First of all, Bangladesh is an energy starved country that relies on biomass for more than 50% of its total energy supply. But it is burning up over half of its most plentiful source of biomass, the rice husks, in the highly inefficient parboiling system of those small and medium scale rice mills.
Rice Parboilers burn husk and bran mix as its fuel. Sadly, 80% of the husk and a significant amount of bran are burnt in the process. Moreover, these traditional boilers are quite unsafe for the operators and onlookers and they are profusely polluting the environment. More than 100 people died and over 500 people suffered injuries as very often a number of these inefficient and unsafe boilers accidentally explode because of uncontrolled internal steam pressure. This has become a common feature for the last few decades. Hand-throwing of fuel into the furnace also poses dangerous risk and health hazard for the operator. In addition to these, traditional boilers emit smoke, poisonous carbon monoxide and other particles that cause eye ailments, bronchial problems, headaches and even cancer.
The hostile work place environment of many traditional rice parboiling systems are exposed to very high temperature and covers up with a layer of carbon and ash. The impact on workers' health results in shortening working life to 5-6 years, for many of the workers.
GIZ Developed Improved Rice Parboiling System (IRPS)
Sustainable Energy for Development (SED) program is a joint undertaking of the Bangladesh Ministry of Power, Energy and Mineral Resources and the German Federal Ministry for Economic Cooperation and Development implementing through GIZ, the German Development Cooperation Agency.
A brilliant solution to this problem has been introduced by GIZ which is much more energy efficient, environment friendly and safe.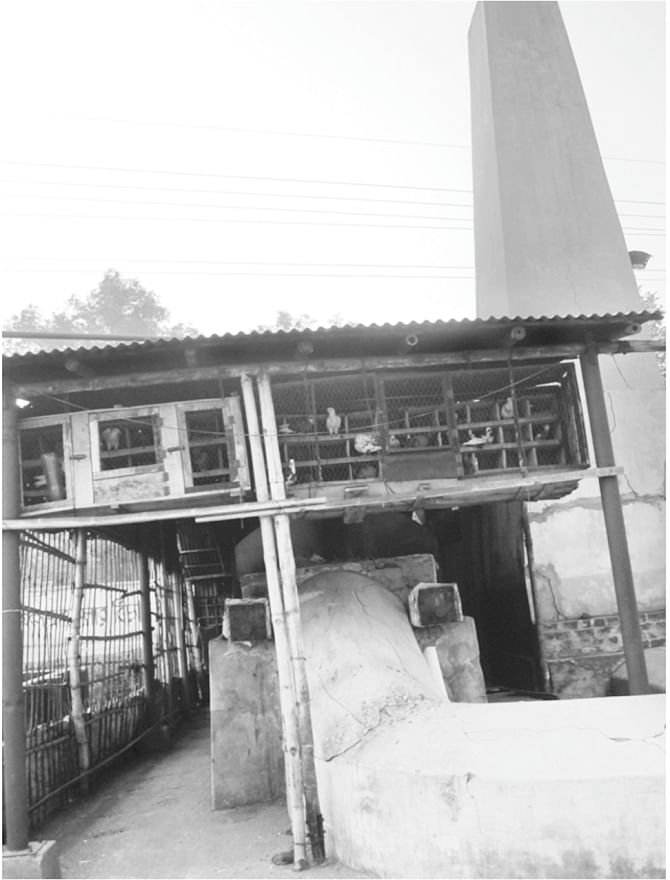 SED started its mission by surveying the existing parboiling landscape. It was found that there are over 50 thousand small and medium sized steam generating parboiling system, most of which were operating at thermal efficiency level of 20-30% only. Of course, some of the larger rice mills were using imported industrial steam generators with efficiency levels well over 50%. These are far too expensive for most small and medium sized mills which typically use a locally produced cylindrical or semi cylindrical vessel boiler with half that efficiency or a simple oil drum boiler with average thermal efficiency of only 15%. Most of these systems do not have safety valve, pressure gauge, water level indicator, or chimney. In conjunction with the Bangladesh Rice Research Institute, the Energy Audit Cell of the Ministry of Power, Energy and Mineral Resources and Modern Erection Ltd., the SED program successfully developed the Improved Rice Parboiling System (IRPS) models.
The team optimized the geometry of the boiler, furnace, flue gas duct and chimney. The boiler was constructed from steel sheet and was insulated with glass wool to reduce heat loss. The steam pipe lines are also insulated. For increasing efficiency, the heat transfer area was increased. A pressure gauge, a water level indicator, and a simple dead weight type safety device were added, which opens automatically as soon as the pressure exceeds the safe limit, thus ensuring protection against explosion. A twelve meter high chimney and properly designed furnace were constructed to aid in proper combustion besides maintaining a clean flue gas exhaust, retaining the ash and other particulate matters inside the boiler furnace. Thus it is ensuring the air in the work area and surrounding remain clean. For a proper and uniform combustion control, rice husk (as fuel) is fed into the furnace using a power blower. In this blower there is mechanism for controlling the husk and air mixing rate. The blower can separate out paddy and rice and discharges the husk only into the furnace. Thus it helps save considerable amount of paddy and rice from burning up unnecessarily- increasing the final edible rice quantity.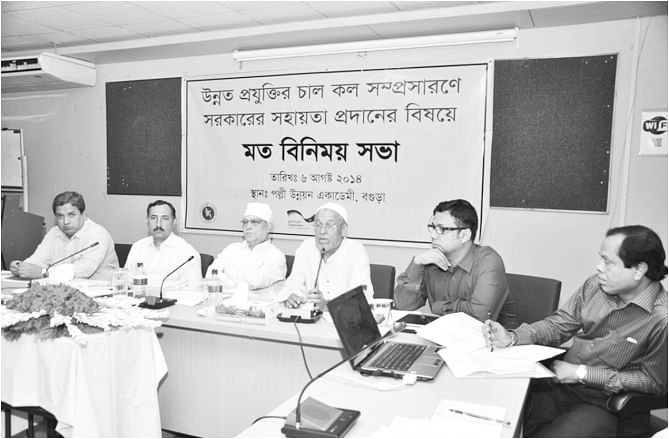 Improved Rice Parboiling System (IRPS) is energy efficient. The newly introduced parboiling system pilots showed reduced the usage of rice husks by over 50% and a thermal efficiency of more than 50%. In the past it was only 24% which means the miller can save at least 50% husk than before. Say,  a miller is used to burn 160 kg of rice husk in the past to parboil one ton of rice, but with the improved system he will need only 80 kg of husk to do the job. The risk of death or injury or disease has been vastly reduced.
The boiler body is completely insulated and the furnace door remains closed to prevent any heat loss across its surface. The improved technology ensures no emission of black smoke from the boiler
Besides, it is easier to operate by use of husk feeding power blower. To ensure the safety, it is equipped with steam pressure as well as the water level gauges. Water shortage can cause explosion at times due to dry boiling. Water level indicator can help prevent such occurrences. In addition, it is equipped with a simple dead weight type safety valve to avoid over-pressure buid-up inside the boiler- very much it works like the safety valve of a pressure cooker we use regularly. The improved parboiling system also have longer working life than the primitive ones.
Again, the design considerations of the improved system were made in such a way that the same technicians who have experience with the traditional rice parboiling systems, could easily be trained up to build the improved system. One might argue the new system is costlier but then if we look at the other side of the coin, the savings in fuel (husk+bran) and rice means the payback period can be even within 2 years (depending on the no. of days of operation).  
Improved Rice Parboiling System saves huge amount of husks and bran every month. Husks are the primary fuel used in a rice mill. It is not a waste, rather an invaluable asset. It can generate money through sale at a price of tk 3-6 per kg. Husks are used as bed-spread in the poultry farms for the birds. You can make these husks into  briquette for firing or use as bed-spread in poultry farms and can sell at attractive prices. Briquettes that are widely used in small restaurants and urban household. Rice bran is primarily a high value animal food and raw material for excellent edible oil. Both husk and bran are increasingly getting scarce and expensive.
Finally, the excess husks saved through this system can be used to build up small scale power plants, parallel to other alternative usage already there, at different mill clusters.
Evidently, reducing the usage of husks as fuel for the boiler will result in cost efficiency of the rice production. As such the cost for the operation will plummet to a lower level. Above all, this improved technology by GIZ ensures excellent maintenance of the natural environment at and around the workplaces.  This technology is so much environment-friendly that even the pigeons also find it safe to build up their home right above the installation.
A demand for this parboiling system has been increasing. The SED program in conjunction with the National and Regional Rice Mills Owners' Associations is replicating this model in Rice Mill Clusters. 60 such improved parboiling systems have been installed in different rice mill clusters. Rice Millers are getting interested and more rice millers are waiting in the queue. But due to intrinsic and extrinsic barriers of the sector, scaling up is lacking pace.  
Access to finance
The construction of the Improved Rice Parboiling System (IRPS) is somewhat costlier compared to the traditional ones. It needs around 4-5 lac taka per installation. According to small and medium scale rice millers, they are already suffering financially unsustainability due to uneven competition with automatic rice millers. Only 2-3% of small and medium Rice Millers have financial capacity to invest in such improvement. Remaining Millers have to depend on Bank's financing. However, taking commercial loan at the interest rate of 17-18% cannot make such improvement, a business viable solution for rice millers. They would be further motivated to install this improved system if convenient on-lending procedure is introduced and soft loan with interest rate not over 10% is accessible to the rice millers which may result energy efficiency, more rice production and producing edible oil locally.
Refinancing is an important issue in this regard. Bangladesh Bank has already included improvement of rice mills under agro-processing SMEs and has extended refinancing scheme in this regard. With the said scheme, rice millers are eligible to receive loan at max 10% interest from scheduled banks and financial institutions.
Availability of fund may not be an issue at the moment for up gradation of Rice Parboiling System. Around 400 crore taka has been allocated for such refinancing, which could be disbursed through 29 banks and 18 financial institutions that made agreement with Bangladesh Bank. Amount of loan depends on the need of the concern. Loan is possible for improvement of any type of rice mills – small, medium or large.
It is encouraging to learn that some of the local banks are financing the rice millers, but more banks should come forward to support this important sector as suggested by the millers. The current scenario suggests, loans are not actually disbursing as per expectation and need of the sector. All we need is good will, responsible cooperation and coordination among the rice millers and the bankers to utilize the available fund.
Proper communication among concerned stakeholders can always minimize confusion, build confidence towards positive development. According to Rice Millers, the loan should come with repayment duration of at least 2-3 years. Similarly the banks need to understand risk factors as well. Any experience with the improved rice parboiling technology can help a banker to understand the business case, risks associated with it and potential for improvement. This is a huge challenge which can only be catered through coordinated efforts from government, banks, financial institutions and development partners.
The Opinion Sharing Meeting between Rice Millers and Bankers organized by Bangladesh Government's Power Division, Bangladesh Bank's SME Division and GIZ's Sustainable Energy for Development (SED) Programme and held at Bogra and Ishwardi, 6-7 August is first of such collaborative efforts to promote Government financing support to the rice parboiling sector. The meetings were attended by representatives of local banks and financial institutions and by local rice mill owners and National Rice Mill Owners Association representatives.
In the meeting Bangladesh Bank SME Division has clearly explained the lending provisions currently available for the rice mills and how the loan can be refinanced from Bangladesh Bank. Government has expressed optimism that financing to the sector development might be expedited through this kind of capacity development efforts for the bankers as well as rice millers. Bankers also proposed to explore formation of intra-bank coordination committee or especial instruction from Bangladesh Bank for the rice parboiling sector. The collaboration will be continued with more tailored efforts as avowed by the Government and GIZ representatives present at the two workshops.
Technology uptake
According to Rice Millers, there are about 50 Rice Mill Clusters in the country. Improved Rice Parboiling System has so far spread mostly in Ishwardi and Sherpur (Bogra) Rice Mill Clusters. Few other improved rice parboiling system has also been installed in Rangpur, Gazipur and Brahmanbaria areas. However, majority of the rice mill clusters still unware of this technology and have not even experiences any demonstration project. To make the system familiar to the millers, more and more demonstration units are be installed at rice mill clusters, so that its performance can be observed by millers around. GIZ is set to make a plan to install demonstration plants at each rice mill clusters of the country.  
Availability and retention of skilled masons and workers also pose as challenge for technology penetration. GIZ has so far trained 52 Technicians and 30 Masons from several rice mill clusters. However, many have already displaced due to job security. Some have also opted for foreign jobs with this GIZ certified training, anyway at least goo to bring about foreign currency. As GIZ is set to pilot the technology in rice mill clusters, they are also moving to develop cluster based technicians and masons.
For increasing the operation days, mill owners requested GIZ to support in developing improved and economic drying technology so that it can be used for running mechanical dryers thereby reducing dependency on the weather condition. With increased operation, these mills would be financially more viable and the payback for the improved parboiling system would be even quicker. GIZ has undertaken a pilot project in this regard in Sherpur Rice Mill Cluster in Greater Mymensingh area.
The package solution proposed by rice millers
Semi-auto, Auto and Major Rice Mills have a share of nearly 30% of the total rice supply in the market. That means, the major market share of the produced rice is lying with the small and medium sized mills of the country. To ensure business sustainability of these rice mills and to be compliant with Department of Environment's environmental regulations, the rice millers are interested to get bank financing for a package solution, that includes GIZ introduced improved rice parboiling system, improved drying and modern milling machineries. According to Rice Millers, the complete solution will not only make them energy efficient, environment compliant, but also will increase their productivity and business viability. Currently about 8-10 metric ton rice is wasted in those inefficient rice mills since Angle bar hauler or non-uniform crushing cause the rice grain breakdown. Whereas milling side improvement may result 15 lac Metric Tons of bran for producing edible oil. The amount of investment shall vary from 10-20 lacs according to the size of rice mill and suggested improvement measures.   
Conclusion
Agriculture contributes more than 17% to GDP. Bangladesh is now world's sixth largest producer of rice which accounts for 77% of agriculture land use. As energy starved developing country, GIZ's energy efficiency intervention in the rice parboiling sector seems not only improving efficiency, but also ensuring savings in rice and husks and a safer and environment friendly workplace. While modernization through improvement in crushing and milling side in the rice parboiling sector may pave the way for self-sufficiency in rice and edible oil production saving huge foreign currency. Government is already trying to stabilize many important sectors with provision of subsidy. However, rice millers do not want subsidy, what they want is provision of low interest loans to develop the sector. Whereas, existing refinancing schemes have already showed a light at the end of the tunnel, it may be time now to come forward with sector specific financing modality, positive attitude, targeted capacity enhancement measures and coordinated efforts from all quarters to flourish the sector.