End Domestic Child Labour
End Domestic Child Labour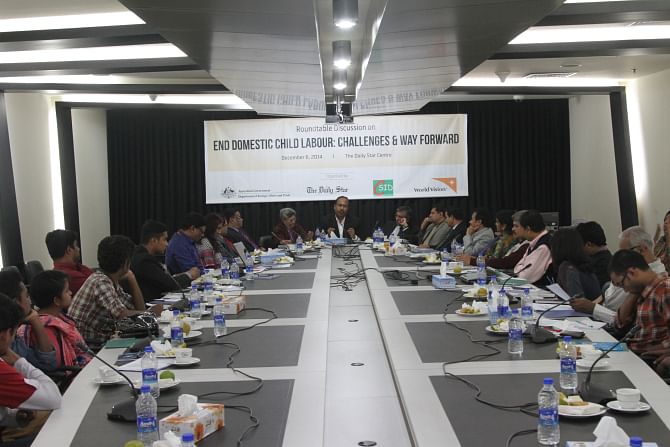 Key recommendations following the discussion
*The government should ratify ILO Convention 138 and 189.
*Domestic Work needs to be included into the list of Hazardous Work.
*Draft Domestic Workers Protection and Welfare Policy 2010 should be finalized, enacted and implemented soon.
Md. Akram Hossain, Project Manager, An Inclusive Approach to Empowering Working Children project, Centre for Services and Information on Disability (CSID) and Keynote speaker
According to various researches and surveys conducted by ILO, UNICEF, Bangladesh Shishu Adhikar Forum (BSAF) and Bangladesh Institute of Labour Studies (BILS), more than 4 million young and adult populations extend their laborious contribution to the household activities as domestic worker. Among them 83 percent are female, who are mostly children and young in age. A research conducted by BILS shows that 33.6% of the domestic workers are children and their age range is from 5 to 14.  A recent survey of BSAF shows that the percentage of female domestic worker is 88%. According to a study by UNICEF(1998), as many as 300,000 children worked as domestic helps. Bangladesh Bureau of Statistics (BBS) Labour Force survey (2006) shows that total estimated number of child domestic workers was 3,31,000. According to the ILO - UNICEF baseline survey (2007) number of child domestic workers was 4,20,000.
With regard to education, study shows that about one-third of the house-workers are illiterate (cannot read and write), 36.67 percent house-workers can write their name and 23.33 percent have some experience of primary level education.
Major causes of becoming child domestic workers
Child domestic work is a multi-dimensional and complex issue. There are some broader causes and some specific reasons. Researches show that the key causes of child domestic work are economic vulnerability, inadequate legislative framework, inequalities in social and educational services provision and in economic opportunities between rural and urban areas, cultural and social inequities and inaccessibility in education, including inadequate provision of technical and vocational education, parent's low education, gender discrimination, vulnerabilities and social exclusion etc.
Child Domestic Work is related with the low socio-economical situation of the family of the child worker. A research revealed the issue from the employer and child workers' perspective. It shows that 90 percent of the children and 86 percent of the employers think that financial crisis is most pressing to become a domestic worker. The other specific causes that are also related with economic factors are: large family, parent's sickness and death and child marriage. A survey research of BILLS on domestic workers also supports the data.
There are also other causes like social insecurity for the girl child at their village home. In the rural areas, where many families experience extreme food scarcity, women and girls do work outside the home out of necessity. However, especially for unmarried adolescent girls, this is often not socially acceptable. Therefore, some parents send their girls' to an urban home as they think that their girls will be protected there.
Working condition
There is no specific working hour for the child domestic workers in Bangladesh as recorded in various researches. Generally, they are supposed to provide support according to the need and requirement of the household. According to a report of UNICEF, in Bangladesh, child domestic workers spend on average 15 hours or more working each day, seven days a week, and are generally on-call day and night.   Generally child domestic workers do the various activities that include washing floor, cleaning room, cooking, washing and ironing clothes, boiling water, waste disposal, shopping from nearer shops, cleaning toilet, bringing child from school and caring of the children as well as aged people. Research findings show that 39 percent of child domestic workers said that they do this kind of works every day. 
Food and nutrition
It is evident from various researches that generally domestic workers get food three times. According to a research, ninety percent respondent (child worker) said that they get sufficient food for three times. Whereas another research on this issue shows that the quality of food and treatment varies in different households. For the most part child workers eat empty calories (such as large amounts of rice) and nobody monitors if the children receive a balanced diet with adequate nutrition. Half of the respondents of this research said that they are fed only after the employer's family has completed their breakfast, lunch or dinner. Most of the time, it is the child domestic worker who prepares the meal, hungry, only to be fed late herself.
Wage and benefits
In most cases the appointment of domestic work is based on fully private contact. According to a research, 57 percent of the surveyed domestic workers got the work through their relatives. The same research showed, among the surveyed domestic workers, 17 percent are working on the false hope from their owners which include commitment of their marriage after certain period of time, provide better job facilities for them and for their family members, provide higher wages in future etc. Eighty percent of the workers mentioned that they get taka 300-1200 per month. Around 27 percent of them get only taka 300-600. On the wages, there is a huge gap in the opinion between workers and the owners. The highest 64 percent children mentioned that the owners do not increase their monthly wage, whereas 54 percent employers say that they have increased their monthly wage.  As per BILLS' survey findings, 33 percent of surveyed workers get less than 300 hundred taka per month, 30 percent get taka 300-600 and 30 percent get taka 600-900. 
Violence against the child domestic workers
The child domestic workers are often exposed to physical, mental and even sexual violence by their employers. Child domestic workers may suffer severe torture leading to fatal injury. Many child domestic workers even died due to severe torture and injury. The severity of torture ranged from beatings, hitting the head on the wall, burning by cigarette or any other metal things, non-payment of salary and some even suffered rape by the owner of the house and committed suicide.  According to a document of Ain o Shalish Kendra (ASK), in the period between 2008 to 2011 there have been 2709 reports published in newspapers about the violence against domestic worker and among them 729 child domestic workers have died due to the violence. Each year a number of domestic helps are being killed. Child domestic workers being sexually harassed by their employers is also a common phenomenon. Child domestic workers, especially girl are victims of sexual abuse by the male members of the households.
Existing legal frameworks to address child domestic work
Bangladesh Government is legally bounded by a number of international and national instruments to ensure the rights of the children, especially the working children. Article 32 of CRC clearly speaks about the protection of the children from any kind of work that is harmful for their physical and mental health. Another international binding for Bangladesh is the ILO Convention No. 182 on the Worst Forms of Child Labor which has been ratified in 2001. Another important international instrument is ILO convention 138. It talks about the minimum age for the work. Bangladesh however, has not ratified Convention 138.
The Labour Act  2013 (amended) has fixed the minimum age for admission to work at 14 years and for hazardous work it has been fixed at 18. But it does not include the informal sector labour like domestic worker.
The National Child Labour Elimination Policy 2010 broadens the scope of definition. The National Children Policy 2011 has mentioned a number of steps to mitigate child labour.
The Domestic Worker Protection and Welfare Policy 2010 (draft) is the first of its kind. It is yet to be adopted.
The recent order of the Writ Petition no. 3598 of 2010 is one step forward in regard to deal with the issue of child domestic worker.
Why child domestic work should be considered as hazardous work? 
Article 3 of the ILO convention 182 on the Worst Forms of Child Labor mentioned that "work which, by its nature or the circumstances in which it is carried out, is likely to harm the health, safety or morals of children" will be considered as hazardous. Accompanied with the convention, ILO recommendation 190 explains that the consideration of the conventions should be given in relation to the "work which exposes children to physical, psychological and sexual abuses." It also considers that children work for long hour at night and child unreasonably confined to the premises of employer will be defined as hazardous work. This explanation of the C 182 and recommendation 190 give emphasis on the circumstantial factors in defining the form of labour and in correspondence to the explanation, the child domestic work must be a form of hazardous work for the children. According to the ILO definition of hazardous work following activities are considered as hazardous work: ironing cloth, washing heavy cloth, boiling water, operating motor or pumping water, lifting heavy goods, going to shop by crossing the road etc. Based on this definition much of the domestic workers of Bangladesh can be shown to have been involved with hazardous work.
The NCLEP 2010 clearly stated that violation of the following conditions will be considered as hazardous working condition for the children: Works for more than 5 hours per day; works that creates undue pressure on child worker's physical and psychological health and social status; works in an insecure and unhealthy environment; works without wage or with irregular payment or for low wages; works that requires carrying out duties disproportionate to his or her capacity; works in such a condition that hinders his or her education; It is forced labour; Is compelled to do such work which demean human dignity; becomes the victim of physical and/or mental torture and sexual exploitation; and gets no opportunity of leisure or recreation. The situation analysis shows that in case of child domestic work all the conditions that have been mentioned in the policy are applicable to child domestic workers. 
What should be done?
Prevention: Awareness raising, income generating activities and financial schemes for vulnerable families to meet their basic needs and send their children to school, improved educational opportunities for girls and community mobilization to create a common sense of responsibility that protects the  rights of vulnerable children.
Withdrawal: Domestic child labours work in the private sphere without the possibility for outsiders to monitor their work.  Therefore, initiatives are required to identify and gradually remove under-aged children from domestic work. It will also require declaring this work as hazardous for children.
Protection: Children above the minimum working age and in acceptable conditions may work with improved access to education and other basic facilities, including registration at source and destination and access to legal aid.
Domestic work should be recognized as formal sector. As long as Government is not recognizing the sector as formal sector, it will not be possible to address the rights of the domestic worker, including child domestic workers.  The Labour act 2013 and the National Child Labour Elimination Policy 2010 kept the area under the informal sector. So, this sector is remaining outside from all government regulations and monitoring mechanisms.
Government should ratify ILO Convention 138 based on minimum age and ILO Convention 189 based on decent work for domestic workers. Child domestic work should be included in the list of hazardous work. Although the child domestic work conforms to the significant attributes of the definition of hazardous work, still government has kept the work outside the recently published list of hazardous work.
Md. Emranul Huq Chowdhury, Chairperson, BSAF and CRGA
In both the studies of 1990 and 2004, Blanchet and Zaman conducted a study which says that child domestic work is a form of slavery. Another study shows that it is a widely held view that employing girl children in domestic household work is a form of apprenticeship to be a good housewife and housework is the safest work for a girl child. We should counter these views.
In 2010, a draft welfare policy on child domestic workers was submitted to the ministry of women and child affairs and the ministry agreed on principle to adopt it. After four years, it is yet to be adopted. We should immediately adopt it.
Wahida Banu, Executive Director, Aparajeyo Bangladesh
We need full political commitment to eliminating child labour in the government. The government should recognize good works of NGO's in this field and replicate those good models elsewhere in the country.
Another important point is to implement existing legislations on domestic child labour immediately. In many cases, professionals who are involved in implementing these laws should also be made aware about these legislations.
We should emphasize on parenting. Parents should be made aware about hazards of child domestic workers. We should also expedite the birth registration of all the children so that employers cannot manipulate age of child domestic worker. 
Syeda Munira Sultana, Project Manager, ILO
In 2013's nation action plan, domestic work is recognized as an informal sector and there are clear legislation and enforcement clauses regarding this. It says, "Existing laws and regulation related to child labour issue in both formal and informal sector are reviewed". So we have adequate legal weapons now we need proper implementation. Monitoring and inspection are vital for ensuring proper implementation. In this regard, ILO is working in 10 countries including Bangladesh to find ways of strengthening labour inspection system. In this project we will also find ways to include child labour issues in the inspection system.  We have also some good monitoring practices in our earlier projects like US Doll Project. These good practices should be included in our monitoring system. Community based inspection should also be strengthened .
There is another recommendation that "child domestic work should be enlisted as hazardous work". Government has prepared a list of 38 works as hazardous. In this list there are many informal sectors which are not under the purview of existing labour laws inspection system. The government has a national child labour welfare council which is entrusted to oversee implementation of national action plan. We should activate this council.
We have draft domestic worker's protection and welfare policy 2010. It should be finalized immediately.
Dr. Nafisur Rahman, Director, National Forum of Organizations Working with the Disabled (NFOWD)
A large number of child domestic workers are disabled. We often forget this issue. When we talk about services for child domestic workers we forget about the special needs of children with disability. There is another issue that many children suffer from disability due to abuse in the household. In the child domestic workers related policies we should consider these issues.
Chandan Z Gomez, Advocacy Director, World Vision Bangladesh
We want to urge the government to ratify ILO Conventions 138 and 189. We should modify our child labour elimination policy in line with these conventions.
There should be a separate registration system for child domestic workers. It will help keep track of the children.
There is a government help line for children. This is a toll free number. This number should be widely circulated through media.
Government has a list of 38 hazardous works for children. Domestic work should be included in the list. For the time being, there should be a particular code of conduct for the employers of domestic child labour.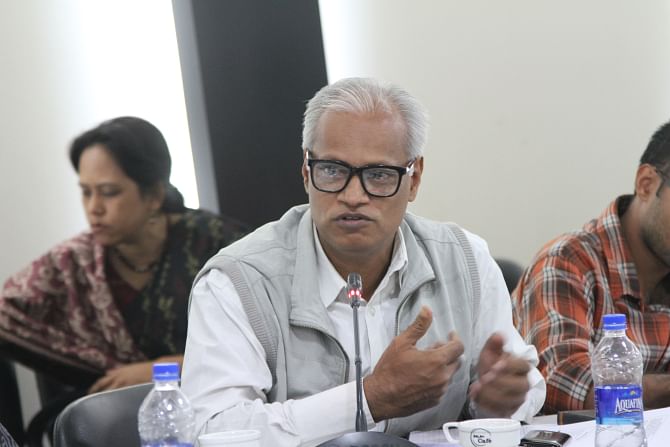 Razequzzaman Ratan, General Secretary, Socialist Labour Front
I want to focus on eliminating economic disparity. Where a guardian does not have job security or security of living how he or she will be able to ensure security of the children. We should ensure minimum living wage for all.
Child labour affects the moral of a society.  When a child grows up seeing another child being abused how he or she will be a good citizen?
Jannatul Ferdous (Srity) Child with Disability
Being a person with disability I feel the suffering of a child labour. I think we have make people aware about the pain of child who has to work as a domestic child labour.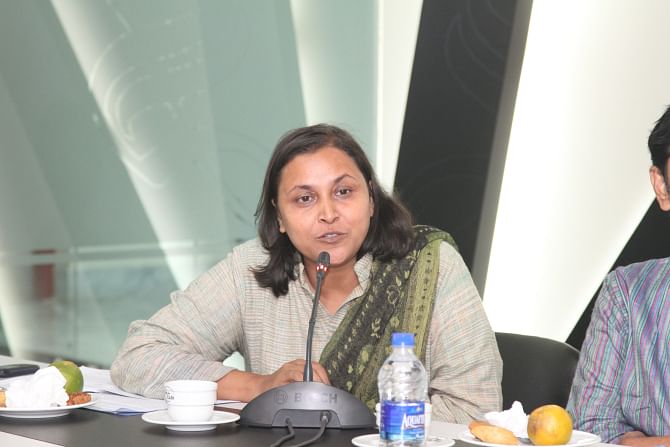 Joly Talukdar, Joint General Secretary, GWTUC
We should take the issue of child domestic labor holistically. We have to ensure proper living standard for every family.This is the basic. If we can do that parents will not send their children for domestic work.
Mostafizur Rahman, Manager, EYE Program, Save the Children
We should rather talk about ISR (Individual Social Responsibility). We should start eliminating domestic child labour from our own family.
Sarder Lutfur Rahman, Sr. Sector Specialist- BRAC
We are trying to give special privilege to children who need special care in our BRAC schools. This should be made mandatory for every educational institution.
A special content on child labour should be included in every educational training manual. It will help create awareness.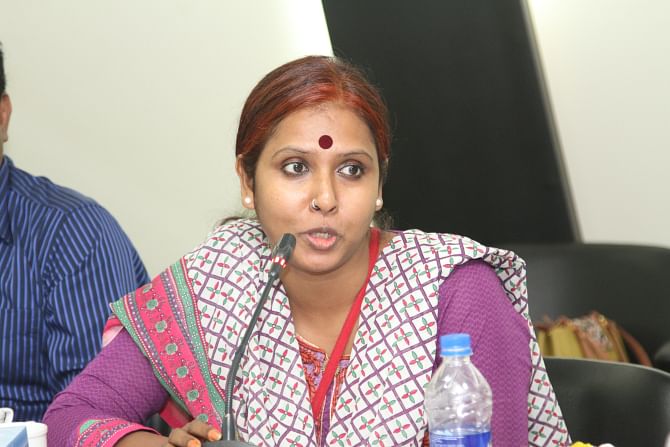 Shabira Nupur, National Advocacy Coordinator, World Vision Bangladesh
We should think about how we can implement national plan in rural areas. Another important point is that the local government agencies should take care of the children of their particular areas so that parents can not send their children for domestic works to urban areas.
Like child labour free factory we should take the initiative of child labour free apartment. Apartment committees can play a good role here.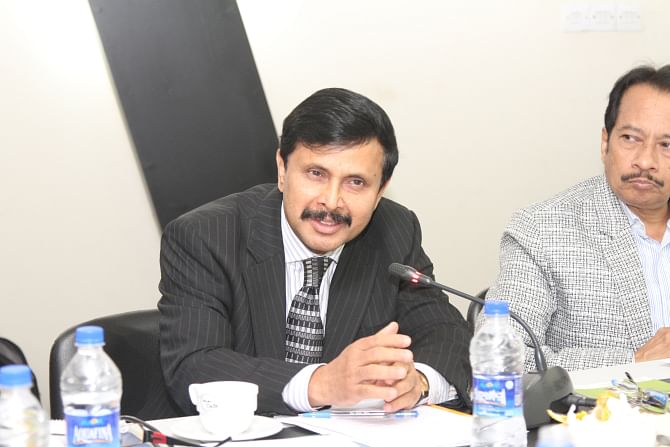 Khandakar Mostan Hossain, Joint Secretary, Ministry of Labour and Employment
We have enough law and regulations. Now we need to change our mindset.
We have already brought out 1,50,000 domestic child workers through informal education programme. We have already made committees at the grass root level on the issue of child domestic worker.
We, with the help of Netherlands government, established a child labour unit which saved 10,000 child domestic worker in the Dhaka city. After the completion of the project we thought to establish a permanent structure like child labour unit. It is now under active consideration of the government.
Kazi Reazul Hoque, Full Time Member, National Human Rights Commission
We have to think holistically. We have to change our social mindset. Our children should be brought up with human values so that they respect others' rights.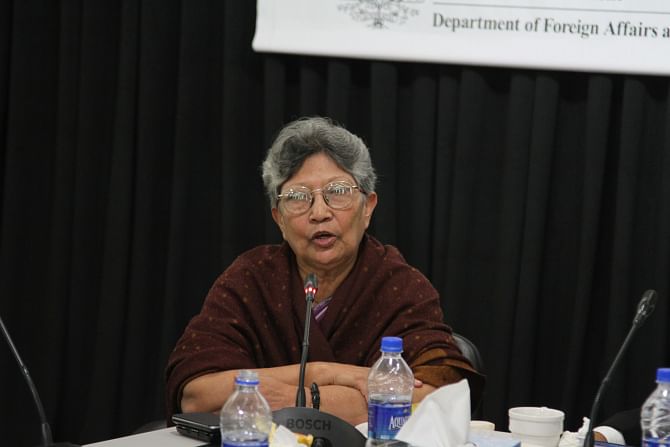 Quazi Rosy, MP and Member of Parliamentary Caucus on Child Rights
We should eliminate every form of domestic help. We should do our own work. We should create the culture of self-help.Opportunities should be created for children so that they can earn livelihood through education.
Md. Mujibul Haque Chunnu, State Minister, Ministry of Labour and Employment
We have enough laws and legislations. But we lack in implementation. As we have resource constraints we have to make the best use of this resource. We should strengthen our monitoring and implementation system.
We have to change our mindset. We need to make people aware about rights of domestic child labour.
The government is very sensitive to child rights. We will do everything for them. The government alone cannot do everything. That's why we need support from all the stakeholder. If we work together we will be able to create a bright future for our children.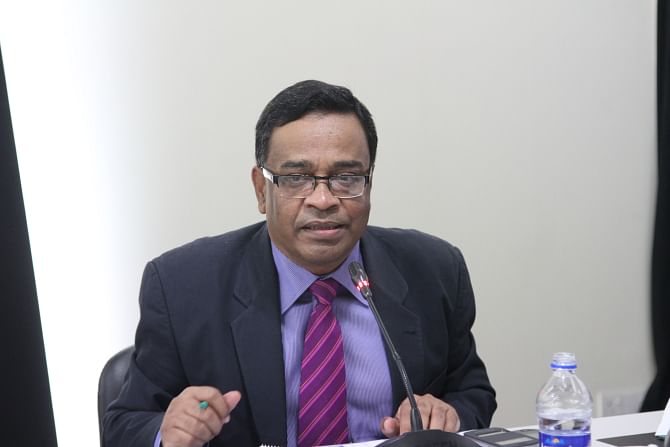 Khandaker Jahurul Alam, Executive Director, CSID and moderator of the roundtable
We need to change our mindset. We have enough hardware. Now we need software. Draft Domestic Workers Protection and Welfare Policy 2010 should be finalized, enacted and implemented soon. But before finalizing the policy, the identified gaps need to be considered in the document.