Retailers' worry over RMG unrest
Address the issue immediately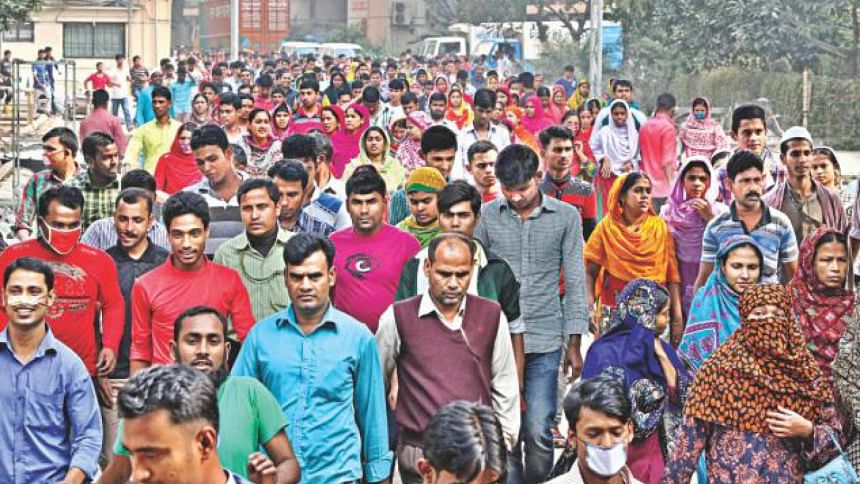 Readymade garment (RMG) sector, the financial barometer of the country, has witnessed a slew of violent unrest at regular intervals in the last couple of years. This has understandably raised concern among the western buyers, a reflection of which we have seen in a letter recently sent to the Prime Minister. The missive rightly identifies the underlying causes that foment violence in the factories and suggests an array of long-term solutions, and we agree. Is it not better to address the legitimate demands and grievances of the RMG workers and solve through talks before the situation reaches a tipping point?
Labour unrest benefits no-one. It hampers growth in what happens to be the highest foreign exchange earner of the country, not to mention that the sector is the single largest of its kind to directly employ 4 million people. In this light, we urge all parties involved to chalk out their differences in an amicable manner and avoid future disruptions. The owners need to realise that ignoring the genuine grievances of the workers is untenable. Workers, on the other hand, must seek all avenues for a solution without resorting to precipitate action. 
We believe that the underlying causes of unrests can be addressed through dialogue. Also, a regular wage review mechanism should be put in place. The minimum wage must be appraised in accordance with inflation and other economic indicators. We also call upon the buyers to pay an equitable price for the goods they buy.