We must protect our healthcare providers
The health of the nation depends on them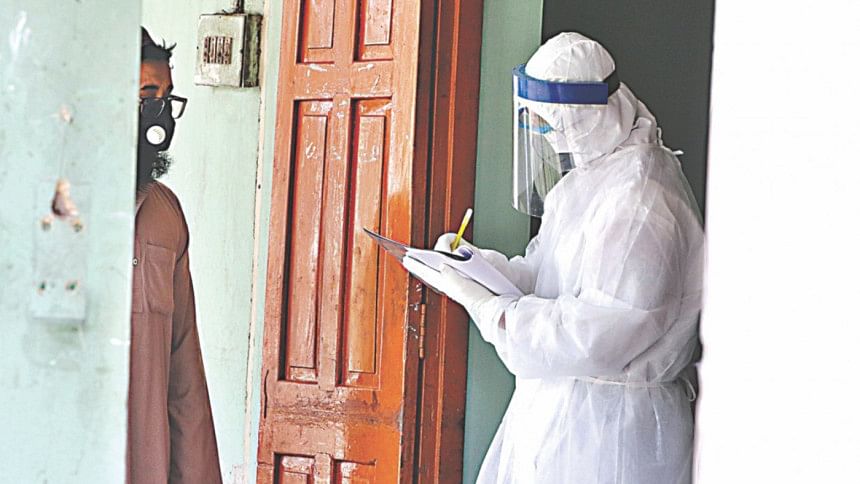 We are deeply saddened to hear of the death of an assistant professor of Sylhet MAG Osmani Medical College Hospital, who succumbed to the coronavirus at the Kurmitola General Hospital in Dhaka on Tuesday. He is the first doctor to have been killed by the virus in Bangladesh, and his death raises questions about the safety of our healthcare providers who are risking their lives for the public during the pandemic.
The first two weeks of April have seen Bangladesh follow a disturbingly steep trend on the coronavirus curve, with 20 times more cases now than the number of officially confirmed infections on March 31. During this crucial period, we need to have the healthcare system at its most functional to be able to deal with this mounting crisis. However, according to the Bangladesh Doctors Foundation, around 100 healthcare workers, of whom 54 are doctors, are already confirmed as being infected by Covid-19. This is extremely worrying—not only is this a huge personal risk for healthcare providers and their families, but it also means reduced capacity of the health services that are absolutely essential for the country right now.
We have, time and again, reiterated how crucial it is for all healthcare providers to receive personal protective equipment (PPE). According to a report in this daily, the colleagues of the deceased doctor said it is possible that he picked up the infection while working in a private hospital in Sylhet. This only demonstrates, once again, how important it is to provide adequate protection and follow the World Health Organization guidelines regarding hospital planning, administration and organisation during a pandemic, in both the private and public sectors. Since many patients may be infected but asymptomatic, healthcare providers must be protected, regardless of whether they are treating patients who are confirmed to have coronavirus, and they should also have the option of being tested as soon as they start to display Covid-19-like symptoms. We must remember that healthcare providers are taking great risks during this crisis, and all hospitals should make provisions to ensure that their staff have the option to self-isolate when needed, and that all necessary precautions are taken and correct protocol is being followed while discharging their duties.