Second wave already causing damage to our RMG sector
BGMEA and garment owners should take pre-emptive steps to cushion the blow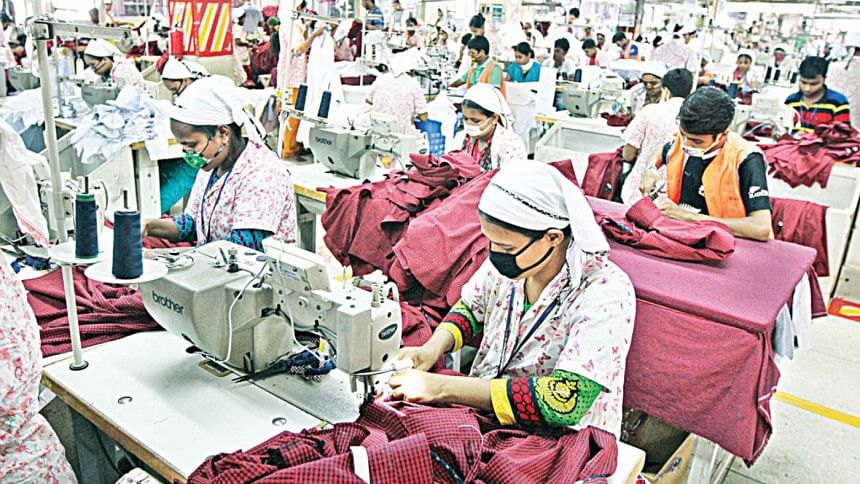 Just when Bangladesh's apparel sector had begun to recover from the shocks of the pandemic, a second wave of coronavirus has already started inflicting damage on the sector again. According to the preliminary findings of a survey carried out last week among 50 out of 350 major factories by the Bangladesh Garment Manufacturers and Exporters Association (BGMEA), international clothing retailers and brands have placed 30 percent fewer work orders for the next four months starting this December. Since the fear of contracting Covid-19 has kept buyers from travelling freely, they cannot come to Bangladesh to visit the factories as usual to check the product quality, compliance and whether or not there is a proper work environment at the factories. The result is, buyers have reduced the volume of work orders for factories here which spells disaster for the coming months. 
The Daily Star spoke to some leading garment exporters and learned that all of them received 20 to 30 percent fewer work orders compared to the previous season. What is even more worrying, some buyers are even renegotiating prices in work orders that have already been placed. Then there are those who did not even pay the factories for the products they have supplied. Will they pay up at all? In these trying times, our garment suppliers and international retailers need to build a relationship which is sustainable and based on transparency, trust and mutual benefit.
Data from the July-September 2020-21 period shows that exports to non-traditional markets suffered the most while those to the European Union and the US maintained stable growth, which actually helped Bangladesh make a turnaround in its exports. So, the fresh wave of Covid-19 in Europe particularly worries us since Europe is our major market.
Under the circumstances, the BGMEA should negotiate with the international retailers and buyers so that they do not make delays in placing orders because the factories will have to keep the capacity idle if there is no work orders from buyers. If the situation continues, workers might also face the risk of losing their jobs. Our garment owners should also be very cautious in signing deals with international brands so they do not face work order cancellations and non-payment from buyers. Although many buyers are promising to come back with work orders with improvements to the pandemic situation, the gap in production and sales faced by suppliers in the meantime would pose a danger to the sustenance of businesses, with small and medium enterprises suffering the most. 
While safety and health guidelines such as wearing masks and using hand sanitisers must continue to be followed by factories, the government and the garments sector must find ways to help workers during possible lean periods. Stimulus packages for the sector may have to be considered for the factories and workers to survive during the second wave.