Patients die while ICU beds lie idle!
Recruit and train manpower to run the ICUs efficiently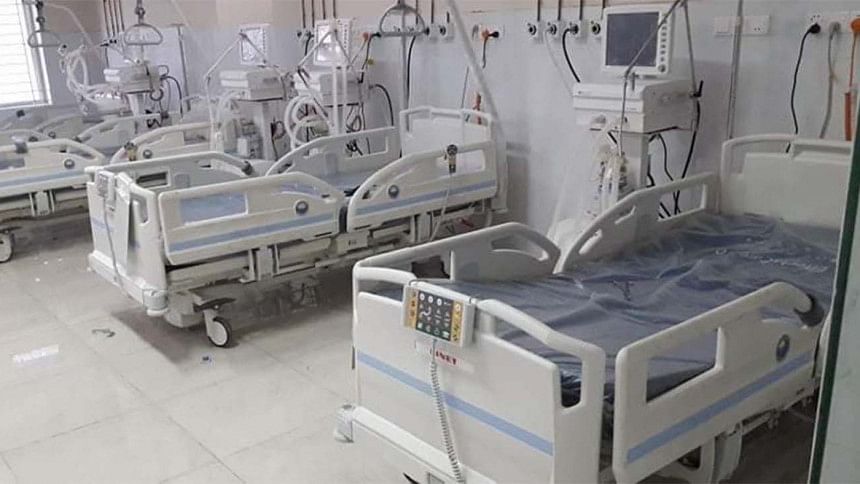 While many critically ill patients, including those with Covid-19, are in dire need of ICU beds, it is frustrating to learn that many of the ICU beds in the government hospitals remain unused due to a lack of trained manpower. According to the Directorate General of Health Services, there are 106 dedicated Covid-19 hospitals—both government and private—across the country which can treat 14,610 patients with 379 ICU beds and 106 dialysis beds. Apart from the dedicated ones, 17 other government hospitals have 190 ICU beds for Covid-19 patients. However, from June 6 to June 25, only 78 of them were used daily on an average. On June 11, a highest of 99 ICUs were used while the lowest of 41 ICUs were used on June 22. 
According to the officials of these hospitals, shortage of trained manpower is one of the reasons why ICU beds remain unused. For example, the Kuwait-Bangladesh Maitree Government Hospital in the capital, dedicated to treating Covid-19 patients, can only operate 16 out of its 26 ICU beds with the existing manpower. Similar situation prevails at other hospitals too. While the country has only a few critical care medical specialists without whom running an ICU is difficult, the number of anesthesiologists, who can operate the ICUs, is also very low. Other reasons for the unavailability of the ICU beds include a lack of information about vacancies, incomplete and unscientific installation of ICU beds making them inoperative, and keeping some of the ICU beds reserved for VIPs.
While the government has taken some initiatives to increase the number of ICU beds in public hospitals to treat the increasing number of critical Covid-19 patients, the issue of shortage of manpower to operate these facilities has not been duly addressed. The absence of proper planning and coordination among the various government agencies have resulted in such a dire situation where critically ill Covid-19 and non-Covid-19 patients are dying regularly being denied ICU support.
We urge the government to recruit skilled manpower to make all the ICU beds in the hospitals operational and available to the patients. At the same time, training should be provided to the medical staff so they can provide the necessary life-saving care to critical patients who need oxygen and other support. The DGHS should make the data about the Covid-19 bed vacancy available online. If all the ICU beds could be made operational and available for patients, more lives could be saved.