Measuring poverty must be realistic
Take growing inequality into account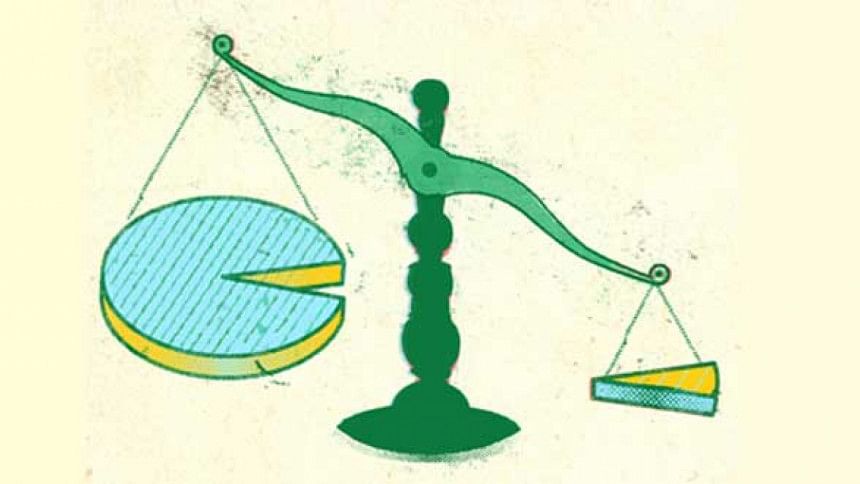 While the country is nearing the eradication of extreme poverty and undergoing robust economic advancement, it needs to remodel its outdated poverty measurement method in order to uncover the real picture of poverty, as suggested by eminent economist Wahiduddin Mahmud at a recent launch of two books on poverty and inequality.
Since the mid-90s, Bangladesh Bureau of Statistics (BBS) has estimated poverty based on consumption expenditure of a family rather than its income. An income-based measurement model, which is used globally, would have revealed a more accurate scenario of poverty in the country and, thus, allowed the policymakers to address the issue more effectively.
Moreover, such a model would also put a spotlight on widening income inequality in the country. In the immediate post-independence period, the country had a higher rate of poverty, but income inequality was low. Now, while the poverty rate has reduced, both income and wealth inequality has soared to a dangerous level, which implies that the existing measurement model does not reflect reality.
Only months ago, a global financial intelligence company, WealthX, found that Bangladesh has surpassed any other country in the world in terms of increase in super-wealthy population, whereas the country's poorest section has seen their share of the national income reduced.
Incidentally, two experts—former Bangladesh Bank governor Mohammed Farashuddin and Planning Commission's member Professor Shamsul Alam—in separate occasions have warned that the Gini coefficient (an economic term to gauge inequality) may soon rise above 0.5, making the country more susceptible to social unrest.
It is, therefore, imperative that the government explore more ways to identify root causes of why inequality is widening in our country. One of the first steps to do that is to redefine the poverty line so that we can have a picture of how acute the situation really is and act accordingly.