Editorial
Lack of resources and awareness amidst Covid-19 surge
Health guidelines must be enforced strictly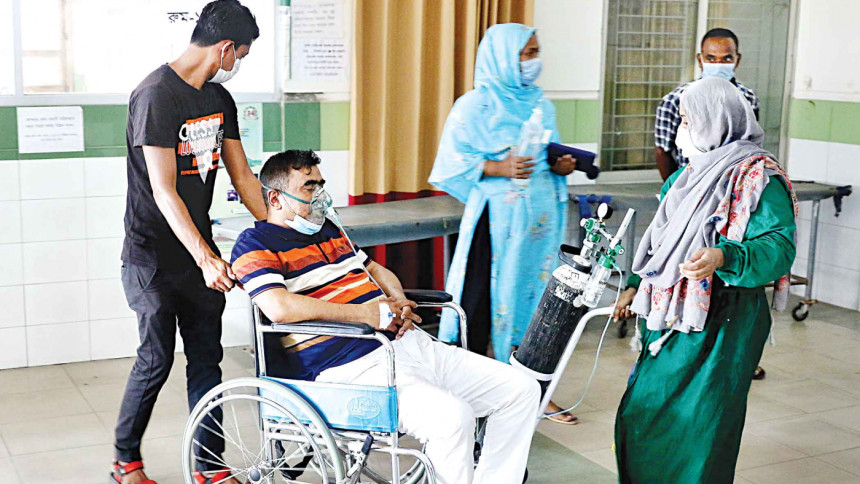 Whether the newer strains of the coronavirus are responsible for the recent spike in the number of infections in Bangladesh is still being debated. But it is definitely time for the authorities to maximise healthcare preparations as well as resources, and for the general public to rigorously follow the government's Covid-19 directives and guidelines. Though we appreciate the government's move of raising the number of hospital beds—by means of adding hundreds of beds to three specialised hospitals and planning to construct a makeshift hospital in Mohakhali, meant to accommodate 1200 patients (and have 51 ICU beds)—there must also be attention paid to hospitals outside the capital, as well as those within it which suffer from a severe lack of resources.
It was reported in this daily yesterday that the Mugda Medical College Hospital, an establishment dedicated to treating Covid-19, had to turn away patients due to there being no vacant beds. On top of that, the hospital's emergency unit has only two oxygen cylinders, which are used intermittently between multiple patients. Could not the hospital have acquired more oxygen cylinders long before this latest outbreak? It is a basic requirement for any hospital, more so for one that has been treating Covid-19 patients for so long. The fact that there is still such a dire need for such basic resources and equipment is hardly reassuring, given how quickly and widely the virus is currently spreading across the country.
What is even more disheartening to see is the people's lack of awareness about the rising number of Covid-19 infections and related deaths. For example, last Monday saw a 7.4 percent increase in the daily rate of infections in Chattogram from what it was on March 7. Yet, crowds reportedly continue to gather in different areas of the city, many not wearing masks at all, or wearing them incorrectly. Imagine the state of affairs in other major cities including the capital.
We believe only a joint effort by the general public and the health authorities will be effective in improving the current Covid-19 situation in the country. Just as the authorities should strictly enforce the directives it has presented, each member of the public should also follow the health guidelines of their own accord, and for the good of the larger population.