Editorial
Doctors at private hospitals left vulnerable
Why are the authorities not providing them with enough PPEs?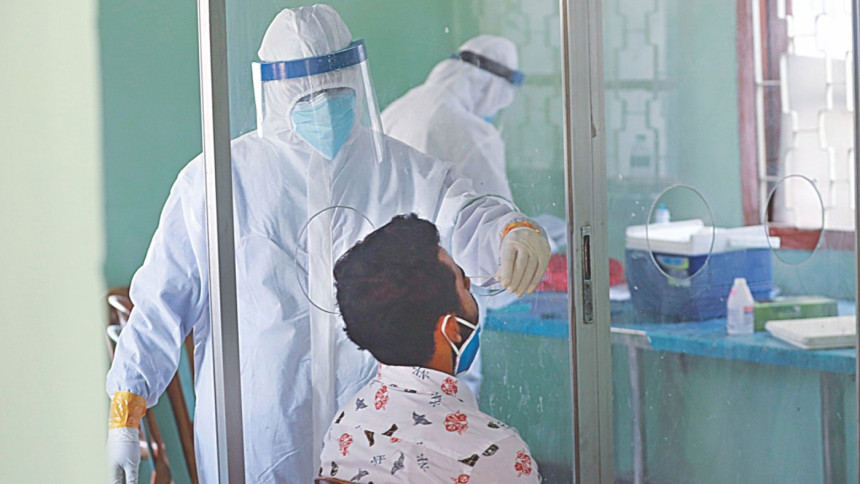 There appears to be no end to the crisis facing frontline workers in the fight against coronavirus. Earlier this week, we got confirmation from a report by this daily that Bangladesh might be the only country in the world where the Covid-19 death rate is higher than the recovery rate. This is largely due to the mismanagement in the treatment of patients as well as the authorities' failure to adequately deploy and equip the doctors, who are just as much a victim of this mismanagement as their patients. We get an idea of the personal risk facing the doctors from Bangladesh Doctors Foundation (BDF), an association of physicians, which said that an average of more than 30 doctors tested positive daily over the last week. Doctors at public and private sectors are equally at risk. According to BDF, at least 373 doctors have contracted the virus till Monday—179 from government hospitals, 84 from private hospitals, and the rest from different specialised hospitals.
Now an online survey by the BDF, conducted between April 20 and 26, reveals that more than one third of doctors at the private hospitals surveyed have not been provided with any personal protective equipment (PPE). We wonder why this is the case despite the government's assurance that there are enough PPEs for all health workers. Clearly, there is a disconnect between the official line and the reality on the ground. Currently, there are around 5,500 registered private hospitals and clinics across the country, according to the DGHS. Although no private hospital formally treats Covid-19 patients, the medical staff at these hospitals ensure the provision of vital healthcare services for general patients, and are hence equally exposed to the threats of the virus. There can be no excuse for treating them any differently when it comes to providing necessary safety gear.
Experts have repeatedly urged the government to solve the problems related to lack of PPEs as well as the supply of poor-quality safety gear—problems that are also driving the high infection rate among health workers. The need for an urgent intervention in this regard cannot be overemphasised as the number of confirmed coronavirus cases in the country crossed the 6,000 mark. The numbers of infections and deaths keep rising every day. If we want to fight this virus with any degree of success, we must urgently ensure that all staff, both at hospitals treating Covid-19 patients and non-Covid-19 hospitals, are equipped with proper PPEs so that they can lead the fight successfully.