Dhaka continues to be choked by plastic waste
How long before the authorities take their commitments seriously?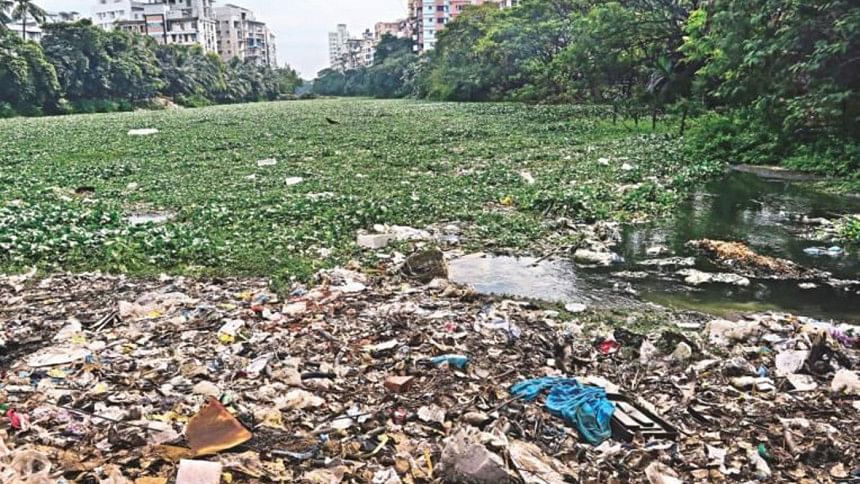 At a time when the planet is being choked by pollution and experts and leaders across the world are coming together to deal with what is being called the "climate emergency" before it turns into a full-blown crisis, it is extremely disheartening to learn that Dhaka city alone produces 646 tonnes of plastic waste every single day, which is 468 tonnes more than the amount 15 years ago. This unbridled production of plastic waste is continuing despite promises from the highest levels of government to reduce pollution and ensure sustainable, green growth.
One does not have to look too hard to find the costs of this pollution on our environment, particularly our rivers. Only in March, it was announced that the cost of dredging work in the Karnaphuli River had increased by Tk 49 crore (19 percent), as workers now have to remove a thick layer of plastic waste from the riverbed. A few months earlier, dredging operations to remove silt from Barishal River Port dragged on for months due to the huge amount of polythene, plastic and other trash dumped into the water. We have been writing for years on how the Buriganga river is being choked by pollution, which includes sacksful of plastic bottles that have not only choked the river, but killed the marine life as well.
Bangladesh has made a commitment to fulfilling the Sustainable Development Goals. If we are to meet the goals of responsible consumption and production, sustainable cities and communities, climate action and others, we cannot drag our feet in addressing plastic pollution. Recently, university students and youth participated in the Plastic Circularity Innovation Challenge, and came up with innovative solutions on collection, sorting and recycling of plastics, and the use of digital technology to cope with the plastic pollution. The government must create more platforms for such innovations, take the voices of the younger generations into account and commit to ending plastic pollution in Bangladesh for good.
However, although coming up with green technology and a proper waste management system is key, the authorities will not be able to combat pollution if they continue to fail to take strict actions against the polluting industries and individuals, who are rarely, if ever, held accountable for the damage they cause to the environment.