Editorial
Bring bordering districts under strict lockdown
Much time has been lost already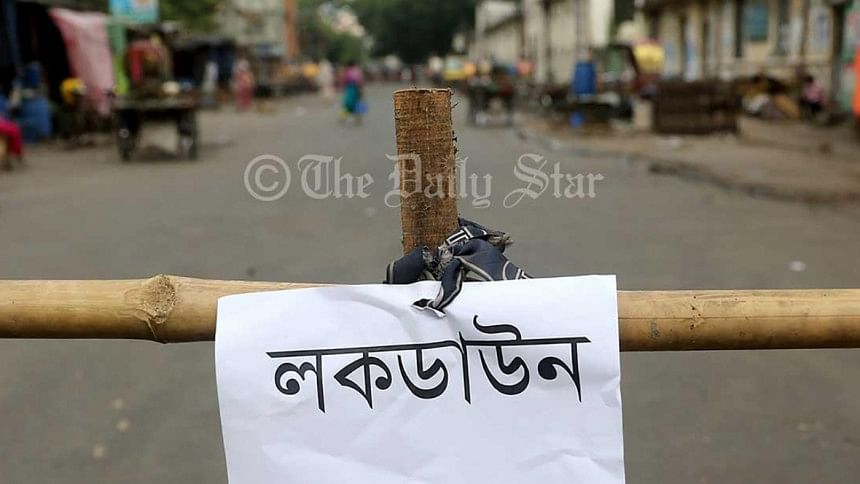 The government should have gone for a complete lockdown of the bordering districts long ago, at the time when the virus started spreading in India. India is pulverised by a new variant known as B.1.617, which is the fourth variant of alarm. Reportedly, it is more transmissible and has found its way to 50 countries so far. It was detected in India late last year. It would have been prudent for the government to have been proactive and seal the routes of entry and exit to and from India as soon as the situation in India started turning grave. Borders were closed, but much later than it should have been.
What is of concern now is that, the Indian variant has found its way into Bangladesh, not unsurprisingly. And has been transmitted too, apparent from the fact that in Chapainawabganj, seven persons, who had not been to India lately, tested positive for the Indian variant of the coronavirus. The civil administration of the district, very rightly, has enforced strict prohibition on the movement of people.
It is no wonder, therefore, that the Health officials on Saturday recommended that eight bordering districts be brought under lockdown with immediate effect; the districts being Naogaon, Rajshahi, Natore, Kushtia, Jashore, Khulna and Satkhira. All these districts have witnessed an extraordinarily high positivity rate of 30 percent for a week.
We believe that it is no time to dwell on paperwork. Much time has been lost already and we know how quickly the virus spreads. And once again we have betrayed a lack of capability to take proactive measures. We wonder why the situation in India did not ring alarm bells in the appropriate quarters in Dhaka. Had it done so, the 17-member national technical advisory committee, formed in early April of 2020, to tackle the outbreak of coronavirus in the country, would have reacted by way of advisories. We heard nothing nor saw anything being done in this regard.
The suggestions of the health officials should be implemented without delay. The lockdown should be strictly enforced, and contact tracing should be done to trace out and prevent the likely spread and contamination. Testing too must be increased along with strict enforcement of health guidelines for the public. We also hope that the vaccination programme will pick up its pace once vaccines are procured and widely disbursed and administered. Also, the porous areas of the border must be effectively sealed. Reportedly, only in one month between April 26 and now, 77 people were apprehended while crossing illegally into Bangladesh from India. The last thing we would want is to face a situation like the one that India, sadly, is facing.