Bangladesh as a transit for drug smuggling
While investigating a case filed after the recovery of 12.32 kg of amphetamine powder from the cargo village area of Hazrat Shahjalal International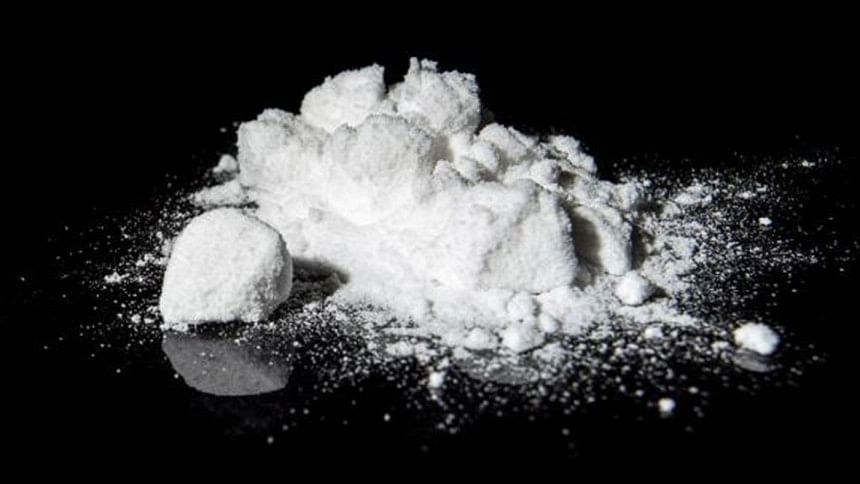 While investigating a case filed after the recovery of 12.32 kg of amphetamine powder from the cargo village area of Hazrat Shahjalal International Airport last month, the Department of Narcotics Control found that a transnational syndicate is using Bangladesh as a route to smuggle amphetamine powder to other countries. The powder is initially being smuggled into Bangladesh from India, and in this particular case, was meant to be flown to Australia via Malaysia. The presence of such a syndicate is extremely worrying. However, a number of international media reports had previously revealed similar suspicions.
For example, some international media reports had suggested that Bangladesh was being used as a transit to smuggle drugs to places like South America and the Middle East—and in the process of doing so, some of the drugs were being diverted for domestic consumption. Since around 2008, Bangladesh has witnessed an explosion in the trafficking of yaba into the country and its consumption. The social cost this has had on Bangladesh has been enormous.
Now that the DNC has confirmed the existence of a transnational drug ring that is using Bangladesh as a transit to smuggle narcotics (or their preparatory substances), the authorities must take effective steps to prevent these drugs from coming in. For one, it would be naïve to believe that there aren't more such syndicates. And ignoring the restrictions and costs that might be slapped on Bangladesh by authorities in other countries in order to stem the flow of drugs that are being smuggled to their countries from Bangladesh would be suicidal. Moreover, a lot of the drugs will slip into the domestic market as well as lead to the establishment of other illegal practices, such as human trafficking (for the purpose of carrying the narcotics across borders), weapons trafficking and money laundering.
We urge the authorities to investigate this matter with a fine-tooth comb. We believe it to be impossible for such sophisticated operations to function without any assistance from some internal sources or influential quarters. And the only way these operations can be dealt a serious blow is for the authorities to apprehend the real masterminds behind the drug trade. At the same time, it is extremely difficult for any government to deal with transnational criminal syndicates on their own, due to a number of jurisdictional factors. Therefore, it is essential that the Bangladesh government seek assistance of other governments and agencies to stop these syndicates from functioning on and using its territory.