Bio-organic fertiliser developed
A commendable accomplishment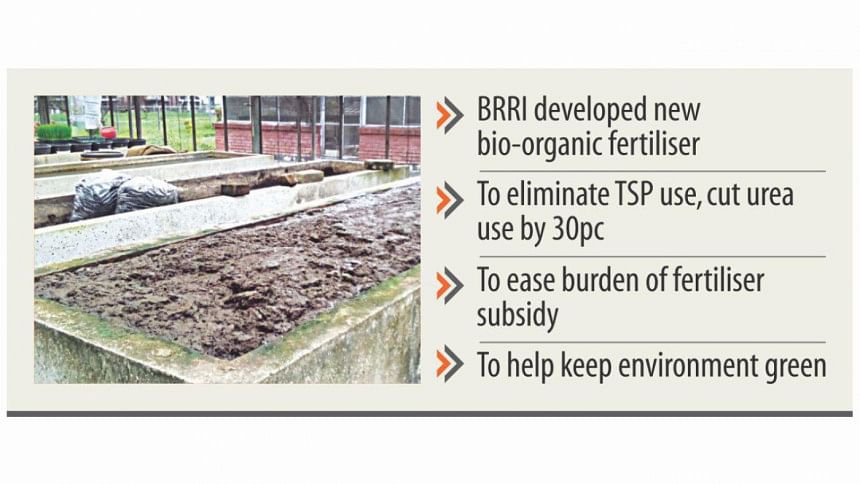 We congratulate our soil scientists at the Bangladesh Rice Research Institute (BRRI) who have developed a bio-organic fertiliser mostly by using decomposable household vegetable waste. It is hoped that in time this fertiliser would eliminate 100 percent usage of triple super phosphate (TSP) and also reduce urea usage for rice production by 30 percent. 
At present, the government is providing a huge subsidy for fertiliser production. But this newly developed fertiliser, if produced commercially, would cut the government's yearly fertiliser subsidy of Tk 9,000 crore. And while long-term use of chemical fertilisers such as TSP and urea has a negative impact on soil quality, this newly developed fertiliser will rather improve the health of the soil. Not only that, this fertiliser would also help reduce carbon emissions as during the production and use of this fertiliser, no greenhouse gas will be emitted to the environment. In addition, it will help recycle our kitchen waste because it is the main ingredient of this fertiliser.  
Thus, on all accounts, it is a major innovation by our scientists. As we know, the field test of this fertiliser was successful and it is now being used on a trial basis in the paddy fields of Barisal, Patuakhali, Rajshahi and Kishoreganj. If we get satisfactory results in those areas, the government should immediately go for its commercial production and also make sure that this green fertiliser is affordable to all farmers of the country.