Journos barred at polling booths in 2 DNCC centres
Photojournalist not allowed to take photos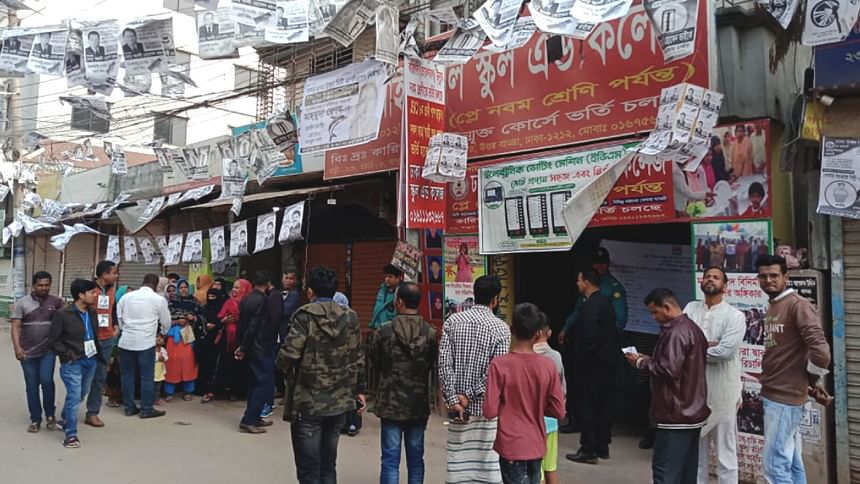 Journalists were not allowed to enter booths in several polling stations under Dhaka North City Corporation this morning.
Presiding officers did not let three newsmen of The Daily Star to enter the booths at two polling centres -- Dhaka Ideal School and College at Uttar Badda and Adarsha High School in Mirpur -- just after voting began, our staff correspondents reported from the spot.
Presiding Officer Abdul Mukit said they have no directive on allowing journalists inside the booths.
The magistrate assigned to wards 37 and 38 told our newsmen he did not find any polling agent while visiting the polling station, the correspondents said.
Meanwhile, a staff photographer of The Daily Star was threatened by an Awami League supporter and was asked to leave Sir Salimullah Medical College polling centre under Dhaka South City Corporation, the photojournalist said.
He was also barred from taking photos there.
"Who told you to take photos here? You cannot stay here," the AL supporter said to the photographer.
Around 12:20pm at Rampura Ideal School and College, AL supporters were found peeping while voters cast their votes through the EVMs. An argument broke as soon as one voter protested.
A correspondent of The Daily Star captured a moment of the argument. Noticing that, one AL activist snatched away his mobile phone and scolded him.
The activist, however, returned the phone within a short time.
Around 2:00pm, two other correspondents and one photographer of the daily were thrown out of the polling centre at Shandipan Ideal School and College at Adabor's Nobodoy Housing by Sub-inspector Abu Zafar.
Journalists were not allowed to stay at the centre, the SI said.
The correspondents wanted to speak to the presiding officer but the SI did not allow them to do so.