DMP forms body to probe how convict got IS cap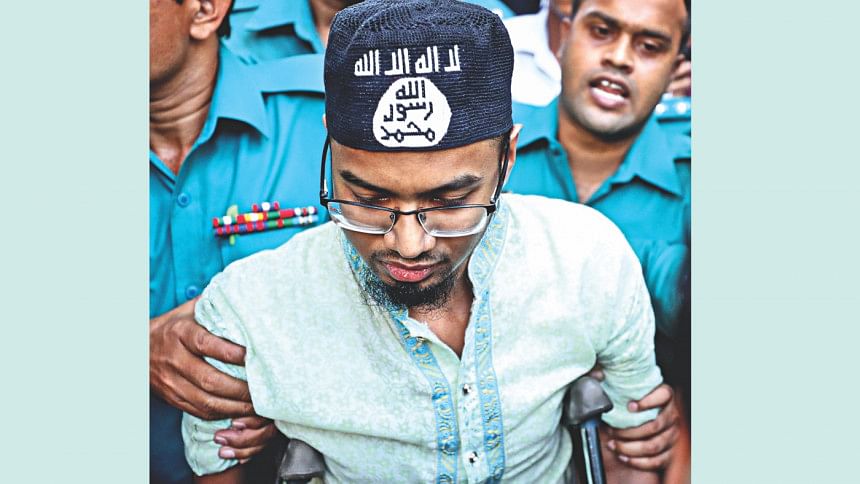 Dhaka Metropolitan Police has formed a three-member committee to investigate how a death row convict managed a prayer cap emblazoned with the IS logo at a courtroom during the verdict of the Holey Artisan Café attack case.
DMP Joint Commissioner Mahbub Alam will lead the committee formed yesterday, Masudur Rahman, deputy commissioner (media) of Dhaka Metropolitan Police, told The Daily Star.
The committee has been asked to submit a report in three working days.
As soon as a Dhaka court finished delivering the judgement in the country's worst ever terrorist attack case yesterday, Rakibul Islam alias Regan, one of the convicts who was in the dock, wore the cap emblazoned with the emblem of the Islamic State, a global militant outfit.
Rakibul still had the cap on when police brought him out of the courtroom and took him to a prison van parked on the court premises. Inside the van, another death row convict Jahangir Alam alias Rajib Gandhi was seen wearing a similar cap.
But from where did the cap come from? That was the question that dominated everyone's conversation both in court and on social media yesterday.
Security analysts say carrying prayer caps emblazoned with such logos to the courtroom is a security breach.
Meanwhile, a three-member committee headed by the additional IG prisons has been formed to investigate whether the jail authorities had any involvement in this matter, Inspector General (IG) of Prisons Brig Gen AKM Mostafa Kamal Pasha told The Daily Star.
The committee has been instructed to submit the probe report within five days, he said.
Chief of Counter Terrorism and Transnational Crime (CTTC) unit Monirul Islam yesterday said they were investigating the incident to get information on how and from where the cap came and whether there was any negligence on the law enforcer's part.
Anti-Terrorism Special Tribunal yesterday sentenced seven militants to death for their involvement in the 2016 Holey Artisan Bakery attack, terming it a disgraceful attack aimed at assassinating the non-communal character of Bangladesh.
The court also acquitted one accused as it found him not guilty in the atrocity that left 22 people, including 17 foreigners, dead in the capital's Gulshan.