Hasnat accused based on info: DMP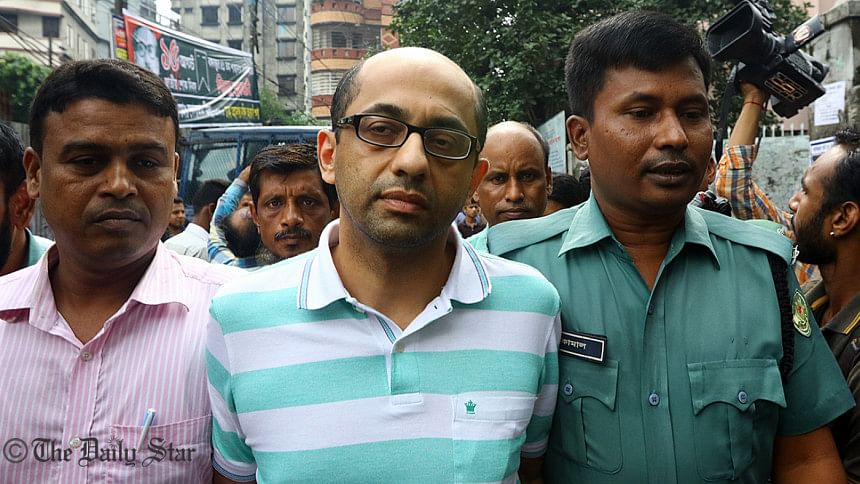 Police today said they have accused former university teacher Hasnat Karim in a case filed in connection with Gulshan militant attack as they have information against him.
There must be a "prima facie proof" against him and therefore he has been made accused in the case, Abdul Baten, joint commissioner of the Detective Branch of Dhaka Metropolitan Police (DMP) told journalists.
"We don't bring accusation against anyone unless we have information and evidence against him," the police official said.
Police let a suspect go when they do not find any evidence against him, but when there is "prima facie proof" then the law enforcers accuse the suspect based on the evidence found against the person, he said.
He was speaking at a press conference at DMP media centre at the police headquarters in Dhaka around noon.

Hasnat Karim, detained over the Gulshan café attack, was shown arrested yesterday in a case relating to the terror incident.
He is the first arrestee in the case.
Along with that, yesterday Hasnat and another detainee, Tahmid Hasib Khan, were taken on a fresh remand as police claimed to have gleaned vital information from the duo during the previous remand. 
Though Hasnat was shown arrested in the case, police chose to continue interrogating Tahmid under section 54 of the Code of Criminal Procedure for suspicious movement.
In connection with the July 1 militant strike at Gulshan's Holey Artisan Bakery, the two were interrogated while on an eight-day remand that ended on Friday.
According to police, Hasnat, who taught at the NSU, was held in front of Aarong in Gulshan and Tahmid, a Canadian university student, in Bashundhara Residential Area on August 3.
Both were arrested under section 54.