The Whole Kahani's 'Tongues and Bellies': A promising literary confection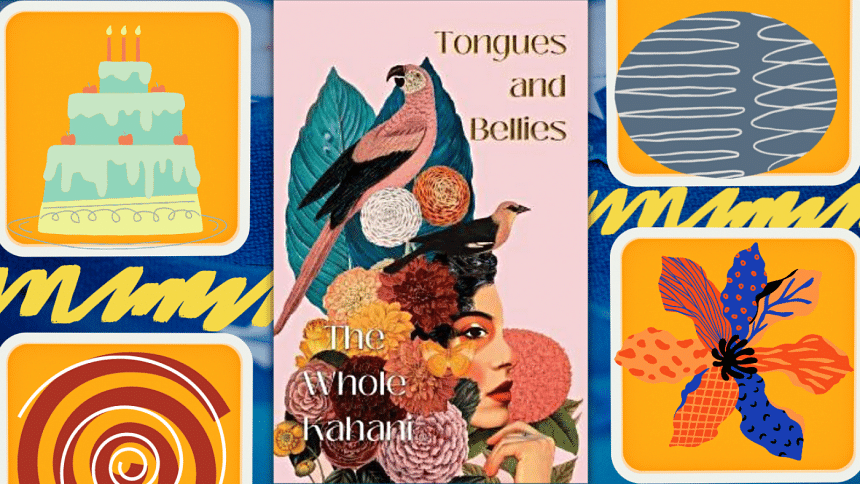 Tongues and Bellies, published by Linen Press (2021), is described by its blurb as an anthology where "sensual and surprising stories play a tantalising game of hide and seek with lies and truth". It promises to be a delight for the reader who consumes it, and for this author, it lives up to this unspoken promise. 
It is a collection of short fiction by a UK-based writer's collective called The Whole Kahani. The group comprises talented British fiction writers of South Asian origin and they describe their raison d'être as "provid[ing] a creative perspective that straddles cultures and boundaries. Its aim is to give a new voice to British Asian fiction and increase the visibility of South Asian writers in Britain".   This book is the third anthology created by the collective, who had previously published May We Borrow Your Country (2018) and Love Across a Broken Map (2016). The writers from the collective who contributed to this most recent publication include Nadia Kabir Barb, Kavita A Jindal, Reshma Ruia, Mona Dash, Radhika Kapur, Catherine Menon, and Deblina Chakrabarty​.
The stories in this collection deal with a diverse range of themes of loss, belonging, memories, and love, among others, but they are also brought together with the theme of food, both in its literal representation and metaphorical aspects. The way in which food is spoken of, about, and around, feels very intimate and yet universal; it displays the personal relationship we build with food, the kinds of memories and attachments we form with certain dishes and flavours that remain in the daily hustle of things—an unspoken element of our lives. But in articulating it, often effortlessly, this anthology excels. 
All the short stories leave one as short stories should—with a lingering aftertaste. Whatever that taste might be, for there are many flavours packed into this one slim collection, none are predictable. Some tales take unexpected turns, introducing one to new textures of surprise and intrigue, leaving us wanting more. Deblina Chakrabarty's "Lost for Words'' centres around a person searching for human connection in a world where language is defunct and words are typed and not said. The structure of the narrative unfolds itself like a recipe. One goes in expecting a predictable commentary on the dystopian present, but bit by bit it provides deeper insight into the protagonist's struggle of moving forward with grief, how it has damaged the joy he had once found in cooking. 
Another personal favourite is "The Connoisseur'' by Nadia Kabir Barb, a British Bangladeshi writer and journalist who had her debut collection of short stories, Truth or Dare (Bengal Lights Books), launched at the Dhaka Literary Festival in November 2017. Barb's narrative in this collection is set at a dinner table of a wedding event somewhere in the chaos of Dhaka city. What starts out as a relatable, awkward meal shared by strangers at a wedding table, quickly becomes layered with mystery. The protagonist and his unique relationship to biryani unfolds against a vivid setting, until you leave having made an acquaintance of a very different person than the one you had expected.
Others offer the bittersweet taste of nostalgia, the ways in which food stores memories and experiences, and unwittingly becomes threads that can help us form stronger bonds or unravel our identities. Pieces like "Confection" by Khadija Rouf, and "Made from Scratch" by Deblina Chakrabarty, explore how the sharp edges of our past can become cemented in our memories by association with food we grew up with or meals shared during pivotal turning points of our lives. Some, like "Meg Kowalski's Birthday Cake" by Reshma Ruia, "My Baby's Eyes" by Mona Dash, or "Lucky Girl" by Catherine Menon, focus on women's negotiations within relationships and marriages. These offer a reminder that one is resigned to suffer at the fault lines of our human condition, yet not powerless against it.  
The form of the short story is a unique undertaking. Unlike novels, where time and space are suspended, short stories are time bound performances. If effective, they are to leave their readers not with neatly tied endings but with thoughts, questions, feelings. 
This collection, similarly, holds an effective and evocative range of voices, and its curation allows for each author to stand out from each other and yet become complementary. One can go from reading about the bittersweet adventures of friendships and gastronomy, told in a witty and smooth voice in "The Unusual Properties of Cork" by Kavita A Jindal, to ruminations on loss and the machinations of the living in "Matar Paneer for the Living" by Radhika Kapur, without losing the feeling of being drawn in. 
All the tales are told with humour, wit and bravery, especially displayed in the character's choices and reactions. While they deal with thought-provoking, often heavy subjects, the overall experience of reading Tongues and Bellies is fun, each entry a quick, entertaining and an engaging read in its language and tone. 
Ishrat Jahan is an early stage researcher who writes in her free time. You can follow her on Twitter @jahan1620.