The significance of Dipesh Chakrabarty's work with history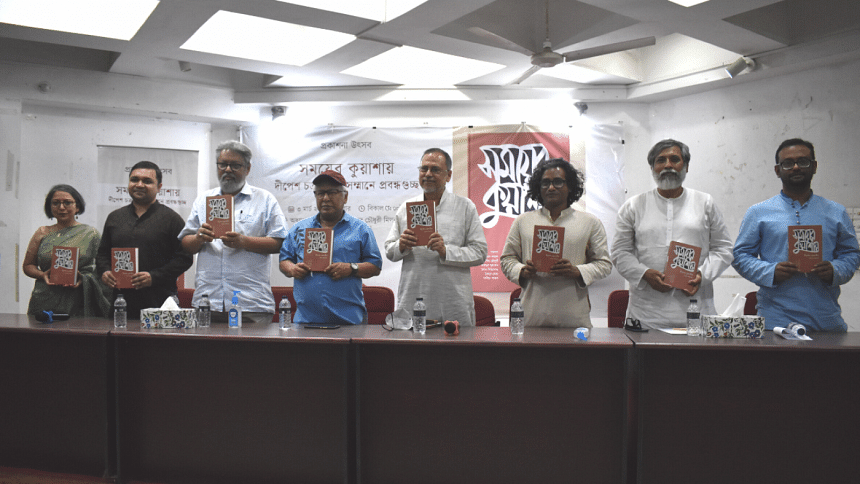 "The presence of memory and humour in the Bengali language is unique. Despite the sorrow of the Partition, without the war of 1971 and birth of Bangladesh, this place for learning and practising the Bengali language would not have been created. I feel a sense of depth within this language,'' said historian Dipesh Chakrabarty at the book launch of Shomoyer Kuashaye: Dipesh Chakrabartyr Shommane Probondhoguccho published by University Press Limited. 
Held on March 3, 2023 at Dhaka University's Social Sciences auditorium, the discussion saw Dipesh Chakrabarty expressing his closeness and love for Bangladesh and the Bangla language. He gave vivid descriptions of travelling to his parents' residence in Brahmanbaria and heartfelt accounts of spending time with friends. 
The 70th anniversary of Dipesh Chakrabarty and Shomoyer Kuashaye: Dipesh Chakrabartyr Shommane Probondhoguccho bears significance. Even in Kolkata, the discussants addressed, the Bangla language has been cornered due to the dominance of the English language. While multiple books on Dipesh Chakrabarty have been published in English before, this book published in Bangla deserves a special mention. 
"The way history lessons in this subcontinent are taught comprise nothing more than stories. That history is an old and colonial narrative. The real history of this region is known in Dipesh Chakrabarty's history books," opined one of the editors of the book, historian and essayist Professor Ahmed Kamal. 
Dr. Binayak Sen, Director General of Bangladesh Institute of Development Studies (BIDS), said that Chakrabarty's texts and Shomoyer Kuashaye: Dipesh Chakrabartyr Shommane Probondhoguccho—a compilation of articles published in his honour—can be used to explain the events of the mass uprising of students-workers-masses against the exploitation of the dictator Ayub Khan. 
The discussants further added that the aim of subaltern studies which emerges in Dipesh Chakrabarty's writings is to question and create new ideas out the existing and mainstream socio-historical interpretations. They discussed interpreting European development and humanism from a post-colonial perspective. Apart from this, in the discussion of climate change, Dipesh Chakraborty has highlighted how humans are becoming controllers of the environment and weather in modern times. This became more evident during the pandemic. 
Other speakers at the event included Sayeed Ferdous, Professor of Anthropology at Jahangirnagar University, A-Al Mamun, Professor of Mass Communication and Journalism at Rajshahi University, and Mohammad Azam, Professor of Bangla at Dhaka University.
The program was moderated by Sabbir Azam, a member of the editorial board of the book and a lawyer of the Supreme Court of Bangladesh. Mahrukh Mohiuddin, Managing Director of The University Press Limited (UPL), gave a welcome address.