The Myth Bridge: Goethe Institut Bangladesh and HerStory Foundation revisit women of folklore through Dungeons and Dragons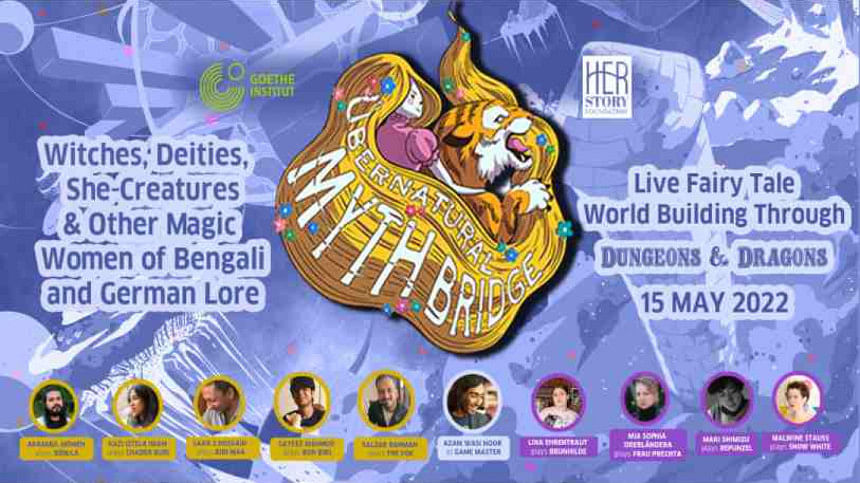 Going live from May 15 is The Myth Bridge, a live-action simulation game that "[brings] to life" and connects nine women characters from Bengali and German folklore. 
Played by a group of nine German and Bangladeshi writers, illustrators, editors, and translators, the game gathers characters such as Bon Bibi, Chader Buri, Behula, Bibi Ma, The Fox, Brunhilde, Repunzel, Frau Prechta, and Snow White "across space and time" to weave together a cross-cultural myth.
Writers and illustrators including science fiction writer Saad Z Hossain (Bibi Ma), illustrator Sayeef Mahmud (Bon Bibi), illustrator and co-founder of The Milkshake Collective Kazi Istela Imam (Chader Buri), trans-disciplinary artist, author and journalist Akramul Momen (Behula), mural artist, architect and storyteller Salzar Rahman (The Fox), graphic artist Lina Ehrentraut (Brunhilde), artist and illustrator Maki Shimizu (Rapunzel), visual artist Mia Sophie Oberländer (Frau Prechta), and artist Malwine Stauss (Snow White) have been developing, or "writing", the story through a role playing game throughout the week, from Thursday to Sunday (May 12 to May 15).
 "The Game Master [took] the characters on a wild mission to save their world(s). Participants interact[ed], ma[d]e decisions, battle[d] and gain[ed] powers throughout the course of the game", as described by the organisers. 
The finale, which is the first live Dungeons & Dragons game in Bangladesh, will conclude the project.
The project is initiated by the Goethe-Institut and produced by HerStory Foundation. The game sessions, held at the Goethe-Institut from May 12 to 15, were directed by the Game Master—writer, actor, filmmaker and game developer Wasi Noor Azam.
"The Myth Bridge project tries to create a dialogue between two cultures by bringing over German and Bangladeshi authors and illustrators together, looking into new ways of co-producing stories that starts with a feminist perspective", shared Dr Kirsten Hackenbroch, Director of Goethe-Institut Bangladesh.
"What makes the project modern is to re-imagine the passive characters from the fairytales and how they interact in their own world by giving them agency", she adds.
"We are taking these characters that we grew up with, giving them a new life by creating a real time story through roleplaying", said the Creative Director of HerStory Foundation, Katerina Don.
"In the context of the project, [the characters] are working towards freeing their heroines from the biases and restrictions that were written on to them while breaking the nationalistic ownership of these stories", she added.
In the following months the editors and creative director will work to create a short graphic novel out of the events of the four-day game. The Myth Bridge will be published for the Dhaka Lit Fest in early 2023.