Percy Jackson fans, mount your horses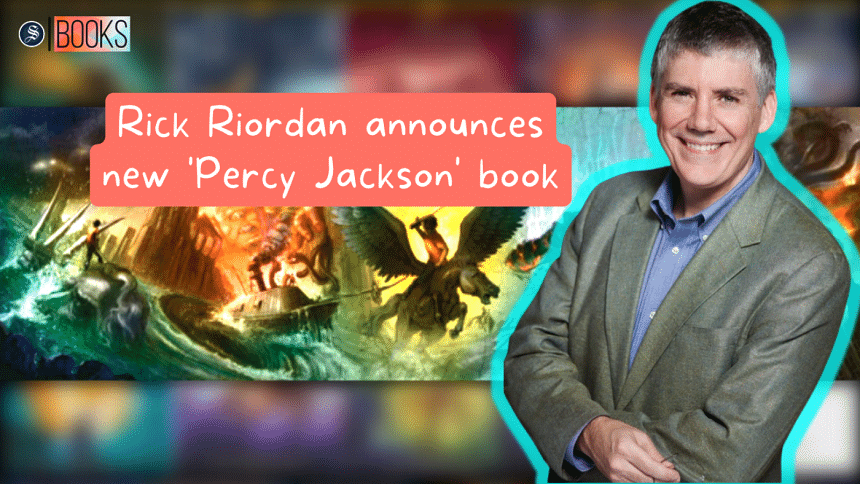 My most vivid and fondest memory of the Percy Jackson (Disney Hyperion Books, 2005) series is rereading it with my 12-year-old brother during the first Covid-19 lockdown. It not only helped to lay the foundation of his reading habits but also let me revisit my childhood. As someone who could enjoy the series even into her 20s, imagine my excitement when Rick Riordan, the author of the series, announced last Wednesday, on October 19, a new addition to the spectacular and magical world of Greek demigods. 
The new book's title, revealed to be Percy Jackson and The Chalice Of The Gods, will be out on September 26, 2023, the author confirmed via Twitter.
It will be the first book focused solely on Percy Jackson's character since the release of The Last Olympian in 2008, barring The Heroes Of Olympus series, which predominantly pivoted around the Roman side of the Gods and the occasional glimpses in The Trials Of Apollo. Now, Percy Jackson fans will be getting a book with the original trio narrated by Percy alongside the much awaited Apple+ series, Percy Jackson and The Olympians, scheduled to premiere in 2024.
Addressing the devoted fans, the author told Publishers Weekly, "What if I sweetened the deal by giving the readers something they've been wanting for the last decade?" Continuing the tradition from the previous books, the golden trio—Percy, Annabeth, and Grover—will go on a quest.
In The Chalice Of The Gods, Percy is 17 and about to graduate from high school. In order to get admission into New Rome University, he needs recommendation letters from the Gods, which is ironic given that he saved the world from ending two times (let the kid catch a break!). Percy, Annabeth, and Grover must assist Ganymede, Zeus's cupbearer, in retrieving the missing Chalice—a magical artifact capable of granting immortality to those who drink from it—in order to obtain the recommendation letters.
The author says that returning to Percy Jackson after so long was easy, "like putting on your most comfortable pair of jeans." He adds that it will not be about Percy's usual "trying to stop the end of the world quest", rather, a day in the life of a demigod. It is supposed to be a standalone book but the author does not rule out the idea of future installments.
Fans have been ecstatic since the author made the announcement and are leaving no stones unturned with making speculations and theories. As much as it seems that Percy would love to live the life of a normal teenager, away from the limelight and the books, it looks as though fans want their favorite demigod back.
Nawshin Flora is currently daydreaming about catching up to her never ending TBR list. Remind her to get enough sleep at [email protected].