Last night reminded me of cricket's power to wield stories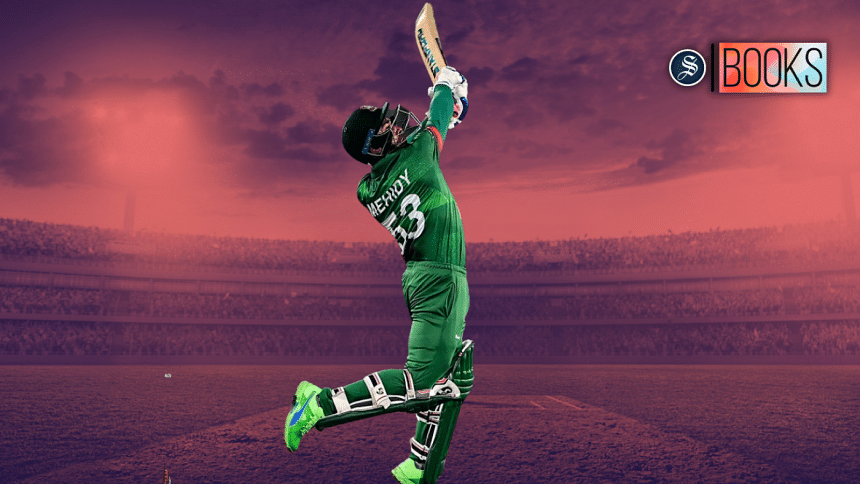 Sport is perhaps the only form of storytelling to not follow a preconceived script of some sort. Most people might not think of it as such, but essentially and inevitably, a match becomes a story. It gets written about in papers the next day, it becomes memorialised as Instagram captions and Facebook statuses and it leads to an entire dinnertime's worth of discussion. When it's a really good game, it never leaves the memory, people never stop talking about it. Much like they don't about the things in life they feel most moved by. If from that big set of things, we create a subset of all the things we love the most as an observer rather than an active participant, we are left with books, movies and songs. Perhaps we wouldn't be quick to group cricket matches in the same category, but for me they are all the same. 
As a child, I took no interest in physical activities, choosing to instead hide behind books and drown in the fictional worlds of my favourite creators. My love for the game of cricket has not spilled over to any other sport. I sometimes wondered why but the commonality between my two biggest interests, fiction and cricket, does not elude me anymore: it is the great capacity of both to gift me a story. 
Watching a match at the Sher-E-Bangla National Cricket Stadium is an experience of its own. Anyone who has been will testify that there is an electric charge to the air in Mirpur, an infectious energy that consumes you and drains you in the best and worst possible ways depending on the outcome of the game. 
Yesterday, Bangladesh played a nail-biting match against neighbouring cricketing powerhouse, India. Despite a significant difference in ranking, infrastructure and talent, nearly all Bangladesh vs India encounters promise competitiveness. While yesterday's match was no exception in that regard, it was not an instance of what can often seem like Bangladesh's curse of close games resulting in defeat. 
It seemed that it might be at one point, prompting many to take to their social media accounts and air their familiar frustrations towards the Tigers. When I opened my apps after the tantalising win, I was quick to anger. I got into a few arguments which later helped me realise why the popular way of criticising the national team does not appeal to me. It's only natural for a nation that is so cricket-crazy and yet starved for success to resort to hopelessness. While many tend to reflect on matches as a means to identify the very reasons that lead to continuous failure, I watch a match the same way I consume a story. 
The first innings of the game was commanded by Bangladesh's bowling attack led by none other than the star all-rounder Shakib Al Hasan's incredible five wicket haul against a full-strength Indian batting lineup. After restricting India to only 186, cricket fans would expect a confident chase by Bangladesh. There is no doubt that in any game, a win means everything. But when that win comes in an unanticipated manner that shows us a new dynamic and unique strategy on the backs of a more unpredictable trajectory, I would selfishly choose that over a game in which my favoured team models sheer dominance. 
Yesterday's game saw Bangladesh slide away from a near-confirmed victory when the Tigers fell from 128/4 to 136/9. A stadium filled almost at capacity saw many if not most of its dejected viewers empty the stands. But there in the middle, stood Mehidy Hasan Miraz whose body language alone gave the remaining audience a glimmer of something a little different. 
Miraz saw three batsmen come and go at the other end while he barely got off the mark. When he refused to take a single with Mustafizur Rahman at the other end (who had just scored a four), I grew restless. Was he really audacious enough to think he could win this game all by himself from this point on? I was wrong. As he said in the post-match conferences, he had believed in both their capabilities to win the match 
As I mentally prepared to leave the stadium last night, I saw Miraz continue to play with a deftness and an attitude that I wish could be formalised and replicated by all eleven team members. Bangladesh needed 51 runs, which eventually took us 6.2 overs or 38 balls to accomplish. India needed just one delivery to go in their favour. The odds did not seem to confound Miraz as he played every ball to its merit and a synergy materialised between the two batsmen in the crease. They both played with nerves of steel, effectively pressurising the Indian team to make uncharacteristic follies. Those at the stadium began to sense that the elusive lady luck was also playing on Bangladesh's side for once. Whether you believe that fortune favours the brave or that you create your own luck, the two remaining batsmen did the unthinkable to bring Bangladesh from the brink of defeat to victory. 
I went home exhilarated and with a voice that was hoarse from screaming. For nearly an hour I had watched the match with my heart in my mouth, and I got to go home with a sense of relief that I only associate with Bangladesh games. The day felt like a throwback to all the best cricket memories at Mirpur. It reminded me that cricket, and sports in general, is the most organic depiction of storytelling. It encapsulates drama, the power wielded by a main character and the heart brought by the supporting crew. It has the thrill which is the universe's contribution through fortune and a conclusion that brings joy and heartbreak at once.
Madiha Athar Khan works as a product manager in the tech space and evidently spends every minute of her free time searching for stories. Send her some or just thoughts and comments to [email protected]