When stories are born on the field
Stories, whether in reality or on the field, play an important factor in shaping how we as humans see both sports and life.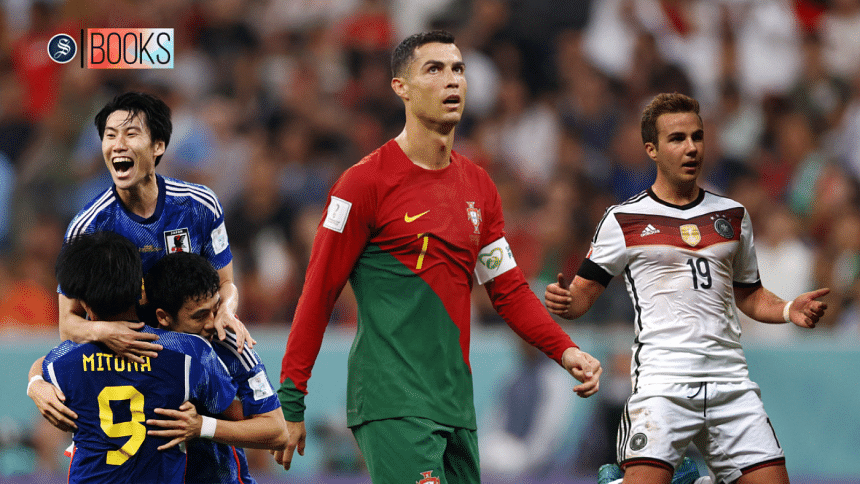 "The greatest stories are the ones we live in real life." Do you know who said that? It was JRR Tolkien.
I'm kidding guys, I just came up with it. But, you have to admit, I had you thinking that was deep and thought provoking for a second. 
But I still think there is something there, because where else would we draw inspiration for our best stories, if not from real life?
In the same way that our life experiences—the highs, the lows and the roadblocks—inspire us to sit down and write our stories, entertainment mediums like wrestling, football, basketball, etc. also have these raw and (sometimes) real storylines playing throughout. In fact, these storylines are what add this extra dimension of intrigue and anticipation that make these games so great to watch.
Sometimes, it's the generic age-old tale of David vs Goliath. Sometimes it's a story of two mortal enemies, destined to battle each other on the grandest stage, till the end of time. A team's history, their players—and their own individual stories—come together to form more layered and complex stories, all of it building up like a movie, until a tournament is finished.
While club football alone has enough stories and drama going on throughout just one season, international football is really where all of the different plot points converge together, forming one compelling narrative.
Think about one of the most memorable international tournaments in recent history, the Euro 2016. Eventual champions Portugal found themselves in an interesting position—at least in retrospect—at the start of the tournament. 
In terms of pure skill, their squad probably was not the best one in the tournament. Yes, they probably had the best European player in history as their captain, but they still lagged behind teams like France, Italy and Germany.
Portugal finished third in a group consisting of Hungary, Iceland and Austria—a group they should definitely have topped. However, after three consecutive draws, the last of which involved them coming back from being a goal down thrice, they finished third, earning a place in the knockout stages.
From there on, they would draw themselves to the final, mostly on the back of insane performances from Cristiano Ronaldo and Nani. Going into the finals, they were up against a France team that had topped their group and dominated most of the top teams they had faced on their way to the finals.
After just 25 minutes from the kick-off, Ronaldo found himself injured. Taken off the pitch, the captain who had inspired this team to the final found himself limping along the sideline, watching his team attempt to beat a France team that would go on to win the World Cup just two years later.
Ronaldo cheered his team from the sidelines, shouting and screaming to keep them motivated throughout. Going into extra-time, both teams looked to be struggling for stamina, with Portugal seemingly worse-off than the French. 
Somehow, through some moment of magic, where the universe willed Ronaldo's dream of an international trophy into reality, Portugal would score a goal at the 109th minute to take home the trophy.
If we are to talk about the World Cup, rather than the story of a run from start to finish, let's talk about some of the biggest moments, and the backstory to them. Think back to Mario Gotze's late winner against Argentina, in the 2014 World Cup finals. 
Throughout the tournament, Gotze only started three out of a possible seven matches. Many times, in the run to the final, Gotze had been criticised for not being up to the mark to start for Germany. His move to Bayern Munich, from rivals Borussia Dortmund, a year back was also a focal point in the discussion for why this man was just another overhyped and overpriced player.
Gotze's 113th minute goal against Argentina will still stand in history as one of the most memorable goals in a World Cup finals. At the same time, it truly is all the legacy a player needs, at least in terms of international competition.
While Gotze might never have lived up to the potential fans had seen of the player in Borussia Dortmund, it is safe to say that this player etched his name in history with a moment that many German fans will remember for the rest of their lives.
This year's World Cup has many interesting stories, whether in the foreground or lurking behind all the goalless draws we have had to watch so far. Possibly the biggest storyline is how this is likely the last ever World Cup where we will see Cristiano Ronaldo and Lionel Messi, two of the greatest players of all time. 
Japan's win against Germany, in a hard fought battle to the death, has made us consider if the four time winners will be kicked out in the group stages, similar to their exit in the last World Cup.
Saudi's upset win over Argentina is a story that is building and it will be interesting to see what they do next.
All of these stories, whether in the realm of reality or on the field, play an important factor in shaping how we as humans see both sports and life. These stories inspire us, they give us hope and reaffirm our faith in the idea of the universe having its own plans for us.
So, I would suggest you sit back, relax, and watch the rest of this World Cup play out. See where the story goes. Who takes home the trophy? Which team experiences an upset defeat? Will one of the big European teams get knock-out of the World Cup in just the group stages? 
These are all questions that will be answered in time, but watching the story unfold right in front of us is probably the most fun one can have during World Cup season.
Aaqib Hasib is a sub-editor at The Daily Star. Reach him at [email protected].