International Youth Day: Why I enjoy reading YA books as an adult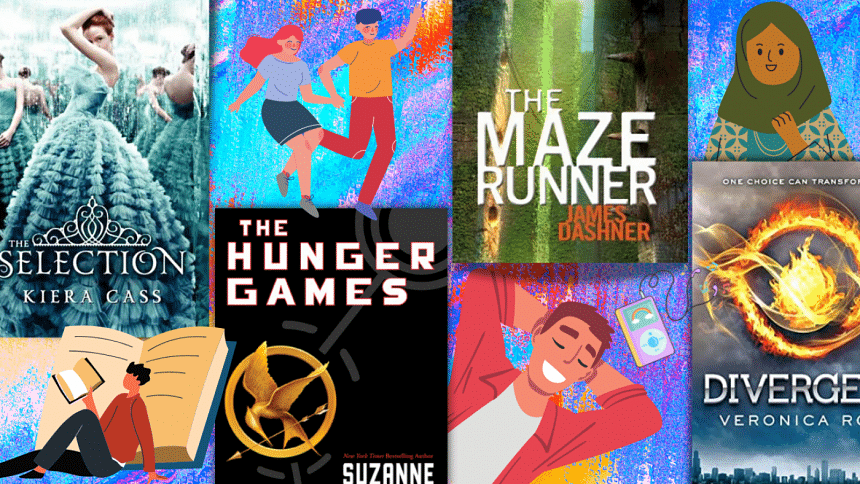 "A children's story that can only be enjoyed by children is not a good children's story in the slightest." -  CS LEWIS
I began reading young adult or YA books around the age of 15, and carried on the habit well into my mid-20s. As I am nearing the age of 30, I have realised that YA literature depicts a fleeting time that many of us look back on with nostalgia. 
For the most part, YA books are written for 12 to 18-year-olds. As such, the protagonists are usually within that age range. 
Through these novels, I reflect back to how I felt during my teen years, and at the same time, how I have grown since then. I feel an earnest connection with my earlier, often more vulnerable and curious self, while accessing an unadulterated form of the complications, losses, and transformations involved with being young, now filtered through the compassion and perceptions of my older self. 
The friendship and family issues, fast pace, and easy reading keep me flipping through the pages. The books usually have a light tone, and I find myself drawn to them amongst novels with more complex language and subject matters. 
But if YA is a genre designed to cover the growth between the ages of 12 and 18, one would expect a wide range of prose styles. Teenagers are a varied demographic, with reading levels often not corresponding to their age.
Unfortunately, there is little personality to the prose in many YA books, and one gets the sense that writers are writing for the broadest demographic possible. 
I was made acutely aware of this when reading The Selection (2012) by Kiera Cass recently. Eight castes based on social and economic statuses define the world in which America Singer, the protagonist of The Selection, lives. The country is Illea, a United States 300 years in the future. America belongs to caste five, which is made up of artists and musicians, many of whom are poor.
I was baffled at how little effort was put into the novel's description or character development. Often, dialogues were just "said" and the plot felt very shallow. While there is a place for simple prose, authors who write YA fiction should ask themselves if they are really using their true narrative voice, or whether they are pandering to an audience they perceive as less capable. 
The 2010s saw the rapid rise and equally rapid fall of the YA dystopian genre, with The Hunger Games and its followers dominating headlines and popular culture.
The protagonist of The Hunger Games (2008), Katniss Everdeen, is relatable and down to earth: She doesn't want to become a revolutionary or a hero, she just wants to keep her little sister safe. Her deteriorating mental health feels realistic, and it was mostly unprecedented in a genre full of bold teen heroes who came through the most horrifying adventures completely unscathed.
Novels like Divergent (2011) and The Maze Runner (2010) sought to imitate the dystopian formula, a fact that was becoming increasingly obvious as the shelves filled with different attempts at similar trilogies, whereby the main character becomes embroiled in a sinister, mysterious conflict orchestrated by a government entity. Stories end with them becoming the centre of a resistance and toppling the social order.
The sheer amount of carelessly constructed dystopian fiction was disconcerting by that point. I am sure like me, many others were put off by repetitions of the formula.
I enjoyed The Maze Runner, though I abandoned the other books in the trilogy. Divergent is a great example of a frustrating attempt to shock rather than tell a compelling story. Though the concept is interesting, the author fails to take the plot outside of startling the readers with harshness. 
But having said that, there are YA novels with deeper subject matters and greater diversity of authors and characters that do not rely heavily on tropes. 
The Hate U Give (2017) by Angie Thomas follows an African-American teenager as she faces pressure from various communities and tries to stand up for what is right after she witnesses the shooting of her best friend by the police.
The novel touches upon a very current and controversial subject, the shooting of black men by law enforcement in the USA. It is an important story because it lets us in on the Black Lives Matter movement in a way that we won't experience through the filters of television or social media.
Meanwhile, Markus Zusak's The Book Thief (2005) revolves around a girl who lives with her foster parents in Nazi Germany. She finds solace from the horrors around her by stealing books from the mayor's house to learn new words.
The story offers one German family's politically incorrect perspective during the infamous and well-documented Holocaust era. The fictional town of Molching (near non-fictional Munich) and its residents together serve as the catalyst for shaping the protagonist's character and encouraging her book thievery. 
The themes of friendship, identity, discrimination, fear, politics, and family give Harry Potter universal appeal. Publishers catered to everyone by releasing two different covers: one for "kids", with colourful illustrations, and a more subtle and sedate one for adults.
The boundaries for the audience of YA books have become fuzzy today, with literary critics and commentators claiming that the market stretches up to 30-year-olds. 
Even if adults aren't reading YA books themselves, chances are they are consuming YA media in some other form. The film franchises—Divergent, Harry Potter, The Hunger Games—have raked in billions at the box office. TV adaptations like Pretty Little Liars (2010-2017) and Gossip Girl (2007-2012) continue to reach millions of consumers. 
We are drawn to stories about first experiences, and YA literature is rich with it. First experiences draw us in because they are the crucible for change. And while we expect adult characters to cope with change, it is not patently the essence of the adult experience in the same way it is of youth.
So, there is no denying that YA literature is appealing and beloved. There are many up-and-coming writers who are trying out new ideas in this genre, but with that, those in the publishing industry should take greater notice of a wider range of concepts instead of saturating the shelves with tropes they believe are profitable.
Shababa Iqbal is a Media and Communications graduate from Independent University, Bangladesh (IUB). Email: [email protected].