Sabiha Huq's 'The Aviary': History depicted by three Mughal princesses and a Kashmiri queen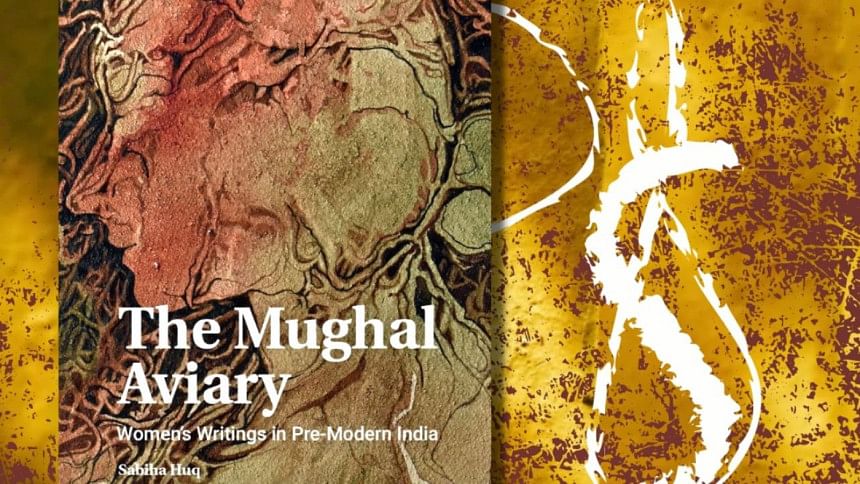 As part of the 'Series in Literary Studies', Sabiha Huq's The Mughal Aviary: Women's Writing in Pre-Modern India (Vernon Press, 2022) casts hitherto unfocused light on the literary sensibilities shown by Muslim women in pre-modern India for roughly a period of 200 years during the 16th and 17th centuries. Focusing on the writings of three Mughal princesses and a Kashmiri queen, namely Gulbadan Begum, Jahanara Begum, Zeb-un-Nissa, and Habba Khatoon, and ranging from biography, hagiography, and poetry, the book speaks about the subjectivity and self-fashioning by women who created a counterculture which influenced many later writers and scholars. Dedicating the book to all women writers whose memory has been erased from the annals of history, Sabiha Huq excavates and discusses overlooked texts written by
Muslim women and questions the position of women within Islamic cultures in South Asia at large.
The first writer discussed is Gulbadan Begum (1523-1603), who was the youngest daughter of Babur and, asked by Akbar, wrote a biography of her half-brother, Emperor Humayun, in Persian, entitled Humayun-Nama. The memoir is a testimony to her father Babur's love for her, the admiration Humayun accorded her, and the reverence her nephew Akbar offered her at the royal court. It is historiography, literature, a first
glimpse of feminism, and much more. It reflects upon the lives of Babur's wives and daughters as well as numerous experiences of royal life, showing how the destinies of these women recoiled around the monarch who was the absolute decision-maker of their fates. Gulbadan's narration ends in 1552 and at times she becomes prejudiced while describing fraternal conflicts. She also mentions how a Mughal woman's life in the early phase of the empire was of adjustment to hardships in the new Hindustani clime. Her gendered vision opened a completely new perspective of historical narration, which in the modern times has become insightful as parallel or alternate history. It is said that the great historian Abul Fazl used her historical treatise as a source book, albeit without ever acknowledging his debt, and she was lost in oblivion.
The second writer, Jahanara Begum (1614-1681), was the eldest daughter of Emperor Shah Jahan and most striking of all the Mughal  princesses. In recent times there are at least half a dozen historical romances written on her, many of them by Western scholars, most of which focus on her participation in harem politics. Several others capitalise on her supposed romantic liaison with men. She enjoyed her father Shah Jahan's proximity and the power he bestowed upon her; and her major responsibility was of looking after her broken-hearted widowed father and younger siblings. She also took interest in Sufism and became a devotee of the Qudiriya order in India and wrote two biographies. Both hagiographies trace a history of Islam in the subcontinent as well as a parallel history of the Mughal expansion and depict some of the humanitarian sides of the Mughal empire that have been subverted in the recent times.
Zeb-un-Nissa (1638-1702), the eldest daughter of Emperor Aurangzeb, is the third female writer belonging to the Mughal dynasty who has been discussed here. She was imprisoned by her father for 20 long years, for the free spirit which inspired her writings and made her support her father's rivals. Writing under the pseudonym 'Makhfi' or 'the hidden one', her poetry is full of images and references borrowed from Islam, Hinduism, Christianity and Zoroastrianism—a true ambassador of secular thought. She made in her poems candid admissions of a woman's response to love, its pangs and bodily and emotional manifestations.
The fourth writer, Habba Khatoon (1554-1609), known as 'the Nightingale of Kashmir', was a commoner who married into royalty. Her husband Yusuf Shah Chak was the ruler of Kashmir from 1579 to 1586. As Huq explains, the point behind including Khatoon in this selection is to underscore the evidence that on or off royalty, Indian women, especially from the Muslim aristocracy, were developing a literary sense during the 16th and 17th centuries.
Khatoon's husband was treacherously exiled by EmperorAkbar and her pangs of separation culminated in pure experimental poetry that still resonates in the Kashmir valley. Her travails as a Kashmiri poet writing not in Persian, which was the royal language of the Mughals, but in the local Kashmiri language is also to be considered from the peripheral or subaltern's perspective. It is said that she burnt all the written copies of her poetry and renounced worldly life. Hence her poetry has survived through centuries in the Kashmiri oral tradition.
The metaphor of aviary used in the book's title is significant. It is slightly different from the harem or zenana and defines clearly an enclosed space with a semblance of mobility that is but finite. Usually the Mughal harem is understood as an eroticized domestic space where women exercised all kinds of pleasure experiments without much thoughts on self and subjecthood, and where men went for pleasure, rest and
recuperation. Those women who resided there were excluded from the process of knowledge production both by the colonial power and their own indigenous contemporaries. So the narratives about Mughal domesticity are significantly different from what we get from the description by male writers.
The four authors discussed in this book are knit together by the power of female writing and how they expressed the redemption of the feminine self. It envisions individualism as the most important modern trait in these women and their writings are considered as their self-assertion. By breaking patriarchal boundaries they were much more modern than the pre-modern times they historically belonged to.
Somdatta Mandal is a critic and translator, and a former Professor of English, Visva-Bharati, Santiniketan, India.