Bookstagram celebrates South Asian Heritage Month 2021
The origins of South Asian Heritage Month can be traced back to Scarborough Civic Centre in Canada, where the initiative was legally recognised in December 2001. In July 2019, a concept launch of the first South Asian Heritage Month event was put together at the House of Commons in the UK. Unlike most month-long celebratory events, the South Asian Heritage Month is held from July 18 to August 17, in accordance with the South Asian solar calendar, encompassing some of the key events in South Asian history.
This year, British Asian book blogger Minaal Reid, known on Instagram as @minaal.reads, brought the celebration of South Asian Heritage Month to bookstagram by hosting a collaborative project featuring several South Asian content creators on Instagram. The hashtag #SouthAsianHeritageMonth was launched by Minaal with a seven-slide post outlining the scheduled programmes programs and participants, with the goal of having South Asian communities all over social media interact with each other through online content creation, while simultaneously diversifying the concept of South Asian identities on the same platforms. 
Each week, over the course of the South Asian Heritage Month, bookstagrammers of South Asian heritage are to share insightful content based on four themes: 'Growing Up South Asian and…', 'South Asian Literature', 'South Asian Culture and Arts', and My South Asian Identity Today'. The first two themes have thus far been extensively covered in the event's first two weeks, with book bloggers discussing multiculturalism, the South Asian diaspora across the globe, and distinctive South Asian traits and norms.
The project's illustrations by Mumbai-based book blogger Aamna (@spoonfulofpages)  represents the South Asian region in all its diversity. Her detailed artwork features heritage sites and culturally-significant monuments from various South Asian countries, from the Paro Taktsang in Bhutan to the Taj Mahal in India to the Swayambhunath Stupa in Nepal and the Shaheed Minar in Bangladesh. In some ways, the illustration can even be interpreted as a map to deciphering the most prominent cultural elements of South Asia, be it the cultural significance of Sri Lankan elephants or the popularity of 'Gudiparan Bazi' in Afghanistan.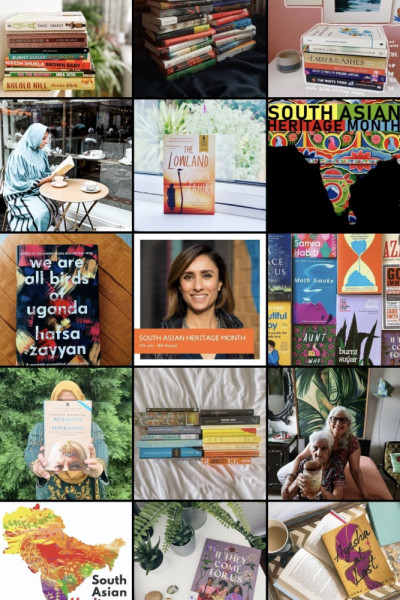 Tasneem Tambawala, founder of Bookcentric library in Dhaka and an English teacher at Sunbeams, has been participating in the series by posting about the works of female South Asian authors on her bookstagram account (@tasneemtreads), recommending books by Razia Khan, Tahmima Anam, Munize Manzur, Shobha Rao, Arundhati Roy, and many more. 
"This project has really encouraged more and more members of the South Asian diaspora, from various walks of life, to open up and share their stories about being a part of the South Asian community", Tasneem told The Daily Star. "There have been a lot of discussions around the concept of a South Asian identity, with two distinctive perspectives to it: the struggles of fitting in outside of South Asia and the difficulties associated with religion, caste, race, colourism, etc. here in the region."
In an effort to make the project as creative and interactive as possible, @minaal.reads will also be hosting a live cook-along session alongside UK-based caterers Something Little (@somethingl_) on August 3, 2021. The live event will pay tribute to Indian cuisine, focusing primarily on Gujarati-fusion dishes. 
For more book-related news and views, follow Daily Star Books on Facebook, Instagram, Twitter, and LinkedIn.